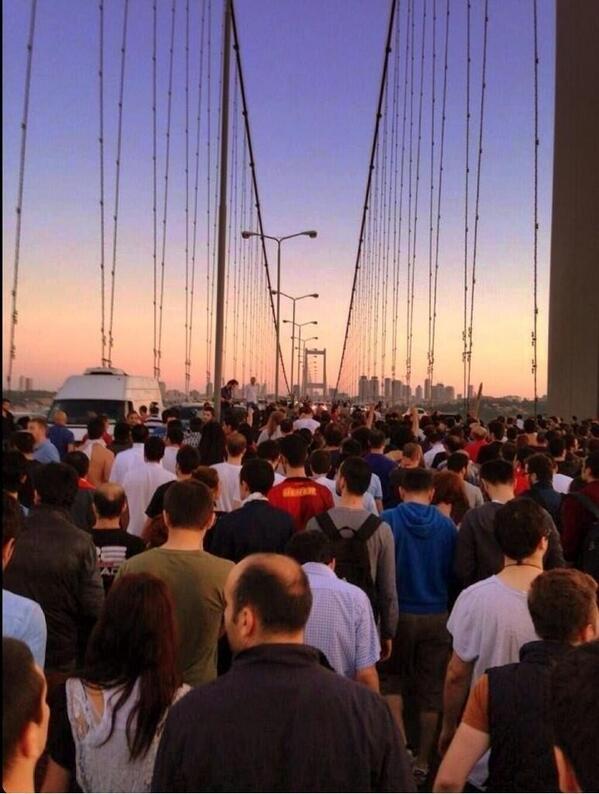 truthtopower: Amazing scenes as tens of thousands of protesters take to the Bosphorus Bridge this morning: https://t.co/gb0WozM63c #Turkey



chaaaala: Tear gas and water cannons dont stop Istanbul civilians to protest against government, join and spread the word! http://t.co/VSVAKyf9EG



ABKTKL: There were also protests in the capital Ankara, where police used pepper spray on some demonstrators. http://t.co/Lnw9ZeAXzY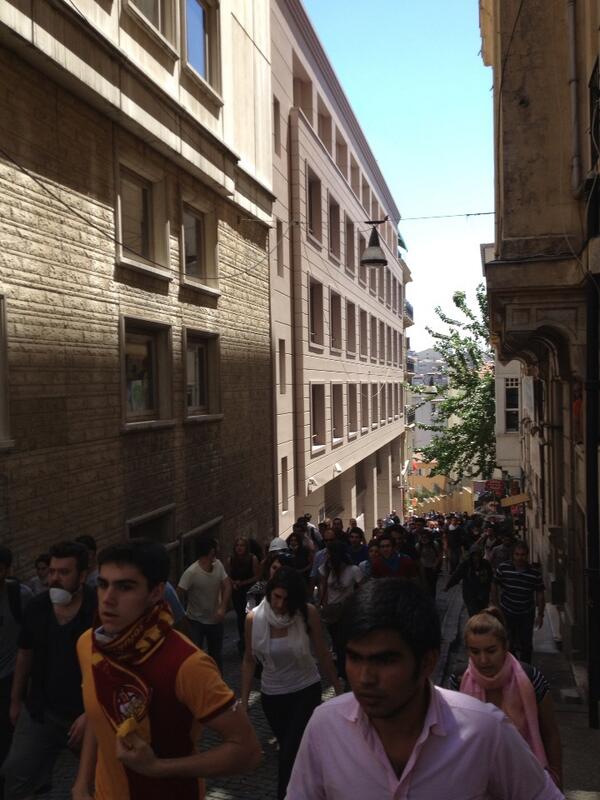 CihanSCelik: More people come for #Occupy #Taksim protests in #Istanbul, calling #AKP govt to step aside in #Turkey. http://t.co/RMbS5vUD2a



ABKTKL: #occupygezi #direngaziparki Police used tear gas and water cannon to disperse protesters http://t.co/GrIFQ1j8Wx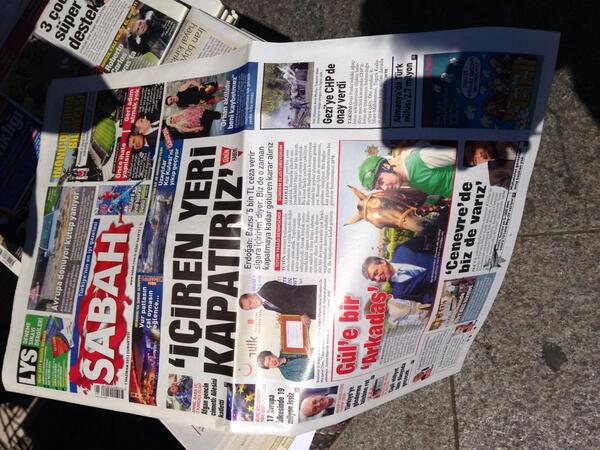 wsjemre: #Turkeys joke of the day: pro-government & major daily @Sabah doesnt mention #occupygezi protests at all. http://t.co/pL1A3Xe56u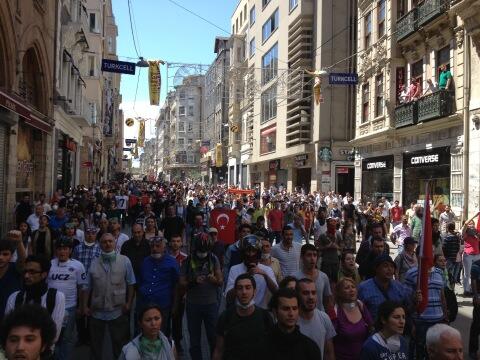 CihanSCelik: #Occupy #Taksim protesters form barricade on #Istanbuls iconic #Istiklal street despite police violence. http://t.co/lGUy2ixEfC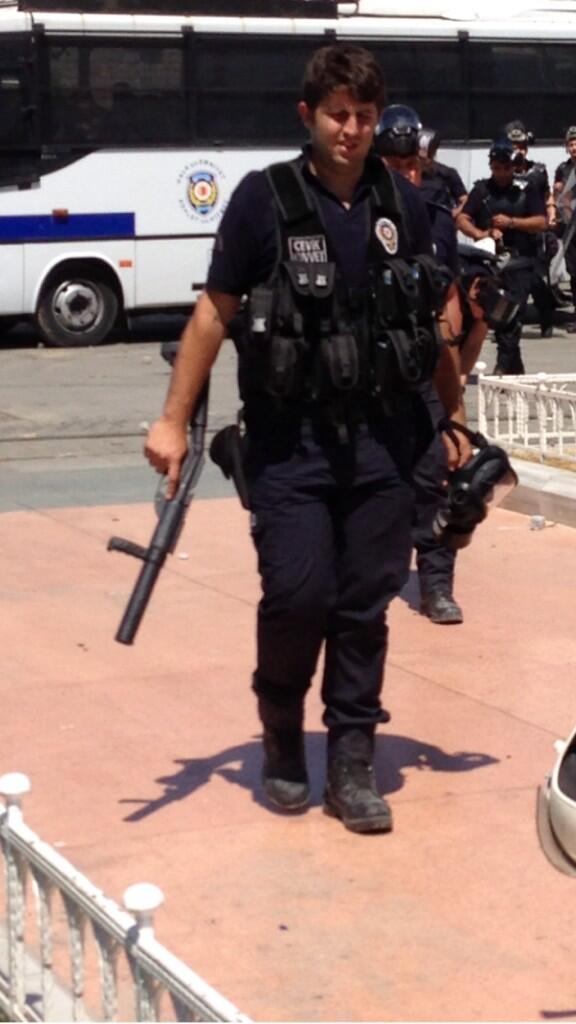 Wriwri: @SultanAlQassemi Right now in Taksim, theyre shooting tear gas directly at people. http://t.co/VoekzeljaP



UmutEgitimci: #turkish #police #using #violence against #peaceful #people http://t.co/LOv3E1T8qV



KhaledAkil: #istanbul killing the dogs and fire them with tear gas bullets !!!!! http://t.co/IxPOR6LS7O



nihatkaraoglu: @MarietjeD66 @fgeerdink This is not a maraton!Thousands marching across Bosphorus to protest in #Istanbul since 5 am http://t.co/mSMOoufSoU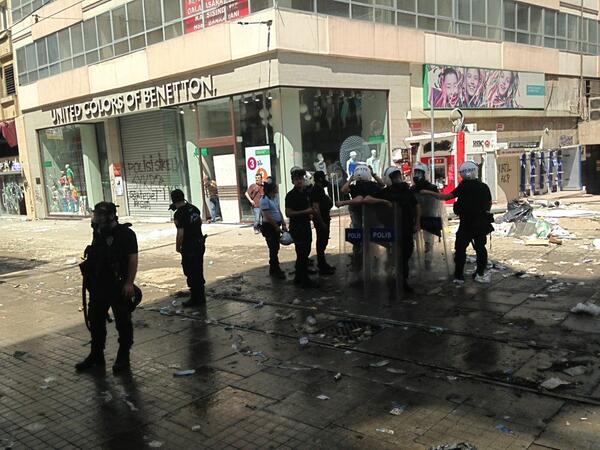 edouphoto: Turkish police retake parts of #istiklal during back and forth protests in #istanbul #turkey http://t.co/yOBbjYh47n



iiremkoroglu: @BBCBreaking This is not Palestine.This is Turkey! Turkish Police are killing the Protesters! #occupygezi http://t.co/dC8ltPmBWi



KaLPaZaN: @depechemode Thats happening in Turkey Police use water cannon on people who try to protect the nature #occuppygezi http://t.co/lgKGtoGrjd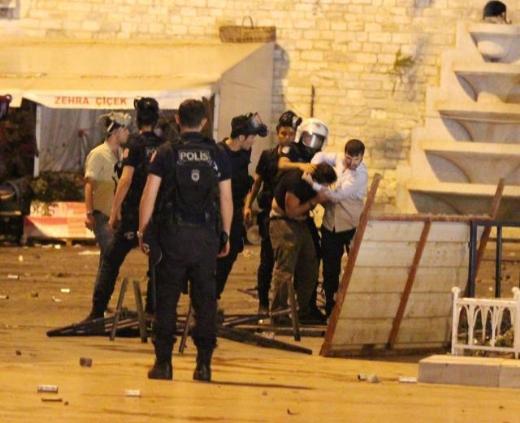 Magicianred79: RT @goktugcanbaba @rightnowio_feed violence of the Turkish police. At night in Taksim. #Occupygezi #Istanbul http://t.co/HApw8LLeGC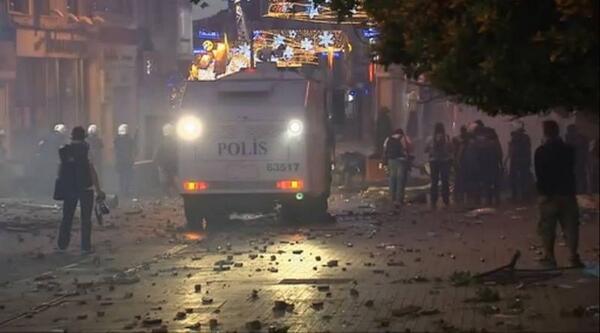 itsmesinging: What is left from what Turkish Police did in Taksim! @RT_Erdogan @cbabdullahgul @BBCWorld @nytimes @CNN #occupygezi http://t.co/XTd1wxvfgv



nzysn: Police brutally and non-stop attacks on protesters! http://t.co/TrFTlFbdQh #OccupyGezi @amnesty @eshasshah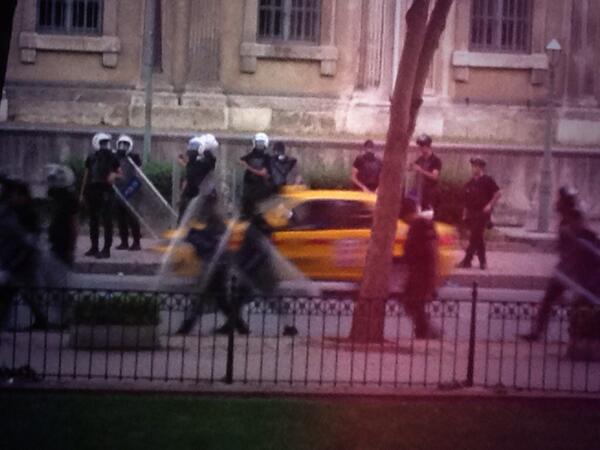 eliaws: RT @grrlinthecity pls cover Istanbul protests. Ive been here all week & this is a stunning overreach of police power http://t.co/SyfFOOASsD



sav_gr: RT @AnemosNaftilos violence of the Turkish police,silenceof the Turkish media #occupygezi #occupyturkey http://t.co/sbBhqC7n0K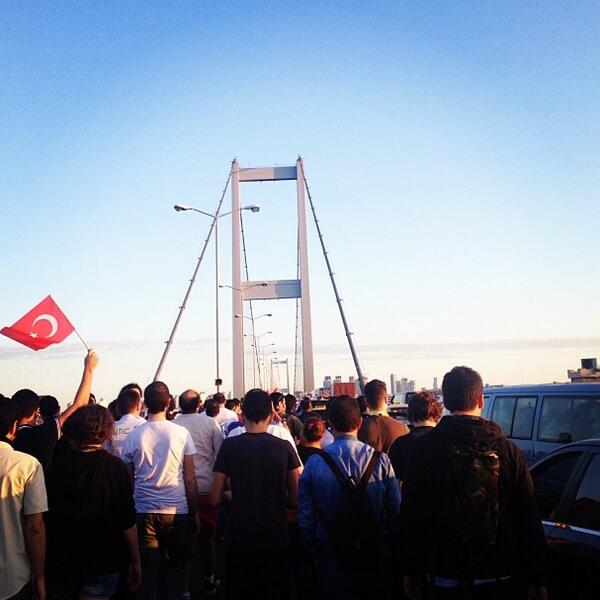 bikesuu: Together we stand! Turkish solidarity for right to protest, freedom of expression #dayangeziparki #occupygezi http://t.co/scOTn5SPFU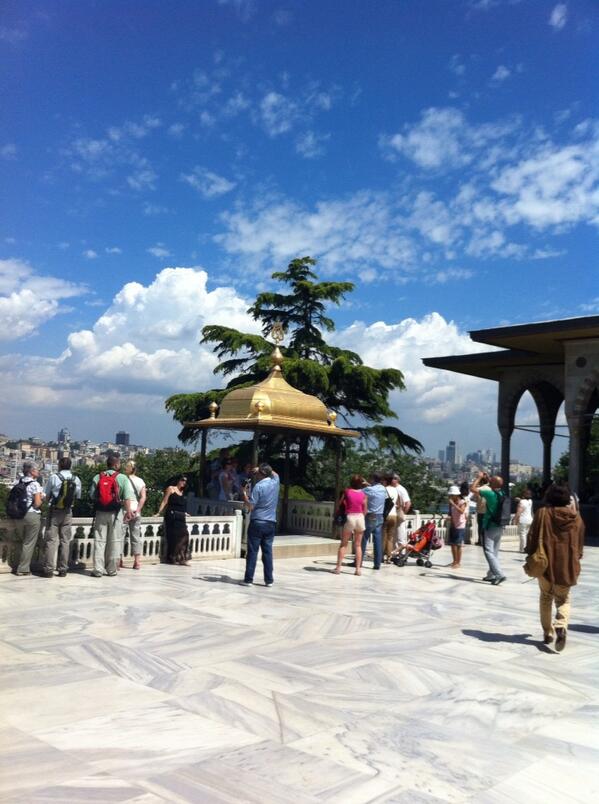 pearlsquilted: Topkapi Palace right now. This is an another Istanbul! No riot, no protesters, no police. Just tourists and guides! http://t.co/TaGmpkot3g



moniquejaques: Good morning cops. Morning protestors. Got a nice wake up whiff of tear gas #istanbul #gezi http://t.co/S0ltqw11DV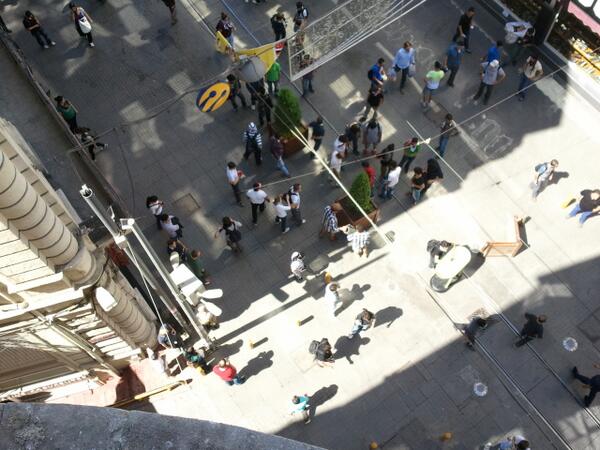 JessicaJJLutz: Barricades being built in front of our door in #Istanbul #protest. http://t.co/T6fqOgb832



ozlmogz: RT @mehmetbinay Police forces flown into Istanbul from other towns. This is at Antalya airport. #occupyistanbul http://t.co/8306Z1Be6u



denitto: @BBCWorld Turkish police violence!! İstanbul has a resistance!!! Continue the resistance which lasted for days!!! http://t.co/ffVkM4durg



KhaledMusleh: Incredible sights in Istanbul as thousands march on foot across Bosphorus bridge to join protests in #Taksim. http://t.co/CYeVMe2amW



MalakaMohammed: So as @Reuters said, at least 100injured as police clash with protesters @ Gezi Park http://t.co/sdMOJ9Sm0l #Turkey http://t.co/tksGzbgPWd



ebrukefeli: This is how we protest and what we get is violence from the police #occupygezi http://t.co/yZAcF5UKxM



KaLPaZaN: #news Thats happening in Turkey.Police use water cannon on people who try to protect the nature! pls #occupygezi http://t.co/u2ZghWT6ko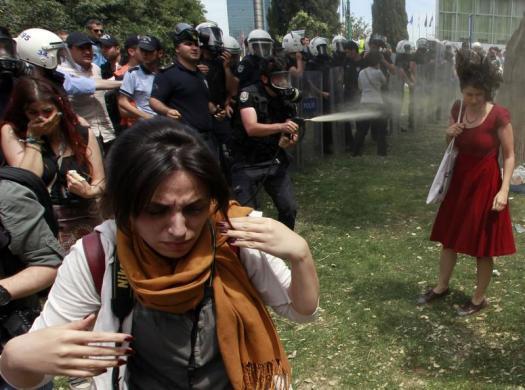 JuliusFlywheel: @Colvinius RT @pdacosta Turkish cop gasses woman protesting destruction of trees in a park central Istanbul http://t.co/rvAUWiDUyN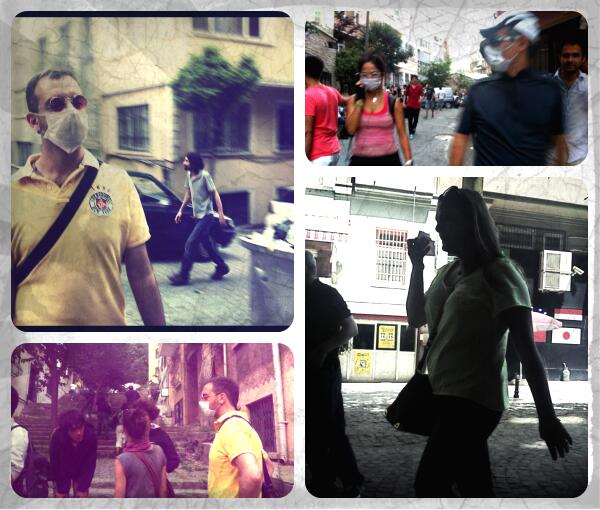 AlinaLehtinen: People from all backgrounds want to demonstrate said a young woman near #Taksim yesterday. #Istanbul #Turkey http://t.co/cKcBA5HWZB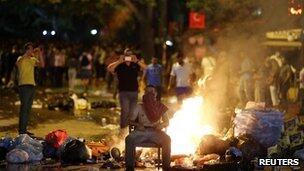 BuzzFeedNews: Istanbul protests: Second day of unrest in Turkey http://t.co/n8koaURSL7 http://t.co/jYpOcK2bzj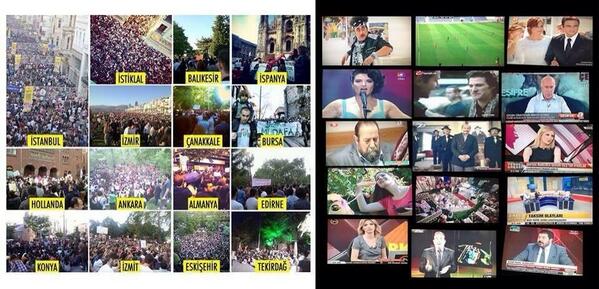 tomhannen: Protests across Turkey. And snapshots of Turkish television via @serkanocakkk http://t.co/F4pajgxiyk



Sudekavrulmuss: !!!!!!!!! @cnnbrk Police in Turkish city of Istanbul fire tear gas at protesters. http://t.co/ZIv6Vq2HiN http://t.co/HXY5iSgxHX



THEFORMATER: RT @brani_child Police now Attacking Peaceful Protesters again in #Taksim http://t.co/BTlWE8MgsZ http://t.co/EGmSfjWyBp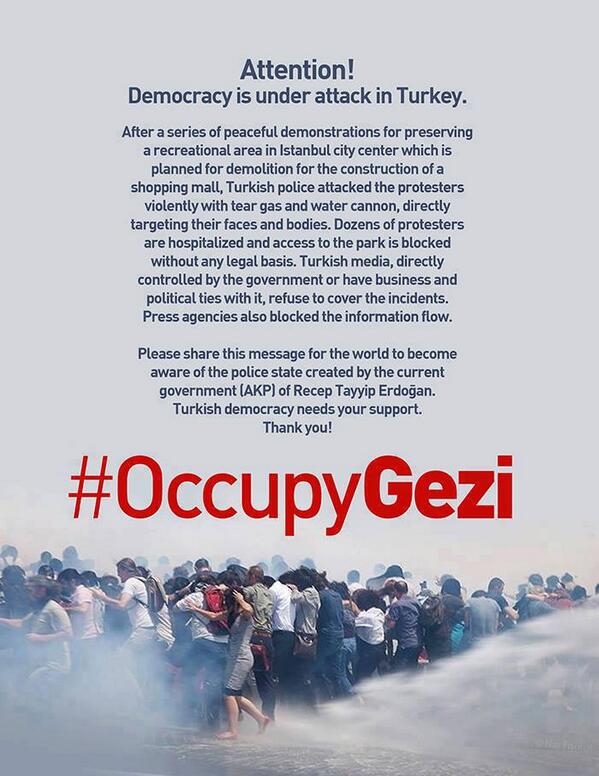 sezinoner: Democracy is under attack in Turkey! It is the attack of the Turkish government and police! @Reuters @BBCWorld http://t.co/IT8KjR35dl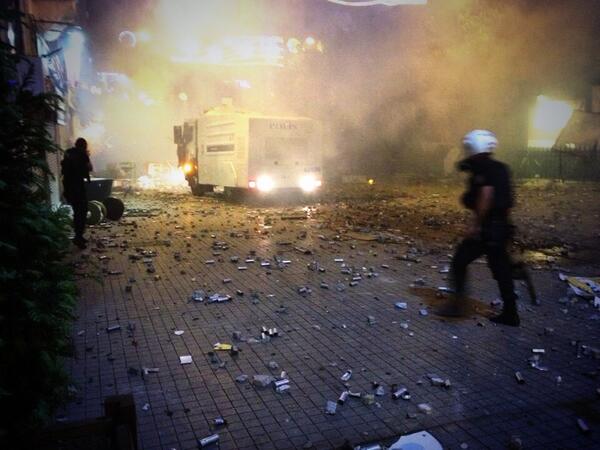 SunneyTehBunney: RT @candanysn thousand of empty tear gas canisters on the main street of Istanbul http://t.co/CSg3n6XWBe #occupygezi #dayangezi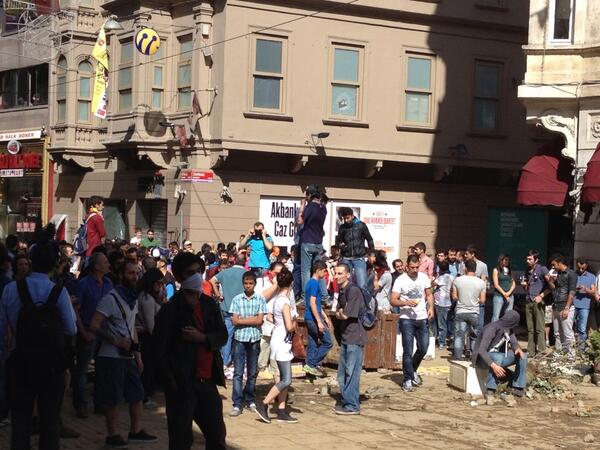 Crt_Mlts: RT @CihanSCelik #Occupy #Taksim protesters in #Istanbul call on #AKP govt to resign. http://t.co/YnnGaswzuX



ONURYILDIZMST: Istanbul park protests sow the seeds of a Turkish spring http://t.co/SsfVbavggl



burakema: police attack people with gas bombs, water cannon and ammo, even children #occupygezi #direngezi http://t.co/yX24EDFs0z



gulayturkmen: Police crackdown in Istanbul. The amount of used gas canisters says it all #occupygezi #direngeziparki #turkey http://t.co/6zzT93DYfp



mccuneinterests: The people are crossing over from the Asia side to support the movement. Follow the events of the people of Istanbul http://t.co/QMOEstxf0f



Istanbultelaviv: Protesters cross bridge in early morning meet tear gas in Besiktas MT @ceriLevis #direngeziparkı http://t.co/mVFG4W8SIS #occupygezi #Taksim



batukurtaran: For the first time in history people crossed the Bosphorus Bridge to protest police violence in Istanbul. @Adbusters http://t.co/wQwnv1eCQH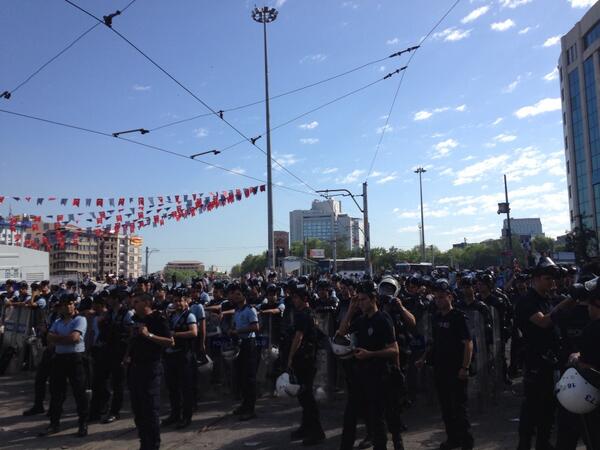 CihanSCelik: #Istanbul police reinforcement againt #Occupy #Taksim protesters. http://t.co/Xy2Sap8il2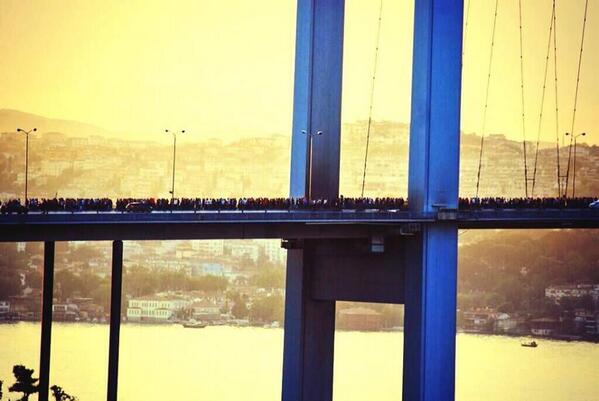 gulayturkmen: Beautiful people crossing the Bosphorus Bridge to support the protestors at Istanbuls Taksim Square @cnnbrk @BBCNews http://t.co/IxRfOIj57d



CyanideMind: @anathemamusic police is violently attacking unarmed citizens in İstanbul http://t.co/x6rWQ2ewIJ http://t.co/FNZ1pY8Vmy



inanonur: #direngeziparkı Istanbul protests: Turkey braces for second day of unrest http://t.co/DgkWDCrNJ7 http://t.co/KUKfefh04i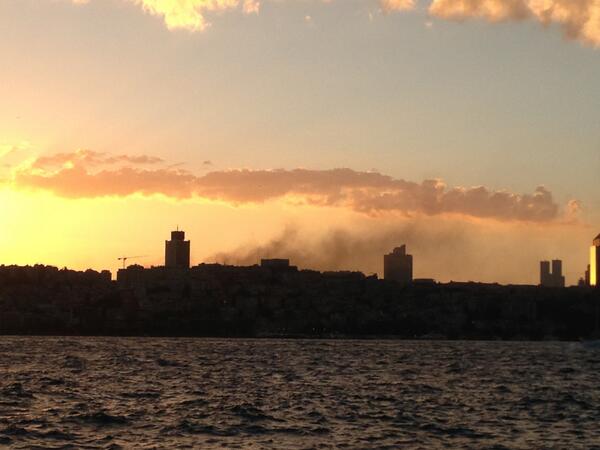 cuppycup: @ayagakalktaksim photo of smoke over Taksim Square at sunset yesterday. http://t.co/zolHlxZIeG



dogalay: @CNN @cnni Turkish police is gravely terrorizing civilians for 36 hours. We need global support ! #occupygezi RT http://t.co/UtZuc553D3



ekinsami: 7.15 am in Istanbul.Many of people are passing the Bosphorus bridge for hope Taksim gezi protest @ZDF #occupygezi http://t.co/9HuUia0GnU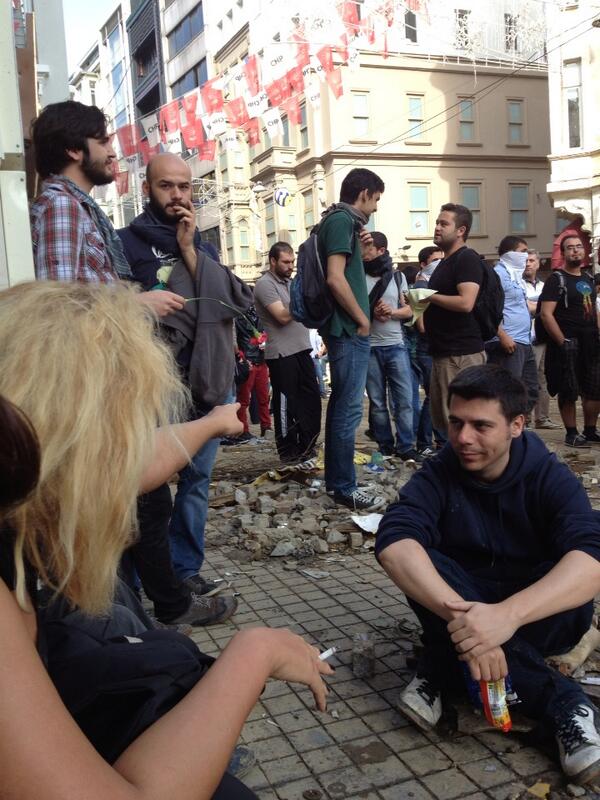 CihanSCelik: Weary but defiant. #Occupy #Taksim protesters wait for more support on #Istanbuls iconic #Istiklal street. http://t.co/wBIELrE3p8



boca_l: RT @Altan Istanbulians marching towards Taksim Square to save #GeziPark http://t.co/yGZUPDHptn



femmeflaneur: Comic relief #OccupyGezi RT@serrasahiin: even the police are getting tired of fighting off protestors in #istanbul http://t.co/TzY0vkR9WE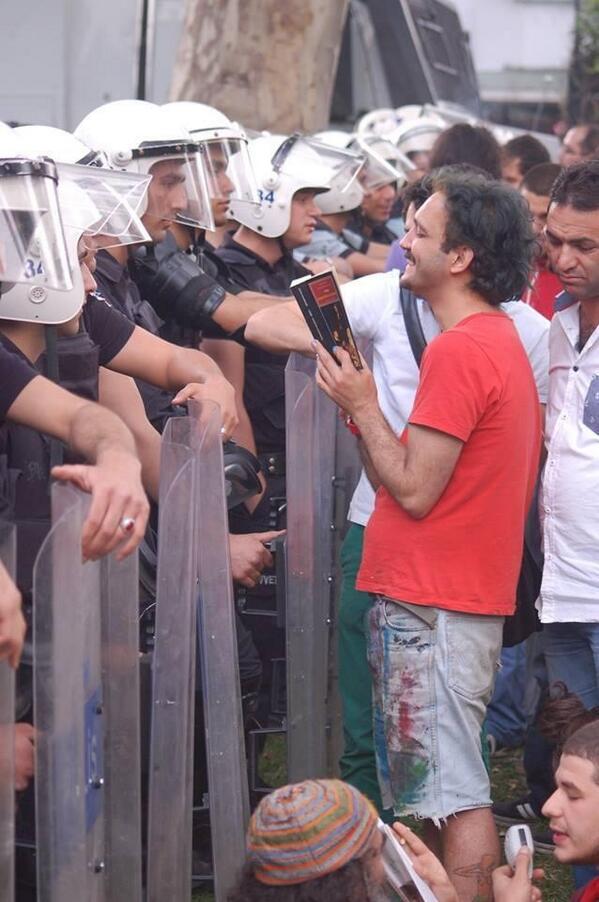 Safaaljayoussi: Thousands gather to protect Istanbul's Gezi Park. GP Campaigner Cenk Levi is under police custody. #occupygezi http://t.co/JK31ID2Q3z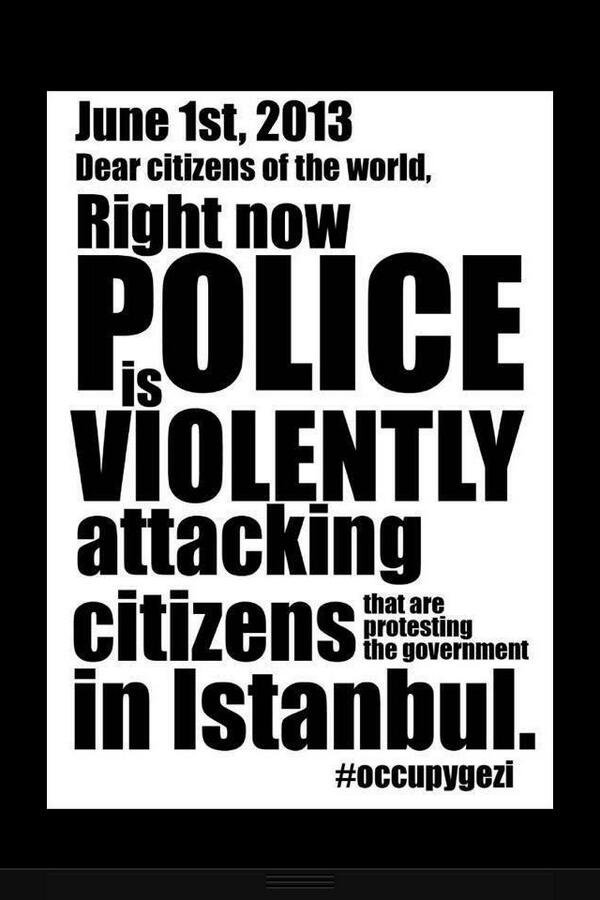 sedayldz: RT please! Police terror in Istanbul! #direngaziparki #hukumetistifa #occupytaksim #direnistanbul http://t.co/Wov5WsGd8c



Meralin: MT @vogueman Pro-gov paper Sabah editors living in another planet? No words on protests at its 1st page! http://t.co/qACW1sWK9G #occupygezi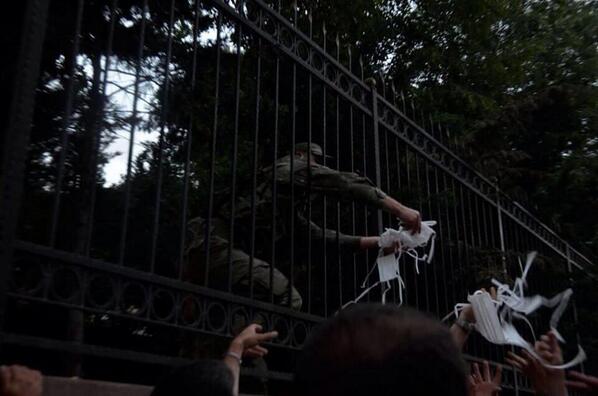 Nurdan_kartal: RT @cypherpunks Turkey as well: Military supports citizen against police #direngaziparki http://t.co/EaiUHMzsVk #OccupyGezi



burkelyh: RT @Caloripher They r supplying police troops to istanbul & izmir those are news from major airports. http://t.co/FhtS33fSFG #occupygezi …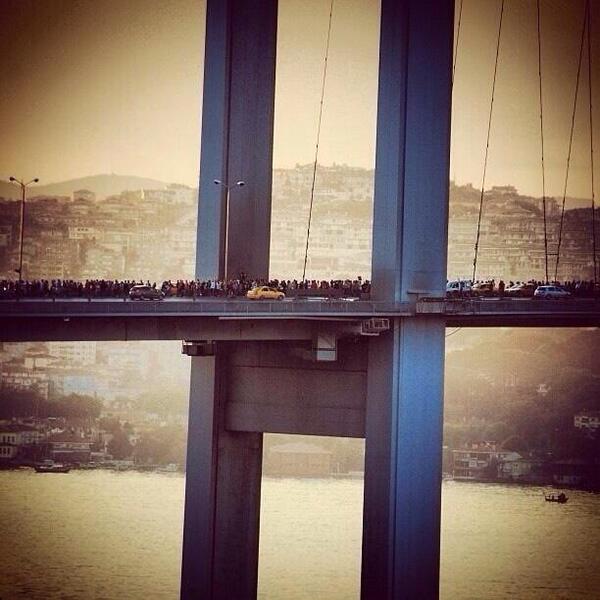 ciyesilkaya: Thousands of İstanbullians marching at down from Asia to Europe to meet with fellow protesters inTaksim #occupygezi http://t.co/J7Sdd48WSu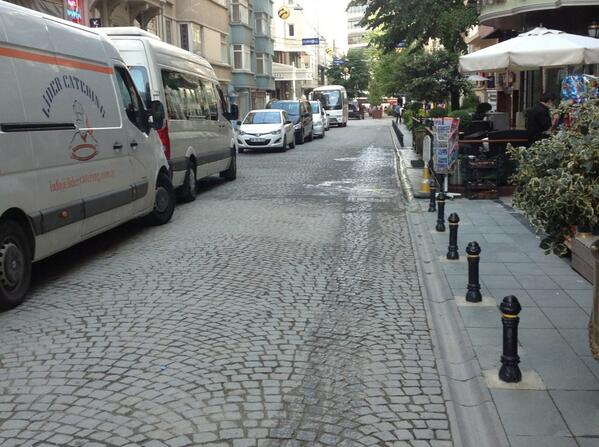 MarwaMfarid: Hotels residents in #Taksim are evacuating now for fear of the 1:00 PM mass demonstration #occupygezi #istanbul http://t.co/zm9E6SQKqc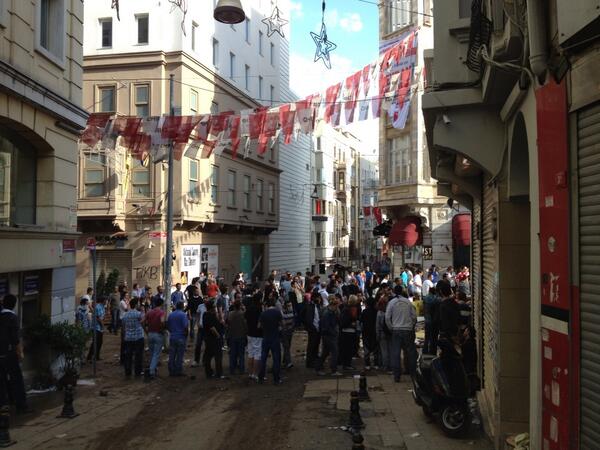 CihanSCelik: #Occupy #Taksim protesters gathering on the iconic #Istiklal street in #Istanbul as police reading for crackdown. http://t.co/915sUd43QV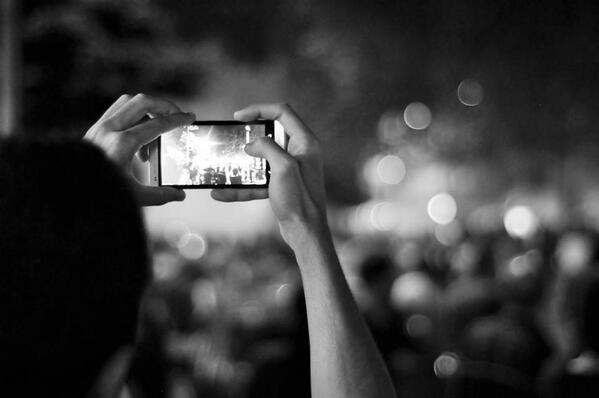 SulomeAnderson: Another great photo by Engin Ayaz of last nights #occupygezi protests #Taksim #Istanbul #Turkey http://t.co/oVjt4dYzMM



Neslisenoglu: People has no gun, they just want to reach main square. Police using tear gas and water to public!! #direngeziparki http://t.co/KDc8l6gcsm



nihanacik: RT @FezaSanigok Turkish Canadians protest against Turkish Police Brutality #direngeziparki #vancouverturks http://t.co/hsEQJIqm1e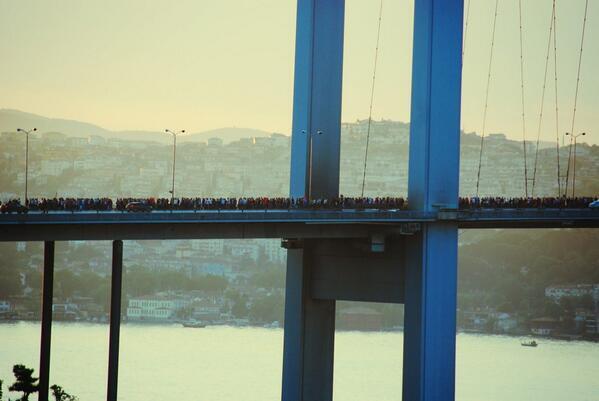 Nervana_1: People on Bosphorus Bridge walking from continent to continent to protest against government. #direngaziparki http://t.co/awJtqP8H3F



Princess Luna (Real): Police now Attacking Peaceful Protesters again #occupygezi #DirenGeziParki #DireGeziParki http://t.co/ZtrOimTzDu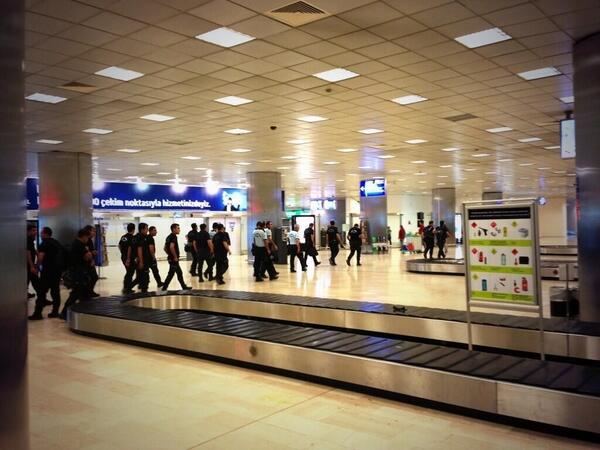 oktayjaydogdu: Additional police forces just arrived to Istanbul http://t.co/mE6tRglUOL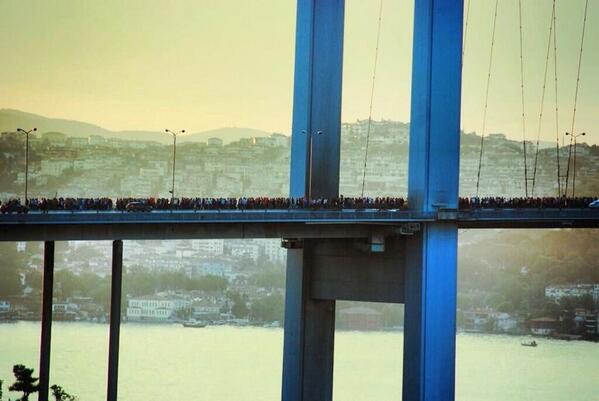 frooq: Turkey mein tsunami RT @SulomeAnderson incredible photograph of protestors crossing bridge #occupygezi #istanbul http://t.co/lR8LsA5dsB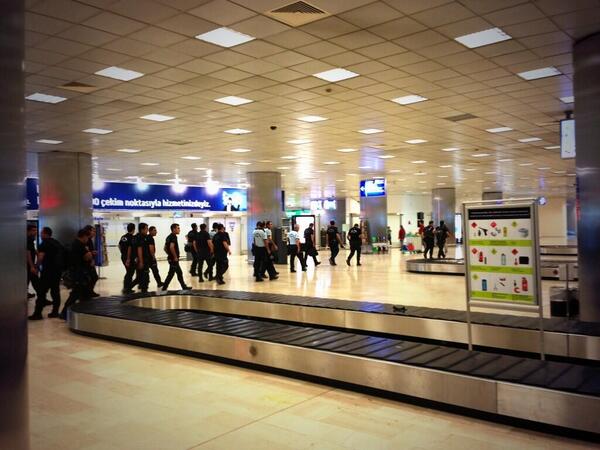 asliaydin6: Dont stop reporting!Police are coming from other cities to Istanbul to kill civilians @nytimes @AJEnglish #direngezi http://t.co/UvZr9crunl



Princess Luna (Real): Protesters Front lined and faced off with Turkey Police NOW. #occupygezi #DirenGeziParki #DireGeziParki http://t.co/TIToKkelF4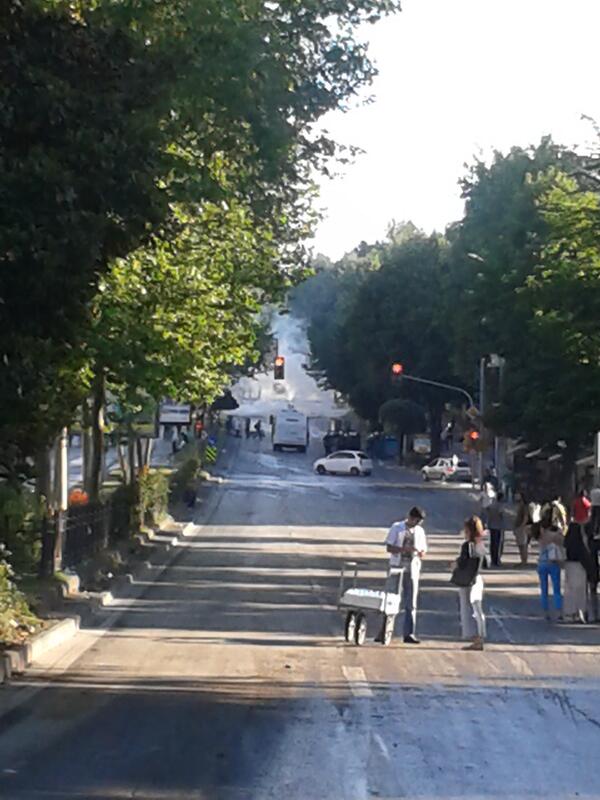 zbanu: #occupyturkey #occupygezi Police still spraying tear gas towards people who want to march Taksim 2 protect green park http://t.co/wnf0hS5mnN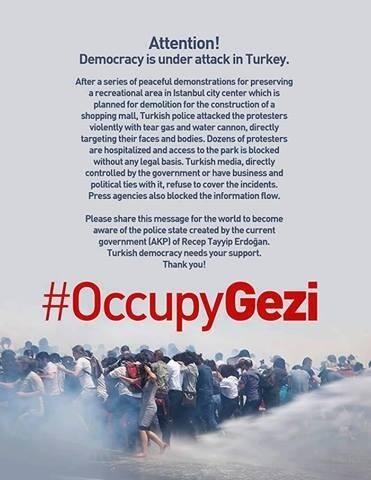 octavianasr: Democracy is under attack in #Turkey say the #OcccupyGezi protesters RT @cypherpunks via @Alaz http://t.co/nxg9LTfuTu



Princess Luna (Real): #Turkey Police Firing tear gas at protesters Now !! . #occupygezi #DirenGeziParki #DireGeziParki http://t.co/GeHUjf1nCq



CyMadD0x: RT @myriamonde photo by amnesty intl lawyers taken in front of police hq on Vatan str http://t.co/GhZYoacpT9 #occupygezi



erdierge: Photo from police custody in #Istanbul #occupygezi #occupytaksim via Amnesty Turkey http://t.co/c8oDxjOr6I



jamie_ling: RT @gi_syrian #Turkeys tear gas canisters. From USA with love #OccupyGezi #direngaziparki http://t.co/QOmzYgYPC7



kayoazul: RT @Caloripher Thats what police is doing in Turkey. (Beware graphic content) http://t.co/uPgs7V7Qha #occupygeziparki #occupygezi #occupy…



gizkez: Teargas canisters that they used against the protestors in #occupygezi. Origin: USA. Surprised? #cndpoli #TOpoli http://t.co/wk6G9XZZvV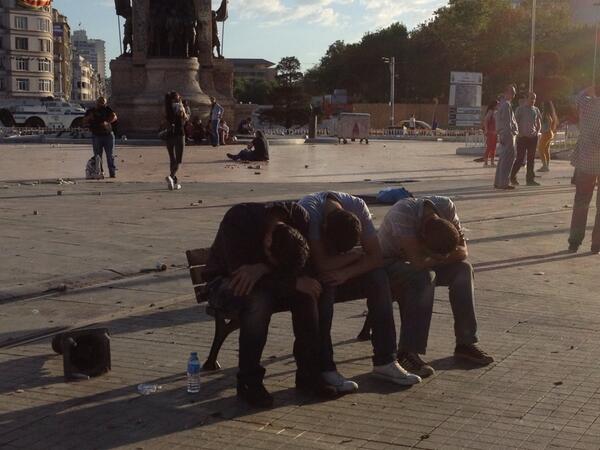 CihanSCelik: #Taksim early morning. Weary #Occupy #Taksim protesters after a night of clashes in #Istanbul. http://t.co/2XqH70eEC4



SyrianCleopatra: Hundreds if not thousands of Turkish protesters today down with Erdogans regime #Turkey #occupygezi @RT_Erdogan http://t.co/TbVgNdiiiG



WarFreeZone: Thousands of pro- democracy protesters headed across Bosphorus Bridge towards downtown #Istanbul Saturday AM. http://t.co/4avDESICfS



constantnatalie: RT @eturesay Sign from Pershing Square #occupygezi protests http://t.co/ZtWNIJdeG0



ResistanceAxis: RT @SyrianCleopatra Hundreds of Turks block a road in protest of Erdogans government. #Turkey @RT_Erdogan http://t.co/xRujLF7NRA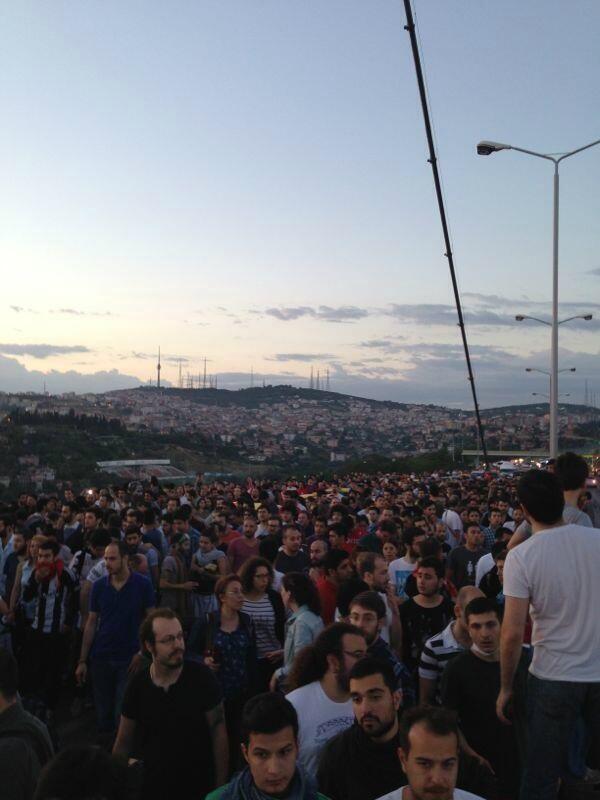 EatingAsia: A tumblr of images from the Istanbul protests https://t.co/jAGdb72TPd #occupygezi



AltayDem: We are coming over! @YourAnonNews V is coming from in the fire at Tarlabaşı #OccupyTaksim http://t.co/dFWgzOZH15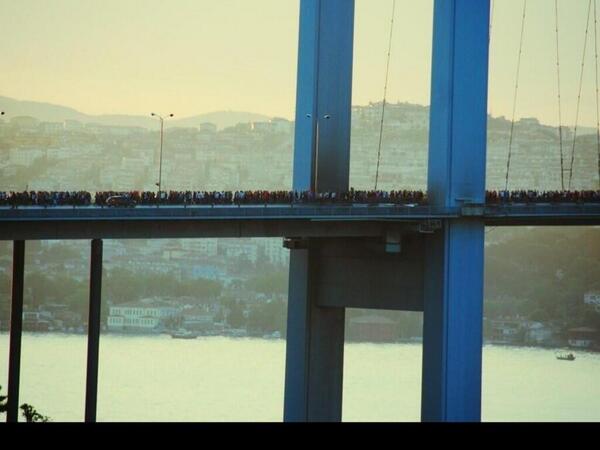 aykan_erdemir: More then 40 thousand people are now crossing the Bosphorus Bridge in #Istanbul to join the protests. #DirenGeziParkı http://t.co/x4DCSghqtn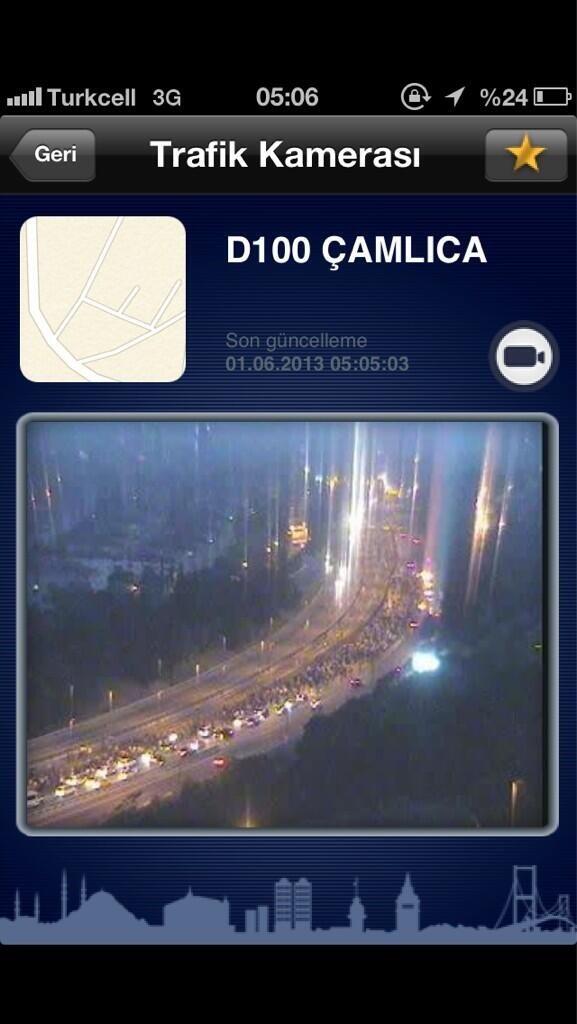 TaylanYalniz: RT @theburakerhan People marching to Taksim from Asian side of #Istanbul #gezipark #direngeziparki http://t.co/8C0CYXaxCY



AmericaFreeTV: RT ‏@Wanchope_Dickov People crossing from the Asian side of Istanbul to protest this morning. #occupygezi http://t.co/Ud4SVOWEYt



WarFreeZone: Dawn on the Bosphorus Bridge: new wave of pro-democracy protesters headed for downtown #Istanbul to confront police. http://t.co/djmCXEDTv8



gamzesaba: Peaceful Protest Over İstanbul Park Turns Violent as Police Crack Down #occupytaksim #occupyturkey #oneminutetayyip http://t.co/hZIxQLubFY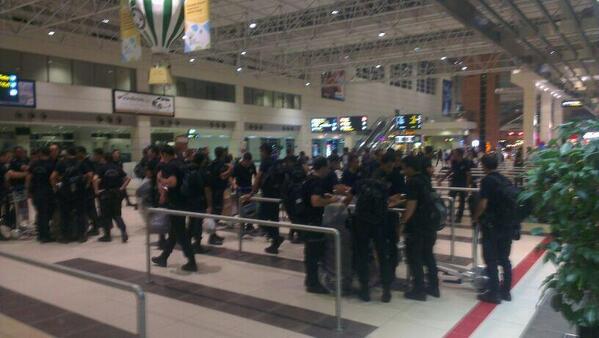 tezcanalev: RT @oemoral Government reinforces security forces in #Istanbul from Antalya. The airport via @RedHackHaber_ https://t.co/UU4uEGd0Gg #Occup…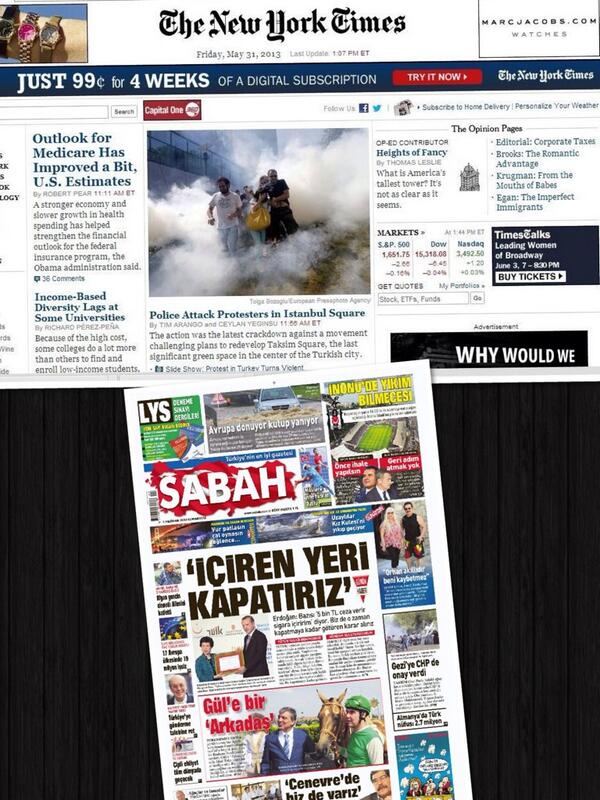 Wriseup: NYT cover: Turkish protests in Istanbul : http://t.co/P2PSAnfbMr MT @SelcukRSirin NYT ve Sabah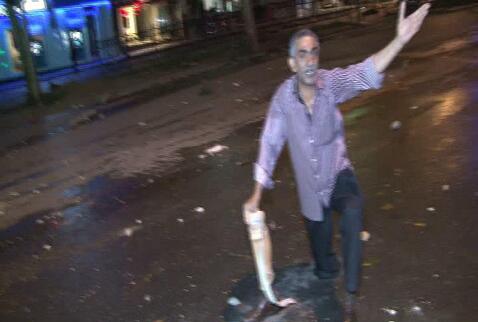 VOT99: Man in #Taksim showing his prosthetic leg to Police and saying STOP THIS OPPRESSION http://t.co/NjL4JzASJ7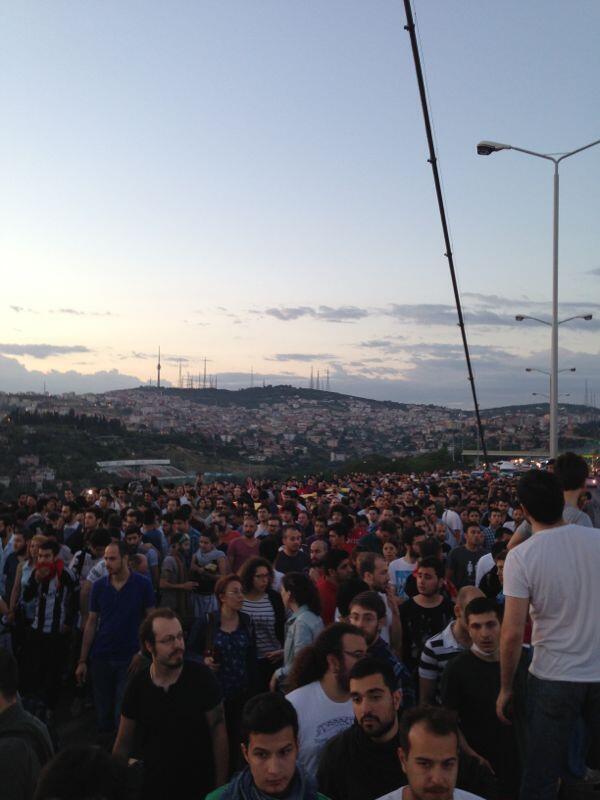 GulinFM: Thousands r pouring to Taksim on foot for support.No one is armed but police attacks with tear gas @Reuters @nytimes http://t.co/iV5pzfw1Lc



TreiloWorldNews: Riots, barricades, street battles as police fight protesters in Turkey (PHOTOS, VIDEO) - http://t.co/aYER7zdVky http://t.co/kDxDINXA37



Iguana Keeper: Someone in a military uniform is passing out facemasks to some protestors through a fence! @JessiesssJ http://t.co/MpiUk2uQ2v #Turkey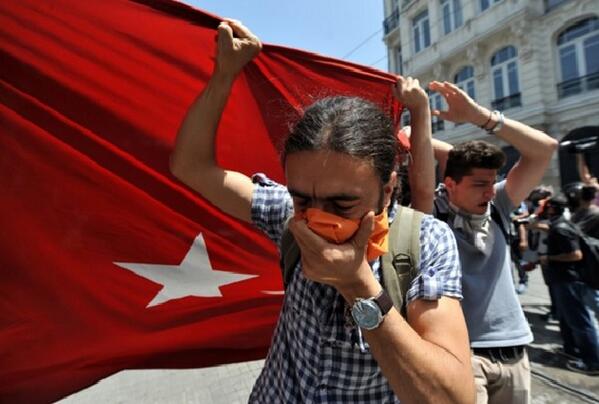 nb8434a: RT @aushpaz Shame on Edogan…#Turks being attacked by own Police! #TurksRising #OccupyGezi #Turkey http://t.co/7MtwMlCWTa



skuzeyyildiz: #occupygezi Another snapshot from the bridge. And another censorship. Thoudands of people… Where are they now? http://t.co/Aelac6XDll



writepudding: Im in Pershing Square where L.As Turkish Diaspora is starting to gather to show support for protestors in Turkey http://t.co/c8HLk1E6Xs



bombecerise: RT @AlienMedia Turkish protesters now surround pro govt NTV protesting its bias policy of no coverage. http://t.co/YYsRkciXt4 #Occupygezi



erikwdavis: These book-reading protesters in #Istanbul are just so awesome. https://t.co/wA08heey57



idrobinhood: MT 15.000 people gathered in Kadıköy , now crossing the Bosporus Bridge on foot. #OccupyGezi http://t.co/0TTmHsgWGv #YAN #Anonymous #J1



CAPT_TAREK: #Turkey police brutality against civilians http://t.co/7MCIZrwd2o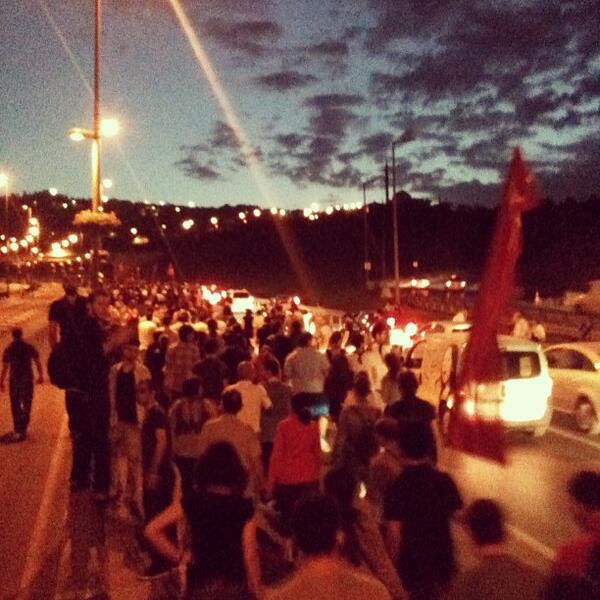 techsoc: Dusk at Istanbul. Main highway to bridge closed, protestors walking over. via @140journos https://t.co/zrTjMaEnJi



Sleymen el hatayle: #istanbul #Erdogan #turkey turkish soldiers give protesters gas masks. We are not alone. Atatürk is alive. http://t.co/3zAqhguTiU



TuqaElneanaey: RT @Ahmadtal3t Massive protests in #Istanbul #Turkey #Taksim #direngaziparki against #erdogan right now :) http://t.co/i3xOqr2TCE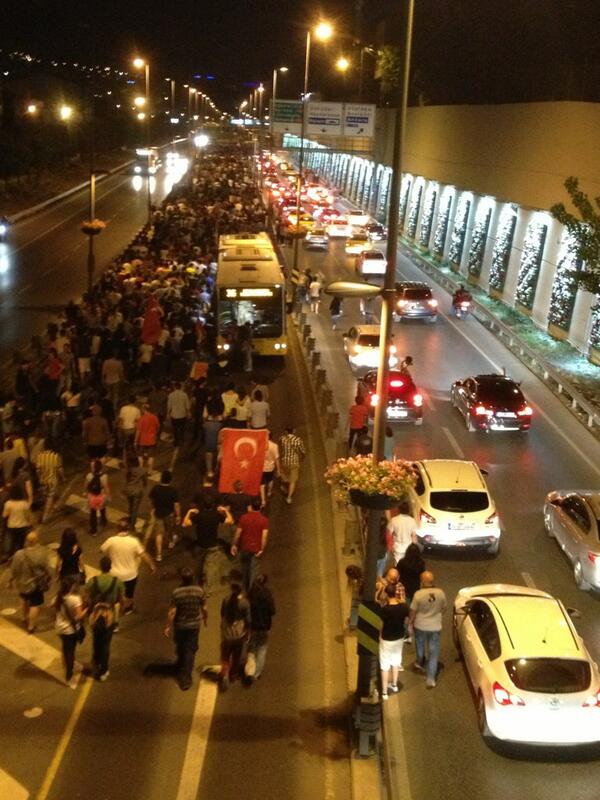 FatihYarsi: protesters walking from the asia side of istanbul to the european side at around 4:30 in the morning #occupytaksim http://t.co/vaJX7xPE6y



CAPT_TAREK: #Turkey street carpet of police teargas bombs http://t.co/4sO5S9T9DH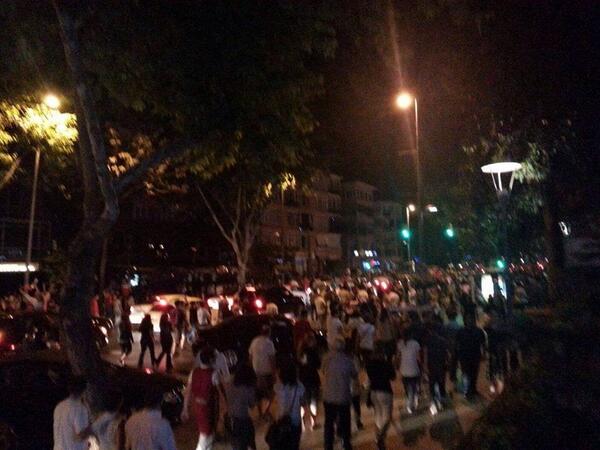 Fr0bisher: RT @Iman84NL Protests growing like a wild fire In # Istanbul, this is Istanbul 3 AM #turkishspring http://t.co/fZe2ZYstII



CAPT_TAREK: #Turkey Another old man police cartoach shot in the face http://t.co/7Neb6Z2mDW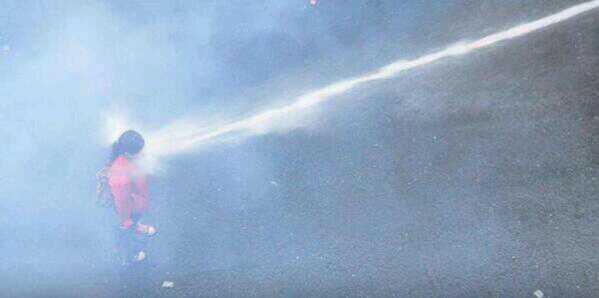 valeriobrl: RT @Bassem_Sabry …one of the most iconic photos from the protests in Turkey #Turkishspring #Takism #geziparki http://t.co/xT4GbbYi4B



bbovya: @cnnbrk #istanbul the police is attacked on innocent young people!!! http://t.co/lwUytQRKg0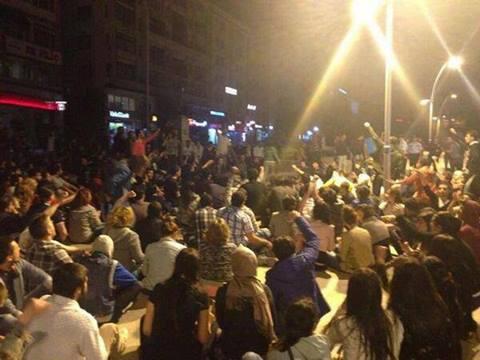 b9AcE: RT @WashingtonPoint Another sit-in protests in the city of Bolu, 2.5 hours from Istanbul RT @O_Altiparmak Bolu… http://t.co/qR4hn7zkGJ



HedgeHerbs: RT @AwaisElahi_ 01/06/2013: A pic taken by source in #Taksim that shows the scale of protests. #NOWTURKEY http://t.co/ktqOb13Cw7



L_Socialist: Solidarity with comrades in Istanbul, down with the state, all power to the people, Long live Anarchism. #occupygezi http://t.co/PABKN4OZn4



AJeburri: RT @gi_syrian The power of a photo is shown during a protest in #Turkey #occupygezi #diregaziparki #turkishspring http://t.co/hPNvI3QA63



incinema: BBC News talk about the protest against the current government of Turkey. http://t.co/vjme8ipPlV



CAPT_TAREK: #Turkey police cartoach direct shots http://t.co/gh2QyihoXY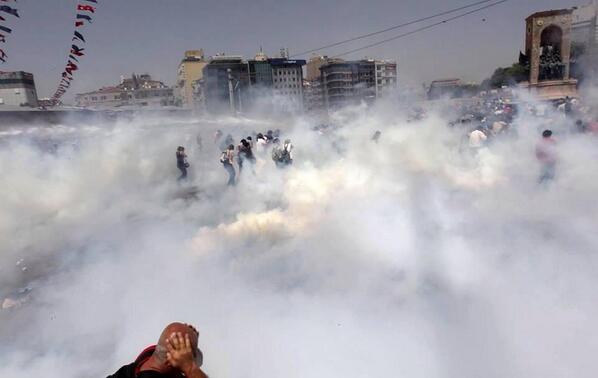 Montasser: RT@malonebarry Another incredible #Taksim image by Osman Orsal of Reuters, who was injured in the trouble http://t.co/1f9IlQAQcA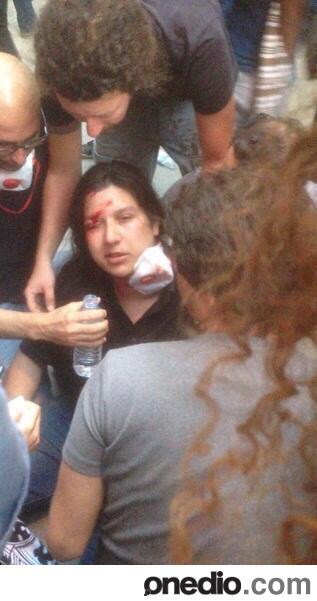 NewsBalkan: Turkish woman injured by police. #OccupyGezi #Turkey http://t.co/U4qAzPxSHS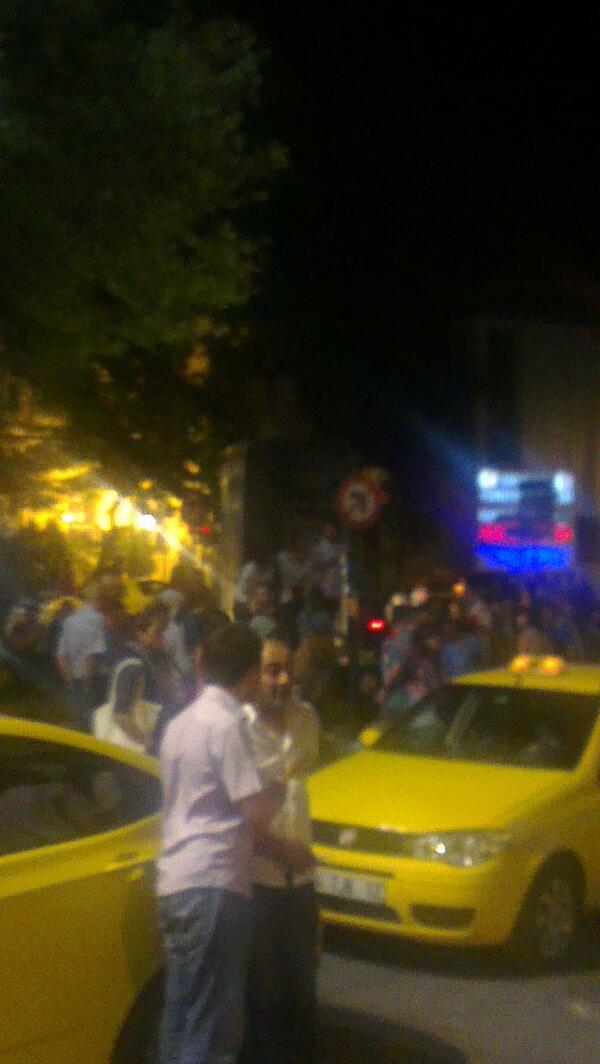 ekizilkaya: First signal of police withdrawal? TT @enginbas In Harbiye, people are in control. Police is gone. http://t.co/ZwkKSAVZez #occupygezi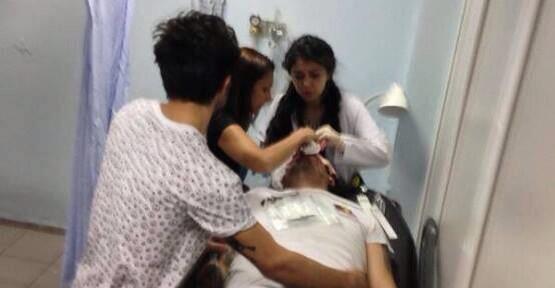 HusainAlaswad: RT @Iman84NL Reports from #ISTANBUL, Hundreds of people in the hospital after police intervention #turkishspring http://t.co/0vIbSvUxTv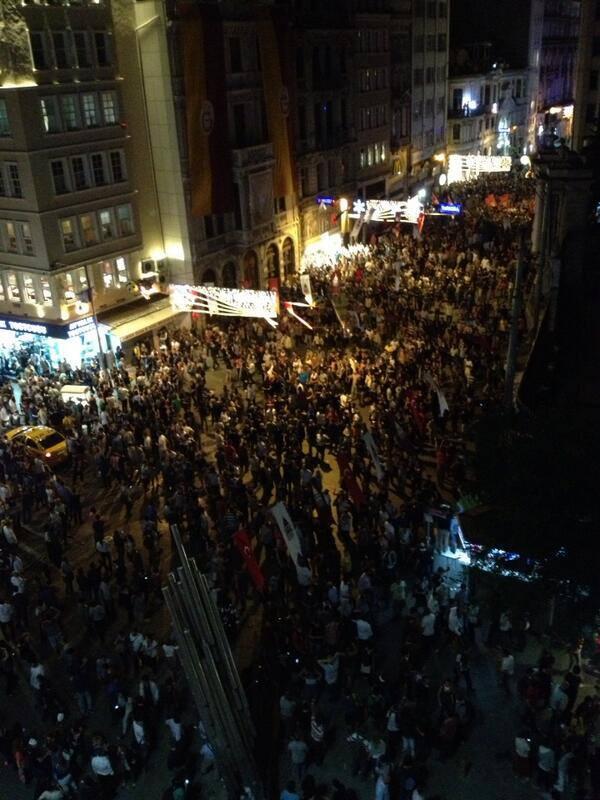 DrfdeL: RT @radwa3317 01/06/2013: A pic taken by source in #Taksim that shows the scale of protests. #NOW_TURKEY http://t.co/prJlRAKSvL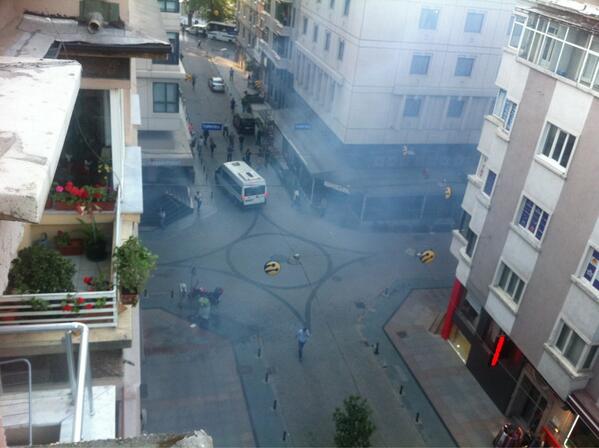 Gironymo: Fumes of tear gas in Taksim http://t.co/ldayFdQ4YR



kimberlyalh: Protest in Turkey started over a park, now massive protests about democracy and increasing gvmt bans #occupygezi http://t.co/PzB9uzlx8p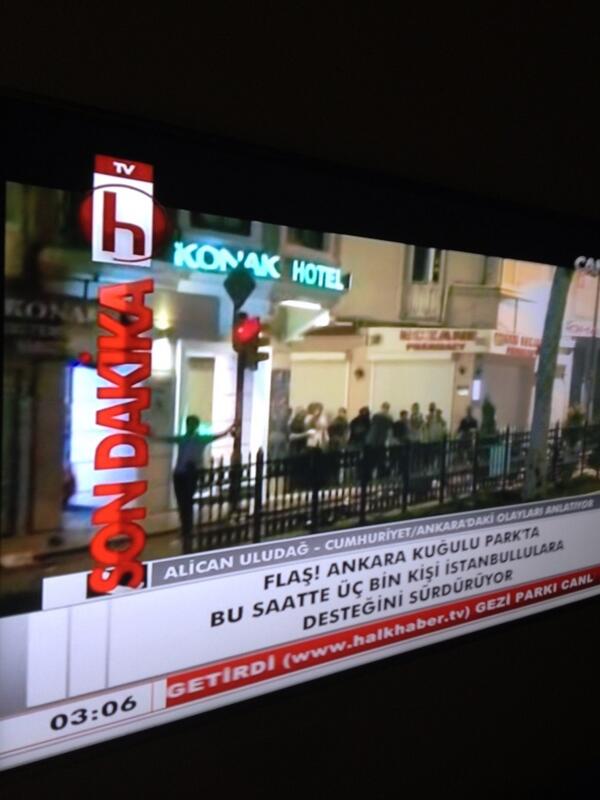 OzgeOvun: RT @TurkeyPulse Its 3:05am. There are about 3000 people at Ankara Kugulu park, in support of #OccupyGezi http://t.co/ajdJRE2yd2



_duygusimsek: London event details to protest violent Turkish police!!! Tomorrow we are walking to Hyde Park #occupygezi http://t.co/r0RKbPWBb8



Fatma_Flora: @SteveMartinToGo #NewsToGo #occupygezi Police clashes with civilians in Istanbul!The real face of Istanbul-Turkey! http://t.co/MR3rB5fC7c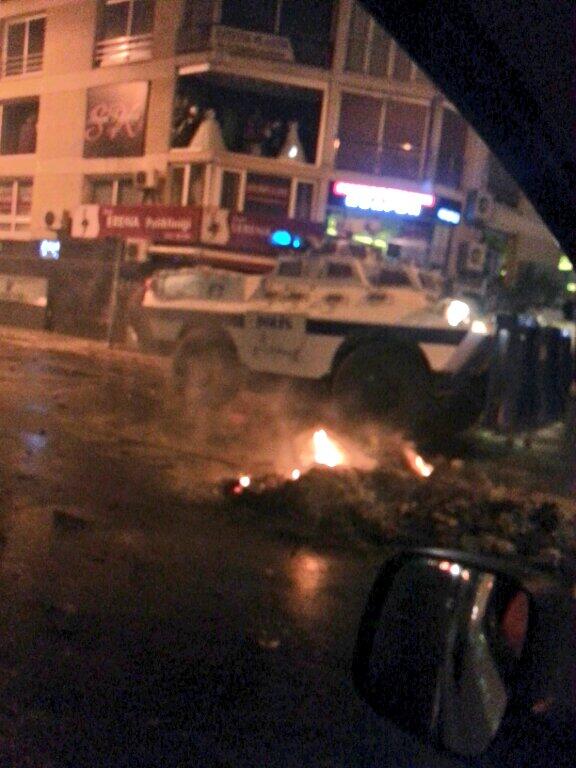 refhan: @BBCBreaking @BBCWorld @cnn police is attacking protestors in izmir, 3rd biggest city #occupytaksim #occupygezi http://t.co/a1O9s57oH4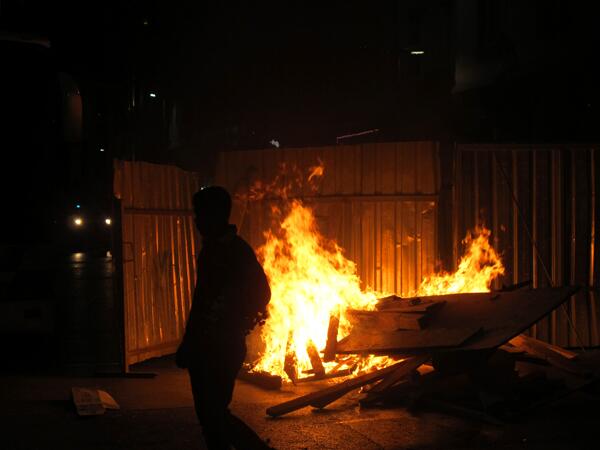 harikaszaza: Fires set by protestors burn in Talimhane, as police tank waits. #occupygezi #Istanbul #riots http://t.co/9Mw3yeiM1U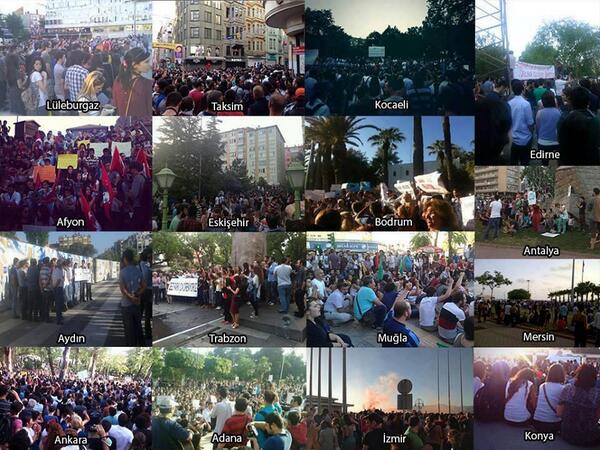 HIGHnBASED: RT @GeorgieBC #Turkey Mass Solidarity w/ #direngeziparki, against police violence & Gov Corruption. http://t.co/OIbKzbXlHN v @newsrevo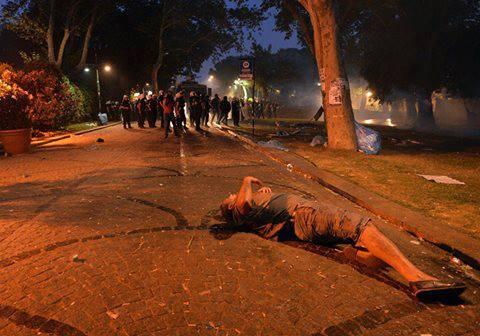 buszgur: @kurtizz01 In Ankara, police attacked protesters in solidarity with those in Istanbul #TurkishSpring #DirenGeziPark http://t.co/wrNjgobLHm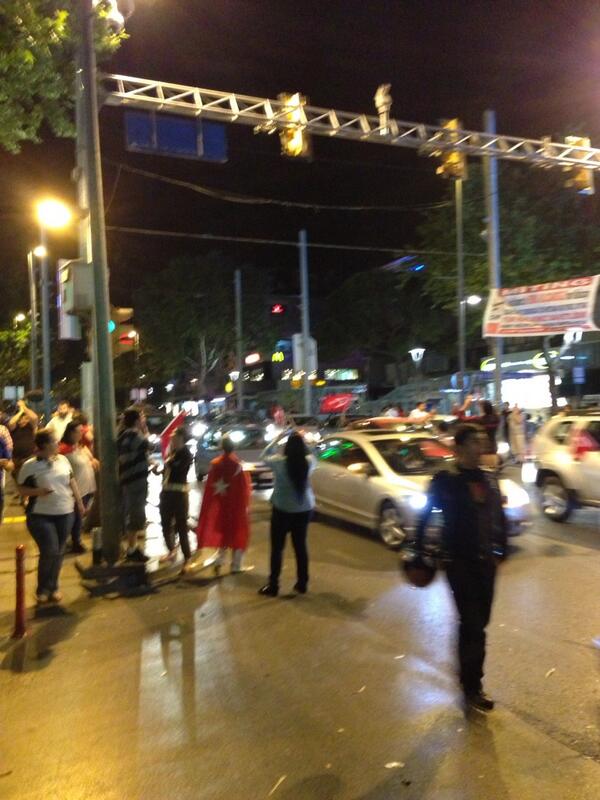 imlob99: RT @aaronstein1 Bagdat shut down, protesters chanting Tayyip step down #occupygezi http://t.co/c2E1XSxyff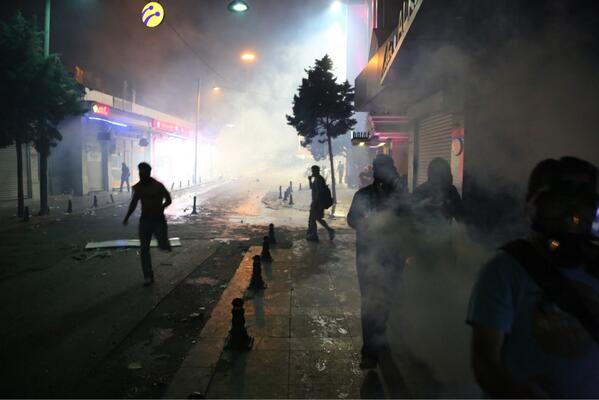 enisdurak35: Police still throwing teargas to protestors #occupygezi #occupytaksim http://t.co/o2U3xd7pYd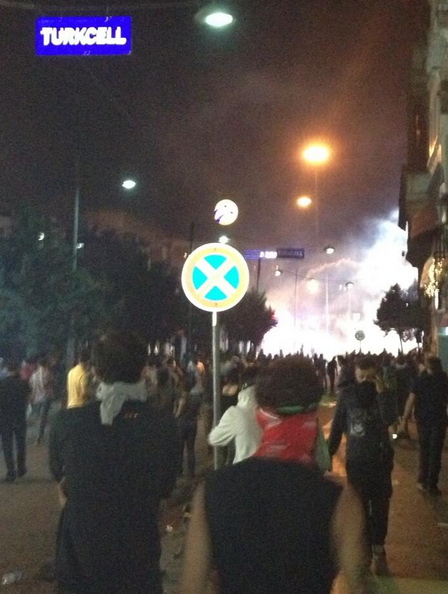 constantnatalie: Police came back to Harbiye, attacking protestors again. via @ozgurmumcu http://t.co/EeGASCX6Kc #OccupyGezi #DirenGeziParkı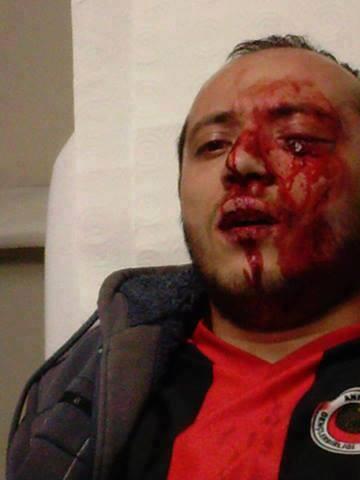 jeffreymadwisc: Istanbul #turkey man loses eye hit by police gas canister http://t.co/M9jOQ5Yig3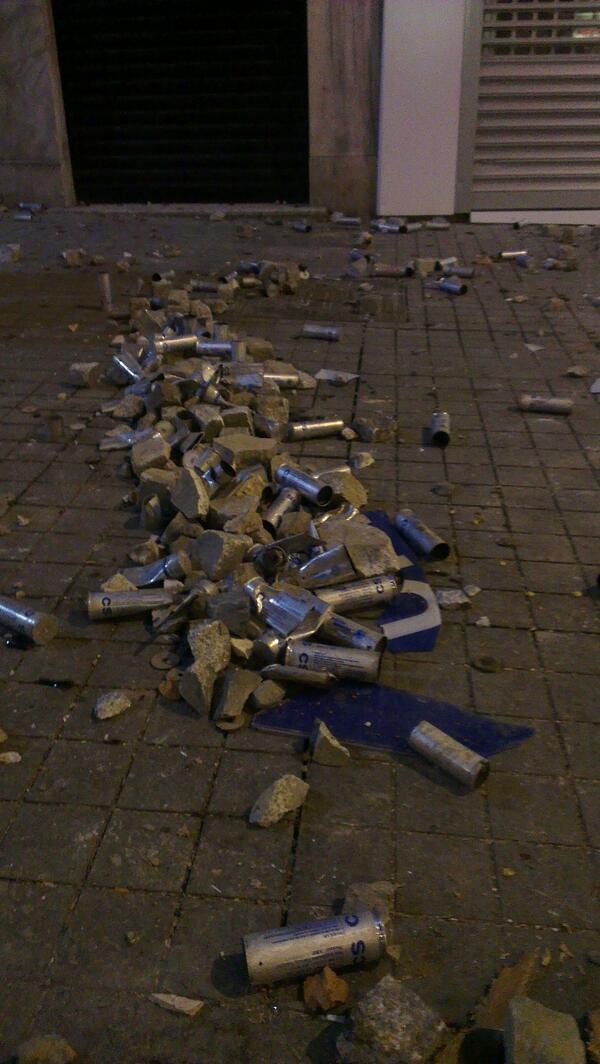 ManolyaZeynep: RT @orajbodur Empty tear gas canisters in İstiklal, there are thousands of them. #occupygezi http://t.co/RO4I6prdXH



kalimakhus: RT @57UN Crowd gathering in #Harbiye, about to march to Taksim. #direngeziparki #occupygezi http://t.co/YbOJi1d05D



depptx: @kursat_tuncel Protests against government spread all Istanbul barbaros boulevard closed, People ask P.M. To resign http://t.co/5SHU7aVtrs



plasmavir: Breaking RT @gi_syrian #Istanbul #Turkey a few minutes ago, a government building was set on fire #turkishspring http://t.co/M36QiHoqvV



Amarandrill: Police attacked a nearby military barracks to stop the soldiers helping the protesters. #direngeziparki #occupygezi http://t.co/cI3HhFgGg8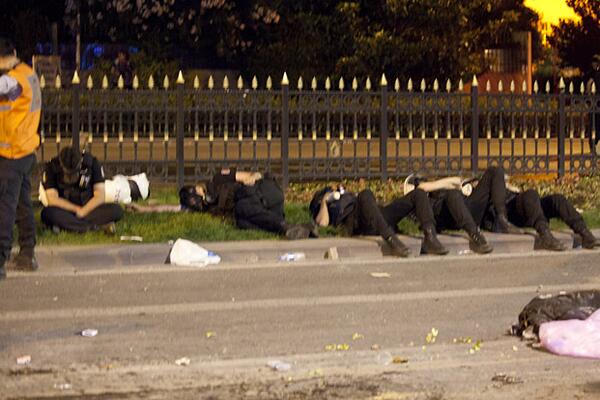 myriamonde: riot police napping on sidewalks - http://t.co/gDRpY8L62C #occupygezi



kursat_tuncel: International Amnesty Organization calls all members to take an action for police violance in Istanbul #direngezipark http://t.co/2w8l8cTKuS



AmericaFreeTV: RT @Michelle9647 Live : Growing number of turkish youth in protest tonight http://t.co/g4rMVmEPoF v @T3ev #occupygezi #ankara #Turkey



Princess Luna (Real): Police in #Turkey shooting upon a Protester who is disabled. #DirenGeziParki #DireGeziParki #Occupy #Anon #Egypt http://t.co/qwtwLdF8gd



MOHAMMAD: RT @Princessluna11 Police in #Turkey shooting upon a Protester who is disabled. #DirenGeziParki #DireGeziParki http://t.co/poAaxBm7wt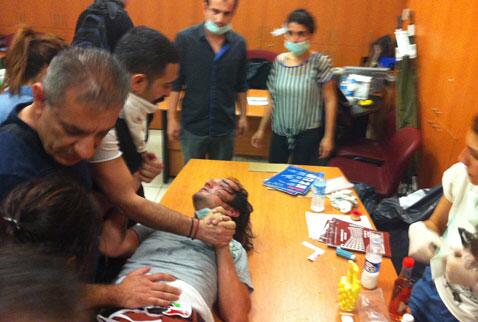 ginaquqiadavis: Travelling hospitals are set up in Istanbul to provide medical assistance to the injured protesters: #direngeziparki http://t.co/gBrHruJ1Gk



iDersim: The protest was peaceful. Green activists wanted to save #GeziPark http://t.co/pPnFtsqUM7



slavinnka: … does it need any comment?? This happens in Istanbul, people are protesting against goverment. http://t.co/wfZVW3U0RB



Athena_Kouri: RT @oemoral Police decides to raid #izmir demo. Will push the crowd towards the sea #occupygezi http://t.co/Zb8fxXIiT0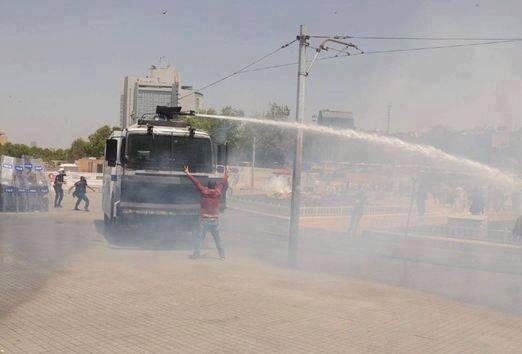 bfahmy77: RT @MoElMalt #Dejavu A Turkish protester stand in front of riot forces vehicle #Turkey #Egypt http://t.co/S7tCFEn7sr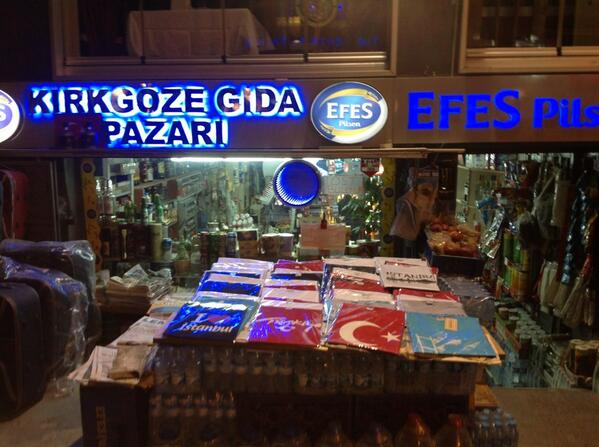 GenerationAlpha: Like #Egypt, grocery stores suddenly is selling the Turkish flag.. Revolution Economies are emerging #occupygezi http://t.co/I9WXQEDHbC



TreiloWorldNews: Turkey protests spread after violence in Istanbul over park demolition - http://t.co/CFZTD6okhS http://t.co/uF68ovnrmz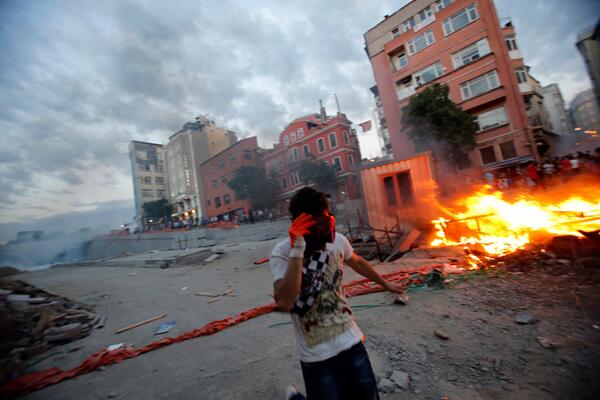 RT_com: PHOTO: #Turkey protestors set fire to barricades as they clash with police http://t.co/AUiY7X1WS2 #direngeziparki http://t.co/P3wZREATI9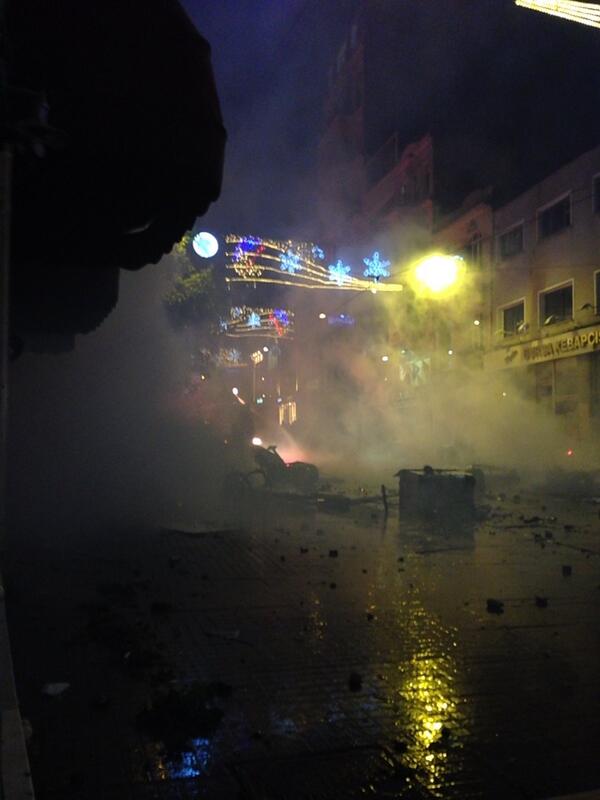 ozhakikifiriman: @JHickman 01:15 AM in Istanbul. This is a protest against police violence. Local media is silent RT much much needed http://t.co/LiKlE3pTE5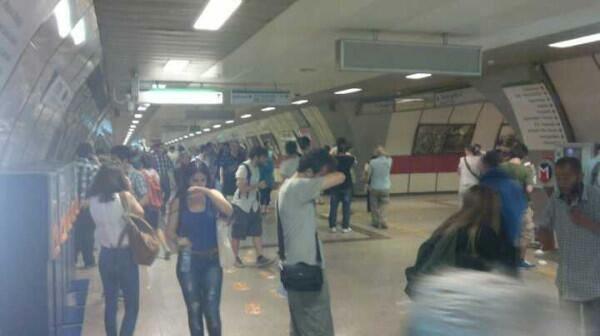 Baka_62: RT @SulomeAnderson Pic taken by source in #Taksim that shows police allegedly tear gassing subway station #occupygezi http://t.co/3JR5F2upme



kumutunal: RT @arthistorynotes #direngeziparkı #occupygezi Excessive use of tear gas on protestors is a lethal chemical weapon! http://t.co/6UXKb9IPkx



semmoneglynn: RT @57UN A man loses an eye after he is hit with a gas spray canister. #direngeziparki #occupygezi http://t.co/j5rwNuy4wp



appleofsodom: #policestate in Turkey people protesting against police brutality get teargas http://t.co/uYN9lx8tGX



Krazy9Kat: RT @anubidal RT pls!!! @oemoral Main arteries in central #Izmir barricaded by fire #occupygezi http://t.co/M7YnHk7Ac3



arikansirakaya: Police panzer that the protestors captured.Its the PMs name written #occupygezi @YourAnonNews http://t.co/a8txLAmc0u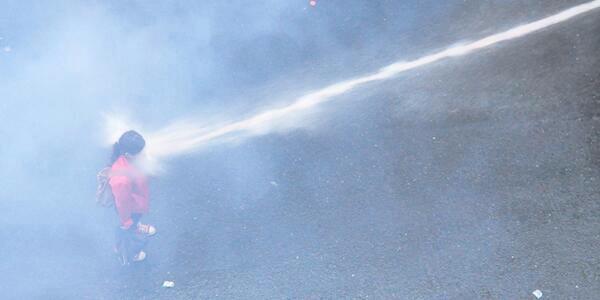 zorica_l: RT @SulomeAnderson Another photo of female protester being sprayed by police #occupygezi #Taksim #Istanbul #Turkey http://t.co/a1imrxGbiT



Princess Luna (Real): Fires in the Streets as protesters clash with police #Istanbul, #Turkey #DirenGeziParki #DireGeziParki http://t.co/B2yVD3sFf7



ctekay: MP @SirSureyyaonder tweets photos of police violence from Taksim. He was injured earlier #direngeziparki http://t.co/WhYxYMk2WK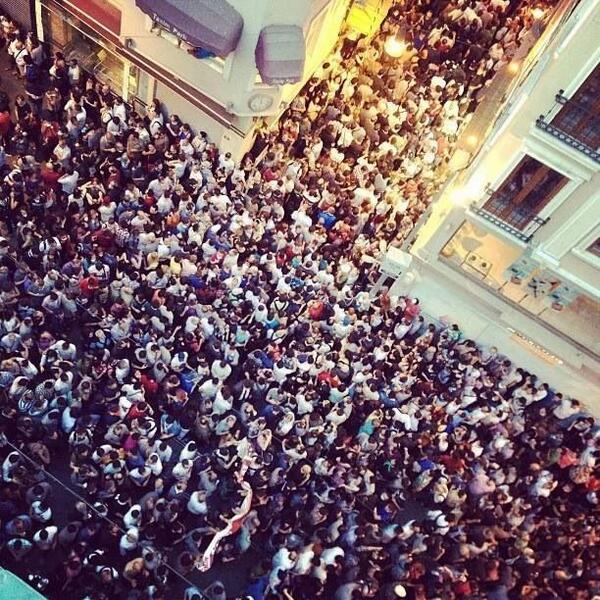 oktayozgun: Police fires tear gas to the 1000s in the narrow streets of #Taksim to run down each other #DirenGeziParki #occupy http://t.co/FNabhIWDNr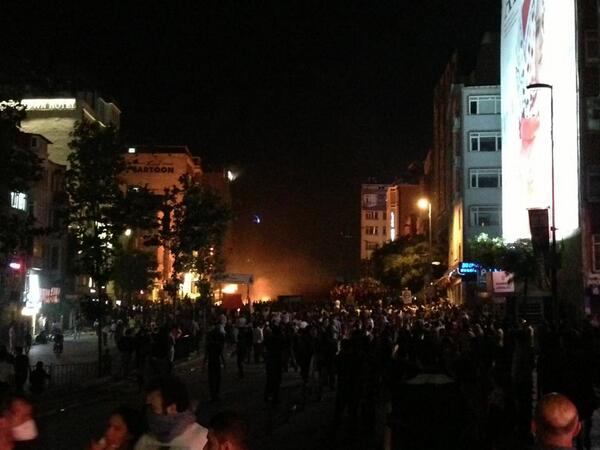 SulomeAnderson: A pic taken by source in #Taksim that shows the scale of protests #Occupygezi #Istanbul #Turkey http://t.co/HSkdJPxZHP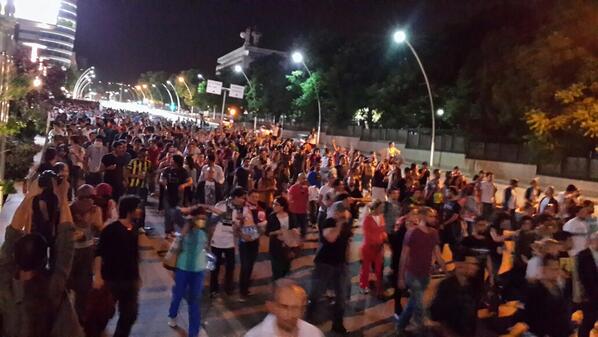 calsojorn: RT @fulyacandas Thousands of people in Ankara are walking to Kizilay, blocking roads http://t.co/Pjo3j7IlFa @Reuters



norisdata: RT @57UN In Harbiye, near Taksim, people report police driving their vehicles over them. #OccupyGezi #DireGeziParki http://t.co/vSAu6EEFmI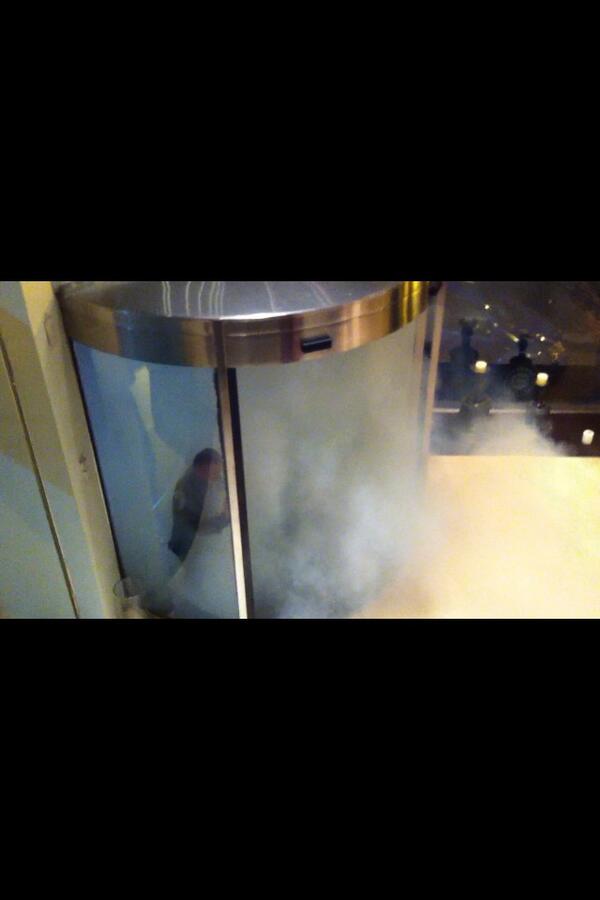 deppty: police use tear gas eveywhere..inside, outside http://t.co/CWlhi4rFSb #direngeziparkı #occupygezi



oradayken: RT @karamuska Animals also suffer from tear gas in Turkey. #occupygezi http://t.co/2jzEipzpNs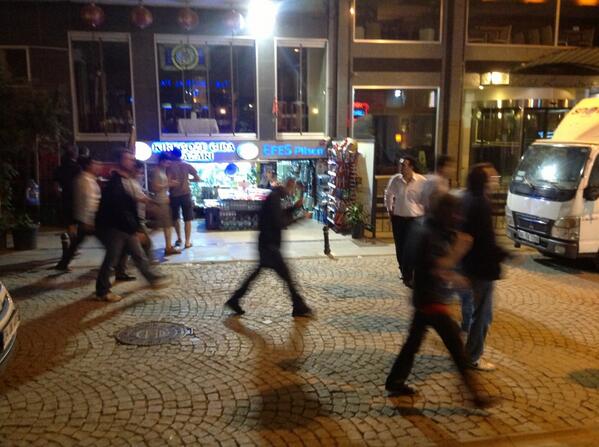 hanyissac: RT @MarwaMfarid Protesters running from tear gas in one of #taksim side streets #occupgezi http://t.co/E9Y8d2KiQh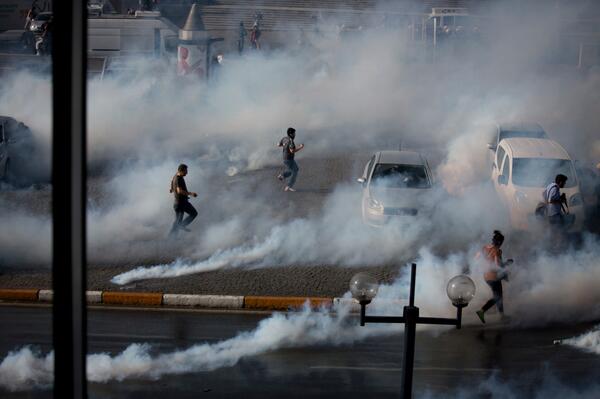 tamejhna: RT @edouphoto protesters flee from tear gas in #taksim square in #istanbul #turkey http://t.co/yOWaeRBpxa



oqoco: @Fawkxy #direngaziparki #geziparki #istanbul http://t.co/cnQ5aq9yeF >> fucking hell. Thats resistance to protest. Gobsmacked!!!!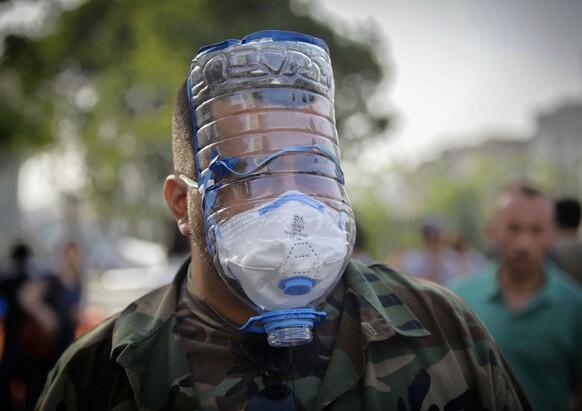 Niraja_vd: RT @Selintifada Gotta love the creativity of Turkish people clashing with (…) police #Istanbul #GeziPark http://t.co/JsdAbMyMcZ



mrvclkkk: @zaynmalik Greenpeace joins peacefl Gezi protests in solidarty, and to protct the right to peacefl protst #occupygezi http://t.co/lePs38hyhP



fgeerdink: omfg, #istiklal boulevard, #istanbul : RT @GurkanOzturan Thousands of empty teargas cans by @PINAR_OGUN http://t.co/pKiVc1HLBn #OccupyGezi



Blackeye131: RT @brcsenay Terrifying results of brutal police attack in Taksim, Istanbul today. #istanbul #Turkey #ocuppygezi http://t.co/3QVxSE6NgK



probefahrer: @ibo seh es grad :( @uykusuzcadi empty tear gas cans all around, police wont stop.. #occupygezi #direngeziparki http://t.co/ga9G737VGj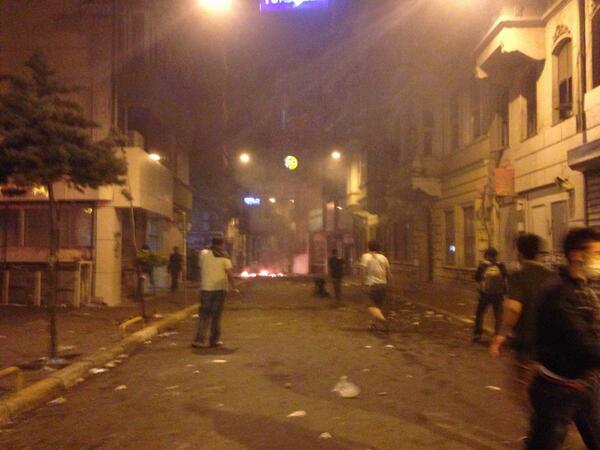 OylanOylan: RT @mehvesevin Taksim streets under gas attack, protesters logoyu fire #direngaziparki #occupytaksim http://t.co/1DWqV3FvNM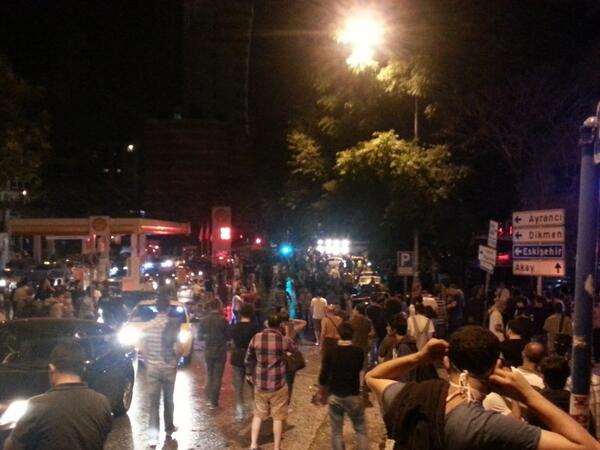 saragilcas: RT @nuovoatlantide People got their positions back now in Ankara heavy chanting of Tayyip resign pls RT! http://t.co/nRZSk37xL3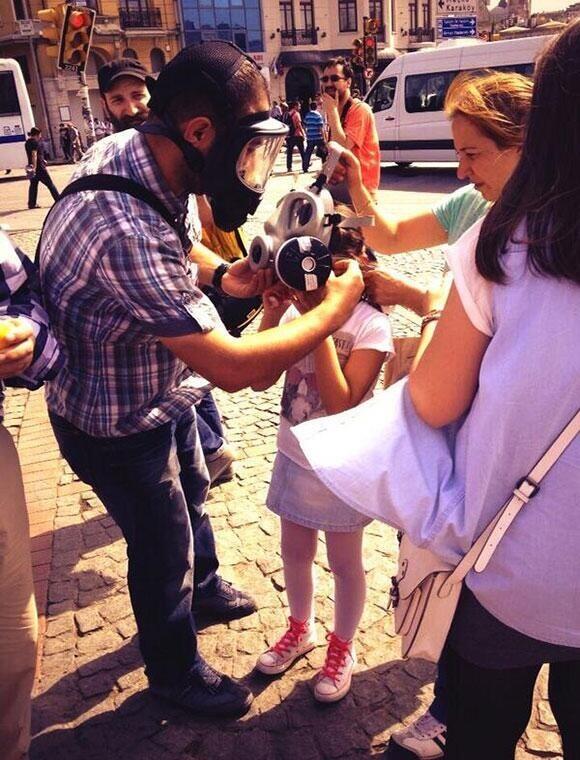 seianders: RT @BuzzFeedNews PHOTO: Young girl in Istanbul fitted with gas mask during protest (via http://t.co/EVncWNAezG http://t.co/LaZlcNw90I



Alamet0: RT @TheBigPharaoh Turkish protesters in Ankara using beer cans to block roads. I wanna go protest in Turkey NOW! http://t.co/SKESUZcBdr



kecileblebisi: @BILD @ABC news about taxim peacefull protest who protect the park against the police and goverment 31may İstanbul http://t.co/tmJ1u22zPz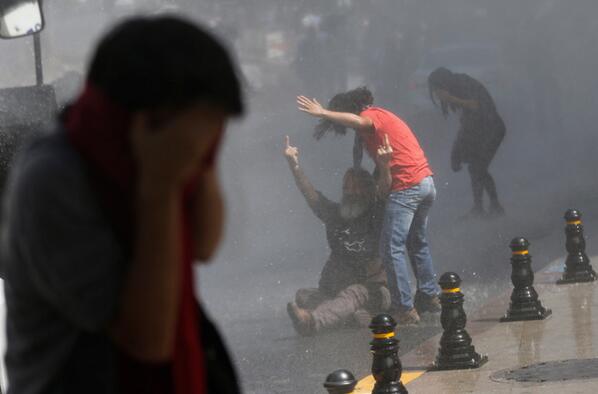 RT_com: Police used water cannon to disperse protest against trees destruction in #direngeziparkı http://t.co/YgYDAOE75M http://t.co/LHKPDqVeRJ



sexyprout: RT @RT_com PHOTO: Aftermath of protest that turned into anti-government demonstration in Istanbul, Turkey http://t.co/AfAawH4QQP http://t.…



mirabuhash: Now happening in #Istiklal street in #Istanbul #protest to save #gezipark turns into a #revolution http://t.co/6B5jBOV2nQ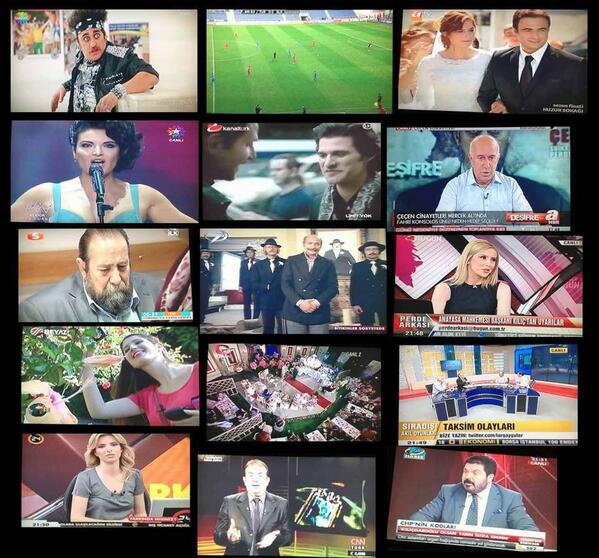 turgaytoksoz: RT @TC_AliBaba1907 RT pls! This is a snapshot from major Turkish TVchannels at the moment of protest in İstanbul! http://t.co/aVMSWMNHU2 …



erdierge: Thousands chant Murderer Erdogan in protests against police violence in #istanbul #OccupyTaksim http://t.co/ShniIcmiEq



ozhakikifiriman: @ruckawriter 00:15 PM in Istanbul. This is a protest against police violence. Local media is silent! Please RT http://t.co/MJakzwY76D



asmnc: @YourAnonNews Turkish police attacks rioters with tear bombs. Rubber bullets used. #occupygezi #direngeziparki http://t.co/NGxwDoTNZj



ctekay: Crowd pushed towards Cukurcuma and tear gas bombs RT @evrimtv @ayagakalktaksim #direngeziparki http://t.co/17oMThgRT8



57UN: Friends in the heart of #Istanbul. Turkish police is pepper spraying youths randomly. #direngeziparkı #occupygezi http://t.co/4DAgkSZHs0



Brown Moses: Reportedly a bus the driver of which parked across a road in #Taksim to block police riot vehicles #occupygezi http://t.co/YRm1QtT2dZ



SnafuZen: @AliCologne RT @znpasli This is from Izmir.. Police is getting ready to attack #direngaziparki #occupygezi http://t.co/WeXyNLoyvM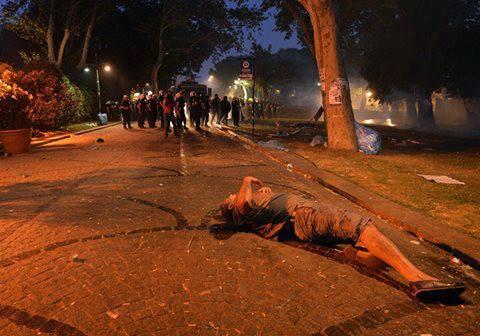 risinggalaxy: (via FB):Ankara,Turkey 31-05-13NowBrutalRepression against protesters in solidarity with their Comrades in Istanbul http://t.co/XqFuCJC9Zh



ismail özdemir: @washingtonpost @nytimes @WSJ Istanbul is under fire!!! @Obama2012 please help us! Police is killing innocent people http://t.co/CmfJqRLh89



runswithwaves: RT @e_horace Hundreds of new support for police has come to Taksim to attack!! #direngeziparki #occupygezi http://t.co/XwHNVuyvVu



oemoral: Hurriyet daily photojourno Selcuk Samiloglu after police violence via @kedibekir http://t.co/LkUVMdEtmM #OccupyGezi



Micha Johan: HORROR made in #Turkey !! FUCK dictator Erdogan @RT_Erdogan !! Protesters #OccupyGezi to save Istanbul park! NO #E http://t.co/jANM8Xgq4R



ebrugunacan: RT @mehvesevin Thousands of people in taksim under constant police attack. Democracy in turkey #direngezipark http://t.co/VftiBfXWF1



BolukbasiEren: @FareedZakaria Police are cutting off internet in Taksim area and turned off all CCTV cameras. DO SOMETHING! http://t.co/Wpy9Oa0OKK



MuratYetkin2: @ekizilkaya Hurriyet photographer Selcuk Samiloglu is badly injured in Taksim protests http://t.co/g9gdBmK7Py via @SerminTerzi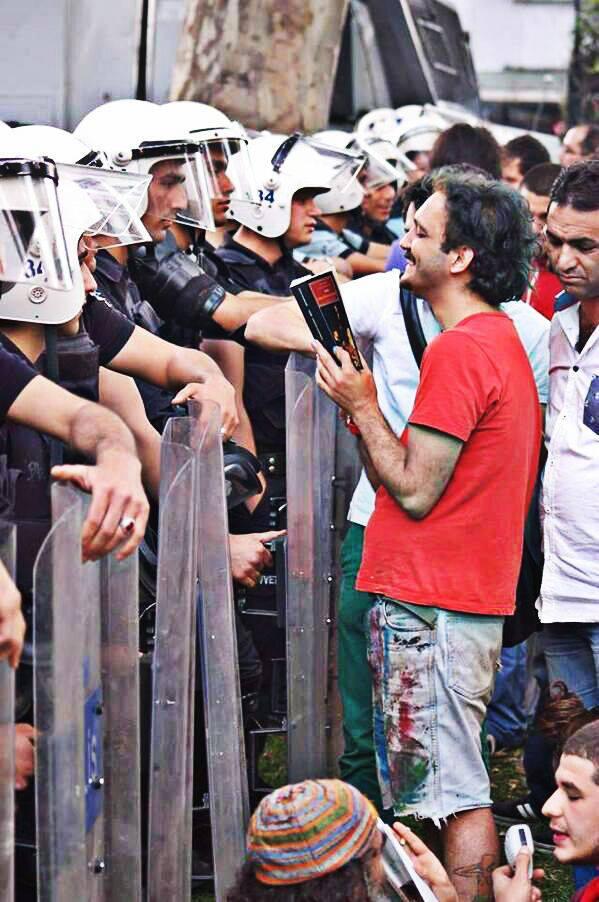 ErinchSahan: Pics from #geziparkı peaceful protests provoke onslaught of Turkish police #direngeziparkı http://t.co/zhAer5bkzf http://t.co/5WDaXl6B2c



ولاء: A picture from todays clashes in Istanbul. A woman offers riot police some food. #OccupyGezi http://t.co/a4dtna48eV



cerenayyurek: RT @canmetee ÇARŞI anarchist supporters fighting against the police now, in Istanbul ! @FootballFunnys please RT. http://t.co/s3p69RgQ4n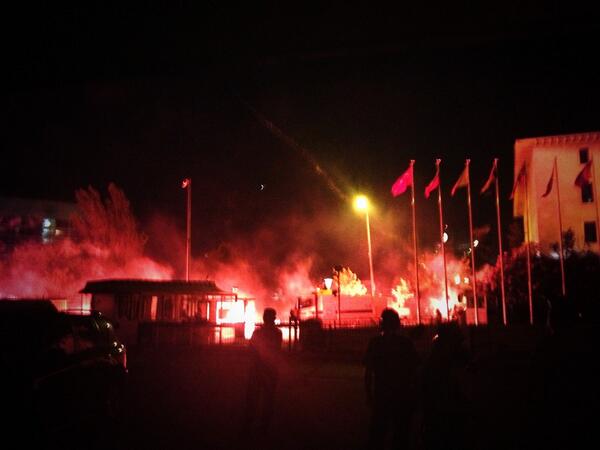 AnarshistA: RT @sokaktakvimi Police attacks the hotels which host the wounded people http://t.co/jQAwP6Z8gI #occupygezi @Anon_Central @SageAnon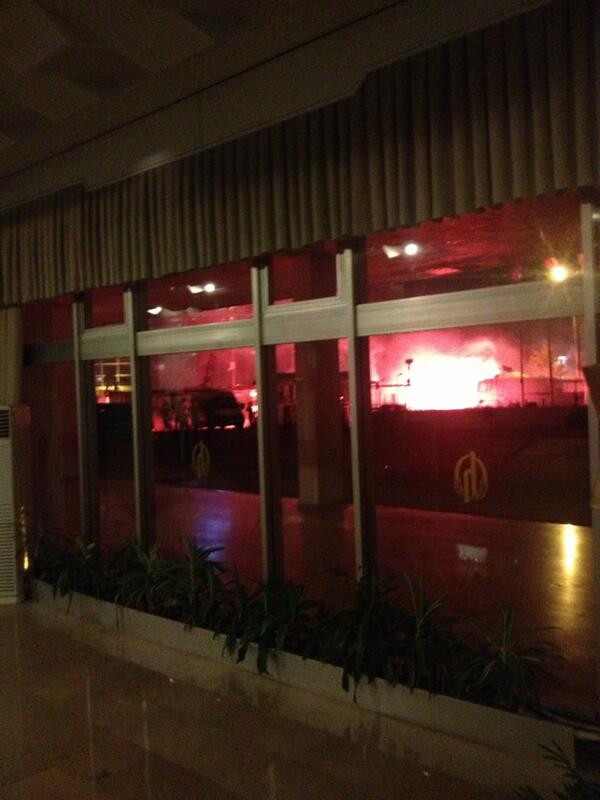 marblingblue: @cnnbrk@amnesty@BBCWorld in front of the hilton hotel.. police gas bomb to harbiye military building #direngeziparkı http://t.co/JX8xnvyuhB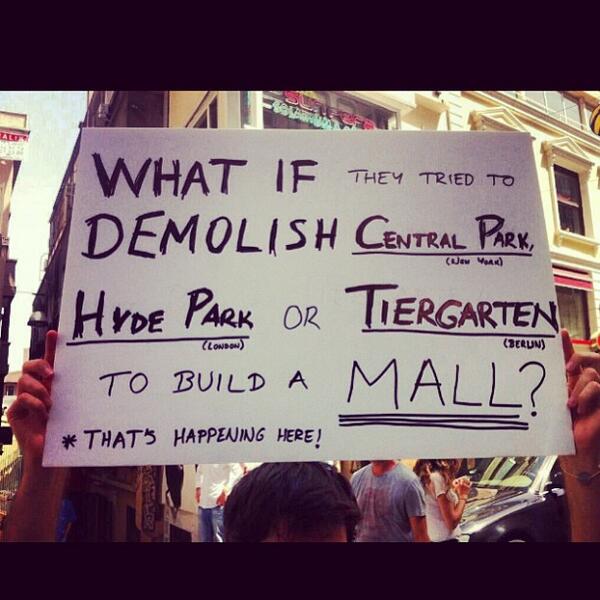 Ryan_Browne: Istanbul protests RT @Guldenay007 For those who want 2 understand what is happening in Istanbul with #occupygezi http://t.co/EInLVaQXx2



bayanaak: @BBCBreaking This man was shooted by police minutes ago!Please support turkish protestors !!!! #support #occupygezi http://t.co/8BtnxJw2Zm



berkreis: #occupygezi there are not any news about protests in Turkish TVs. Nevertheless, thousands of people in Taksim! http://t.co/QGHb3iaDZI



Emrah Eski: @BBCBreaking police shot a person from his head with a gas bomb!! http://t.co/AERbmsRsah #direngeziparkı #taksim #istanbul #occupygezi #gezi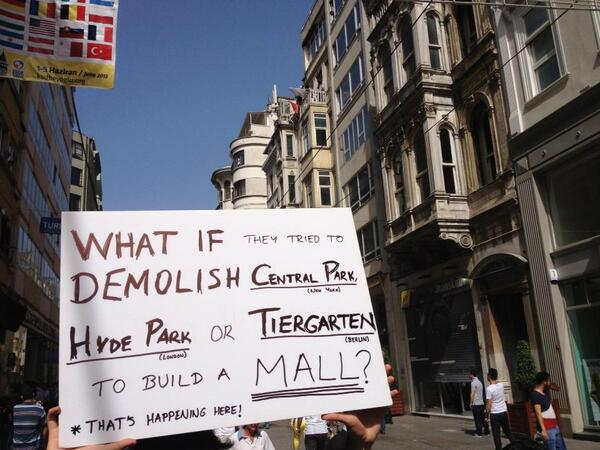 zelfist: what if it was Central Park? Pls share the violence of police over the public in Turkey @BBCWorld @BBCBreaking @cnn http://t.co/jvqIeFUS7g



kursat_tuncel: Police violance in Taksim. Paper gas smoke all over Taksim. People united against the green killers #direngezipark http://t.co/JZZMIwFdES



tanyaovtch: This is victim. This is war. Police kill all of us #occupygezi http://t.co/Jf8ubuG2dS



HomoCarnula: #Berlin #occupygezi solidarity protest in Berlin http://t.co/oeW6mmFfpC



HomoCarnula: #occupygezi #Berlin solidarity protest http://t.co/PzL5an7AEy



altugozaslan: RT @Econometrist Police throw Teargas from helicopter http://t.co/HjKi7MgrQc #istanbul #turkey



MB_Journalist: Solidarity march: @ChrDitsch #occupygezi 300 People in Berlin Kreuzberg. People at the side give applause. http://t.co/pZxSFtNuWK



somkan1010: RT @IvanCNN Protesters breaking up paving stones for ammunition against cops in Istanbul. http://t.co/EbwfUMJOgv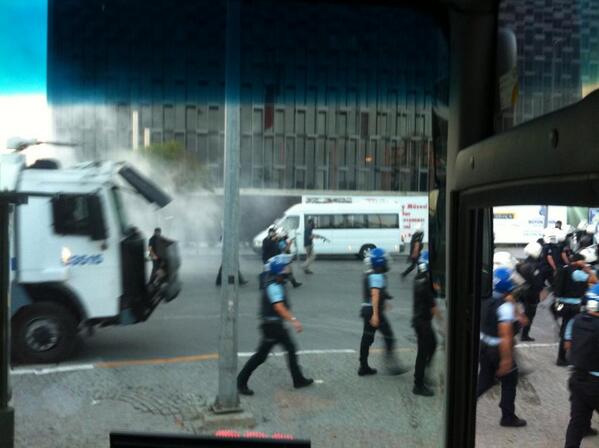 Hala_Elkhawanky: Taksim Istanbul - police shooting pepper gas at people. There is a protest to save a park in the city centre http://t.co/uY4CbzzZev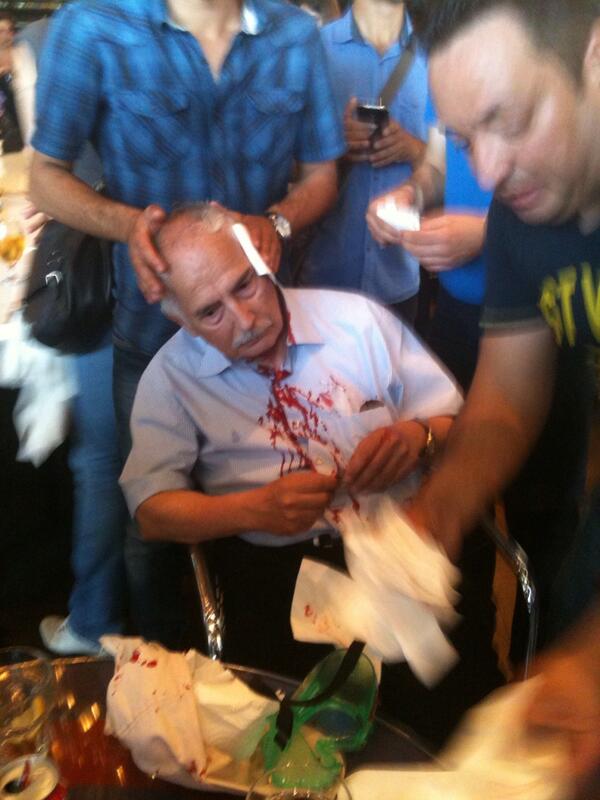 CihanUner: RT @sakkilic This innocent man lost his ear, because of police attack #occupygezi http://t.co/8TpKmevrqj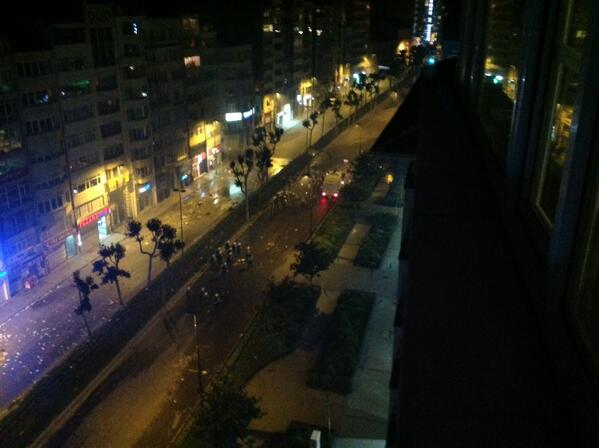 40ozTerrorist: Police back in force,pushed crowd of thousands,used more gas #occupygezi http://t.co/XKJyKGKHZd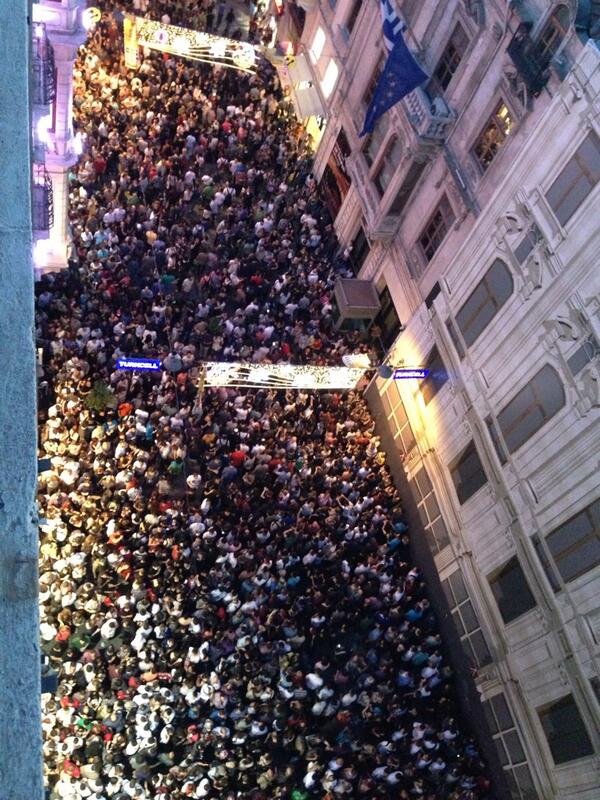 BuzzFeedNews: A street near Istanbuls Taksim Square tonight (photo: @agbabasefa) http://t.co/Ed7IO3PXsn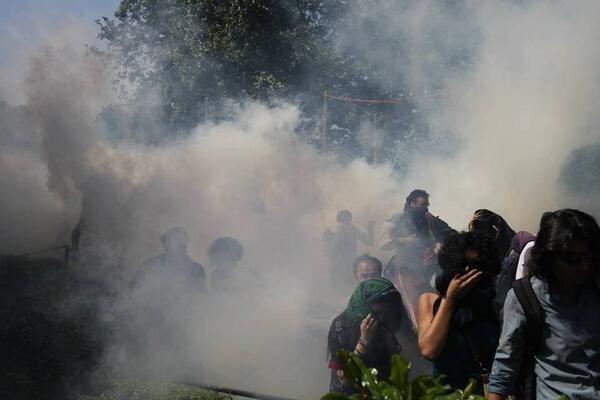 gulizar8861: @BBCNews turkish police attacked to protesters in Istanbul http://t.co/6bntZXzQid



jasonlyleberg: Unarmed protesters in Istanbul protesting the destruction of a park to build a Mall #occupygezi http://t.co/IM0rB4zNU2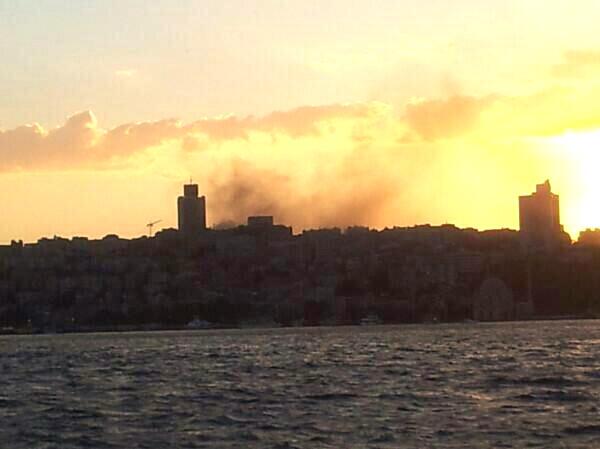 aliozbora: Police intervention with gas bombs to silent protests at Istanbul Taksim. @Schwarzenegger pls follow #occopygezi http://t.co/p9T0S3FWl3



HomoCarnula: #occupygezi solidarity protest in Berlin http://t.co/EPcBexqy5r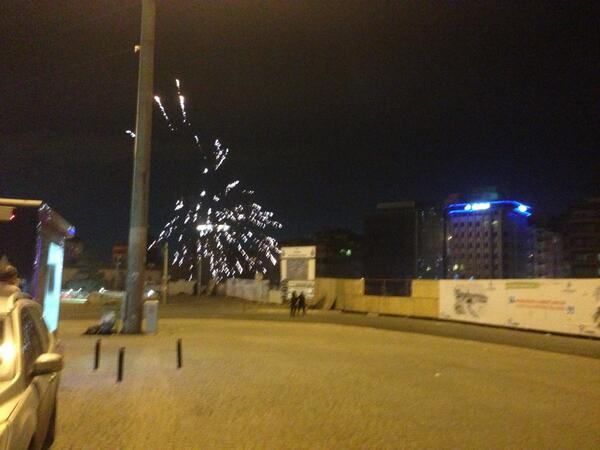 BurcuBaykurt: RT @RawyaRageh Protesters start using firecrackers, police go crazy w wave of tear gas #OccupyGezi #Turkey http://t.co/5r32sEh9dk



OnlyFreeThought: Istanbul needs international help against police terror and chemical war! #Support #occupygezi http://t.co/LFQjD9oPD3



zalambOdOnt: Turkish #Popstar Kenan Dogulu supports #DirenGeziParki protesters on live broadcast of Miss Turkey 2013 http://t.co/wCnhUliEQ9 #OccupyGezi



sciencewitch: A bus closed the road near Taksim to stop police panzer attact civilians. @BBCBreaking #occupygezi #direngeziparkı http://t.co/7rJPi8EAo7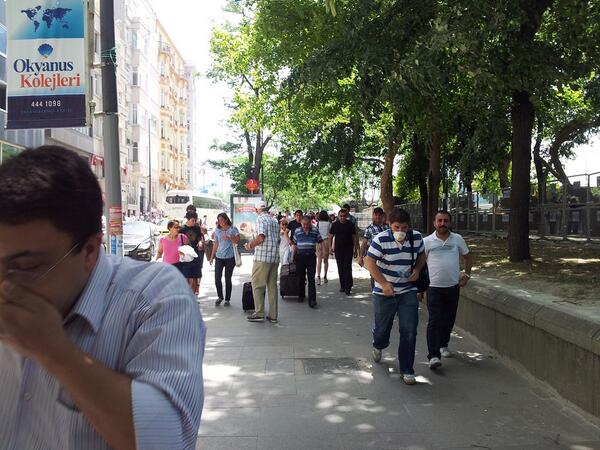 stephenstarr: Folks fleeing tear gas in Taksim today. #Istanbul http://t.co/yOaUaIopOS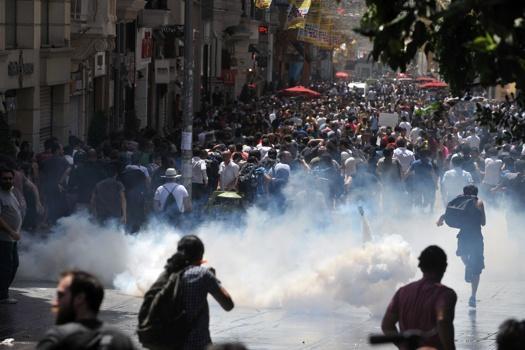 kijanafulani: PHOTOS: Chaos on the streets of Istanbul as police disperse 10,000 peaceful protesters .. http://t.co/87IWIwl174 http://t.co/OPmevqG44J



pfloydfloyd: Turkish police violence continues; Two protesters were killed by police on TAKSIM #direngaziparki #ocuppygezi http://t.co/qZ5dUwtmWF



myriamonde: http://t.co/C8ZAqhId2n sign says: protestors can take refuge in here, apartment 6. #occupygezi



zkdiri: RT @Meralin Soldiers throw gas masks from the windows of military hospital nearby. #occupygezi #direngeziparkı http://t.co/cseXHBHDPs via …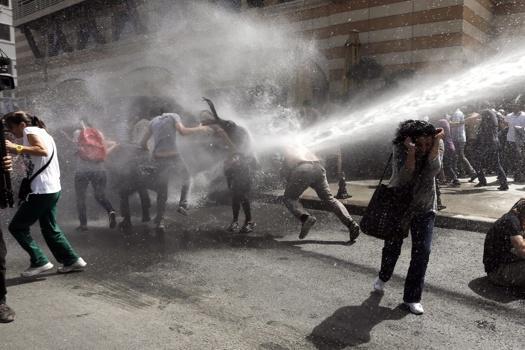 nypost: Chaos in Turkey as police use tear gas and water cannons on 10,000 protesters http://t.co/HyjoC20bcb #occupygezi http://t.co/TtfgFRS45S



DUMANIST: No human rights in Turkey, Taksim! They killed people who tried to protect nature! @bbc @cnn http://t.co/uECQPJxPk2



Michelle9647: RT @OnlyFreeThought Police burning the tents of the peaceful protesters… #occupygezi http://t.co/A4aCZfAWN7



shabbirghewalla: @MortenHj Demonstrations all over Turkey. I have been to 4 of these cities :) http://t.co/oCyRyIMjUx



Karma Justice: Here is #Taksim #Gezi #Istanbul #Turkey.U see the people have no weapons .Police attack them for. protesting #Erdo http://t.co/kaPIEVg3LD



ArmandVannier: RT @refhan People qre gathering to taksim against police violence #direngeziparkı #ocuppygezi @taksimdayanisma http://t.co/8rCX6OQxuQ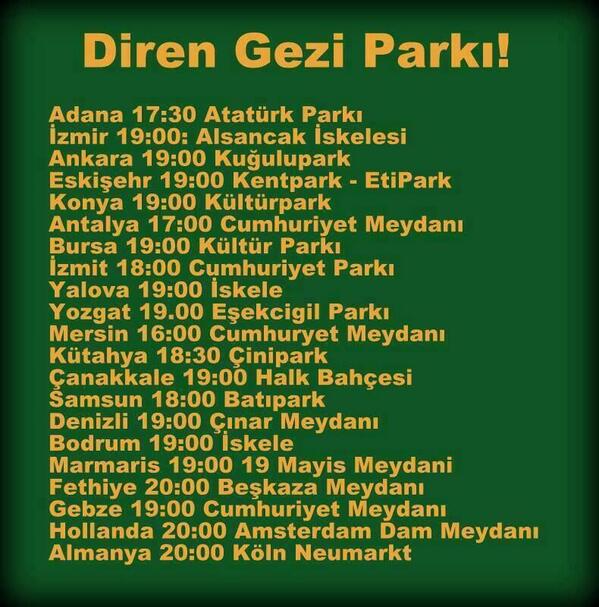 OchiProp: More photos coming in from huge #GeziParki solidarity protest in Izmir, Turkey http://t.co/62cEu8q2z4 #OccupyGezi http://t.co/ymTm7lbvwa



techsoc: Tear gas used in Istanbul. Made in USA by http://t.co/nWQHywjAe1 RT @ikoker http://t.co/dyIP8yYzbU @acarvin #geziparki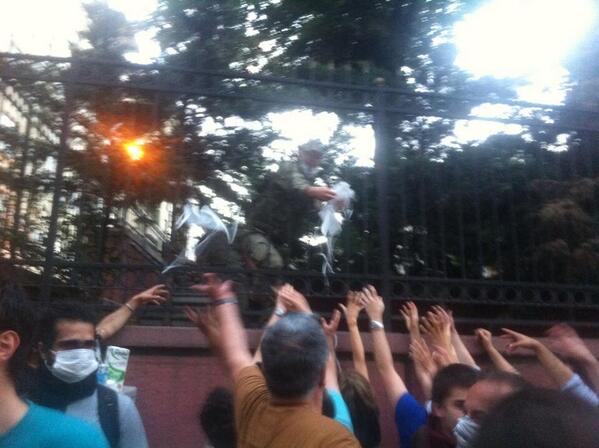 axellennox: #direngeziparkı Turkish military forces helping protesters, delivering gas masks, against police force. http://t.co/vui67Cg8P9



57UN: Turkish government destroy the park in middle of the #istanbul. Police attack the people. #direngeziparki #occupygezi http://t.co/np5A7d8Che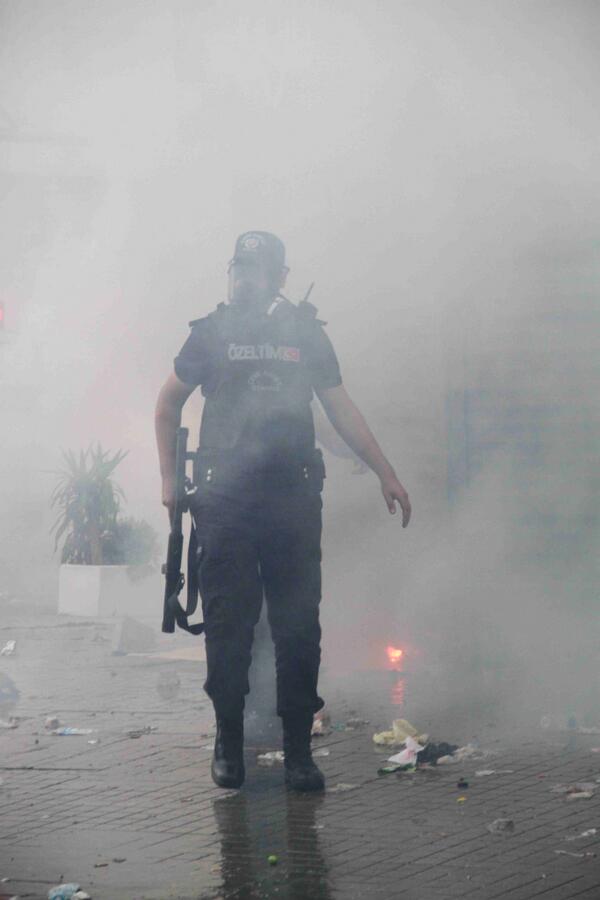 DonaldHTaylor: @serdarakinan Istiklal http://t.co/Uy3Wfs30w1 All Tweets from Istanbul today about one thing - Gezi/Taksim Square protests. Looks ugly.



aaronstein1: RT @acarvin Overhead pic of protesters in Ankara http://t.co/5nDCDBPKia #occupygezi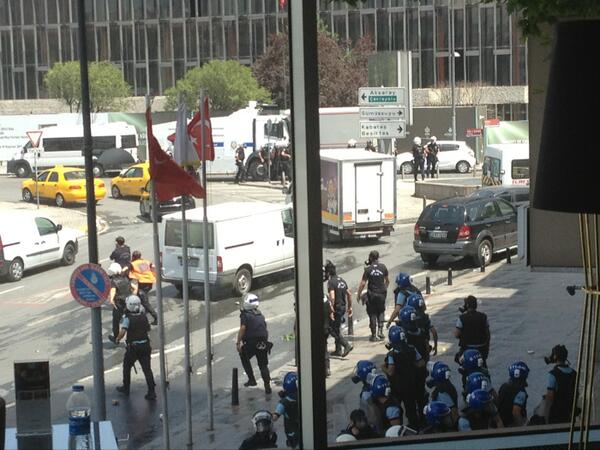 diplomatnews: Surreal experience in #Istanbul with US legislator reception in Ritz as tear-gassed protests rage outside http://t.co/avgv1GD7iB



HandeGabrali: Police applies force more than people can #occupygezi http://t.co/tSjBgiHLul



Andre_Verzaal: RT @NewsBreaker NOW: Rioters clashing with police in Istanbul, Turkeys Taksim Square http://t.co/Ll2N5P6g0f - @IvanCNN



halimercan: This is not fire; Gas Bombs used by Police on people #ocuppygezi #direngeziparkı @BBCWorld @cnni @euronews @Reuters http://t.co/ibZz3tGYEa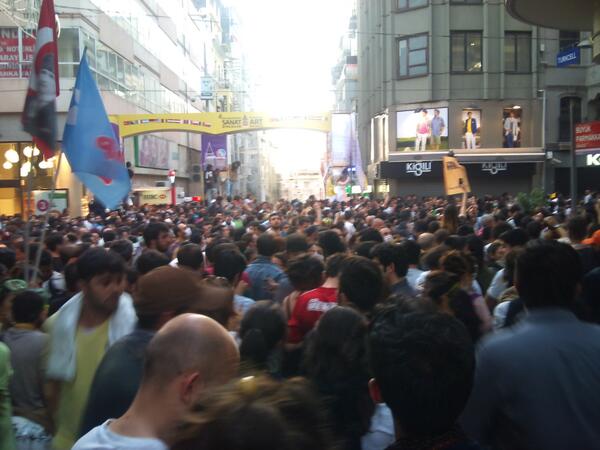 zalambOdOnt: Turkish protesters screaming as loud as it gets in Istiklal (Independence) Street! TAYYIP, RESIGN! http://t.co/Aq60xm2v9V #OccupyGezi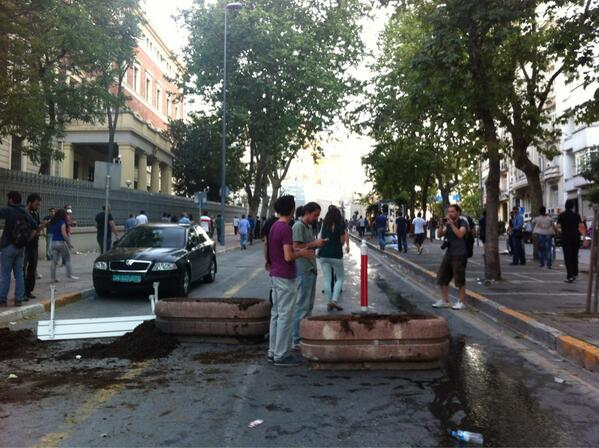 Ert_Ylmz: RT @nhacizade Road down Taksim square barricaded by protestors between rounda of teargas #occupygezi http://t.co/izJTDSYdik



pemularejab: RT @FidaaZaanin #Istanbul ,#Turkey 31-05-2013 Police attacked Peaceful activists (3) !! http://t.co/5JTLIZFqDM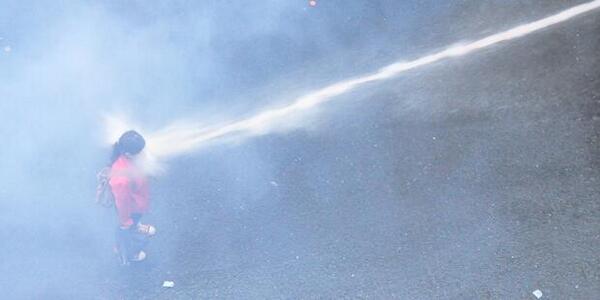 serkanyoguran: RT @axellennox #direngeziparkı Turkish women standing against violent police force. http://t.co/Bu2dlQCKOM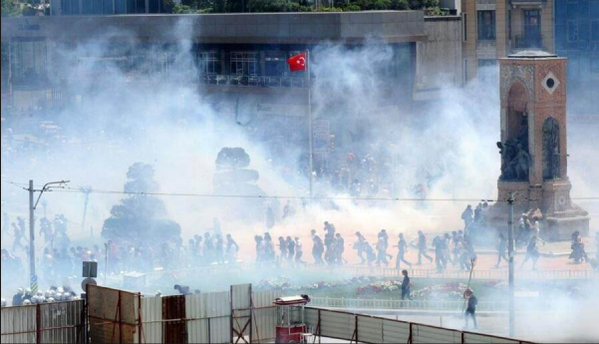 NewsBreaker: CAUGHT ON TAPE: Turkish police fire tear gas, water cannons on protesters in Turkey (WATCH) http://t.co/TLuG4zShPH http://t.co/K31XuFNryh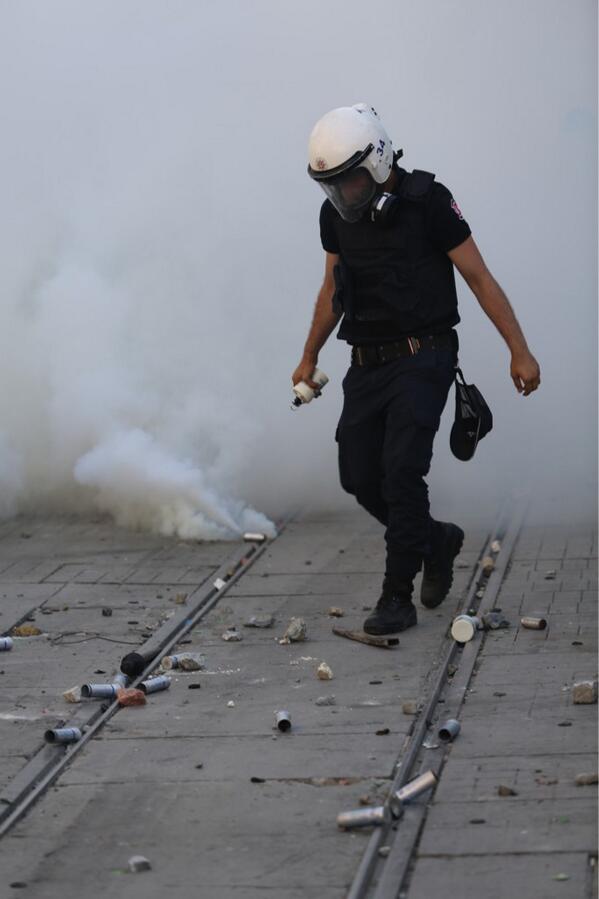 OmeerFarukTopal: RT @enisdurak35 Turkish police looking for unused teargas bomb mid of the smoke #direngeziparkı #occupygezi http://t.co/4fpQQTSBES



LaurenBohn: Steady flow of protesters trickling in around Taksim. Gaggle of tourists, maps in hand, bemused #Turkey #OccupyGezi http://t.co/uu76a079xy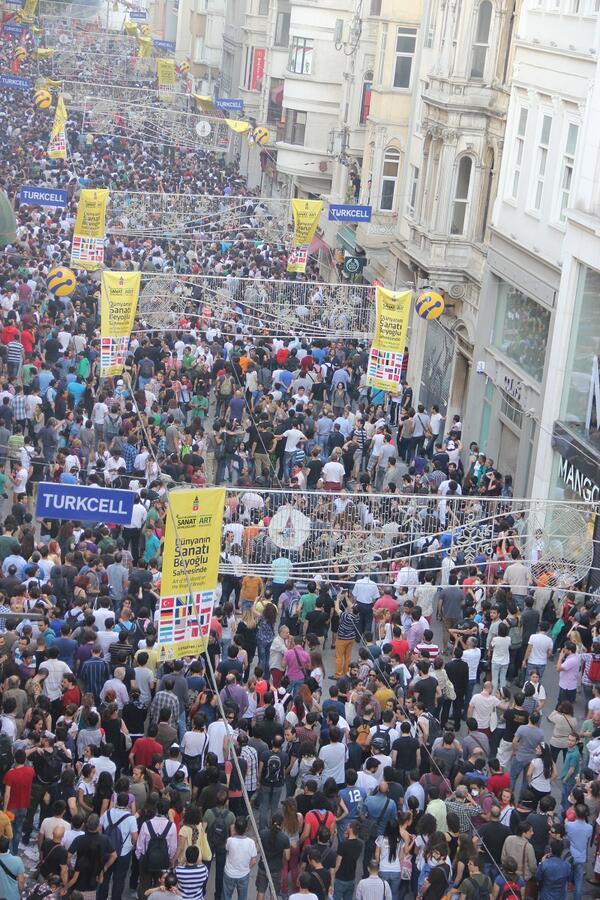 myriamonde_: istiklal str couple mins ago http://t.co/ebwnqVkdqi - thats all protestors, not the usual crowd of istiklal. #occupygezi



pfloydfloyd: Police fired tear gas and water cannons at protesters. #ocuppygezi #direngeziparki http://t.co/U4tBxe76Pm



thefacesblur: RT @Timcast #Turkey: Police fire teargas at a Starbucks during protests http://t.co/Ktgay7sN0S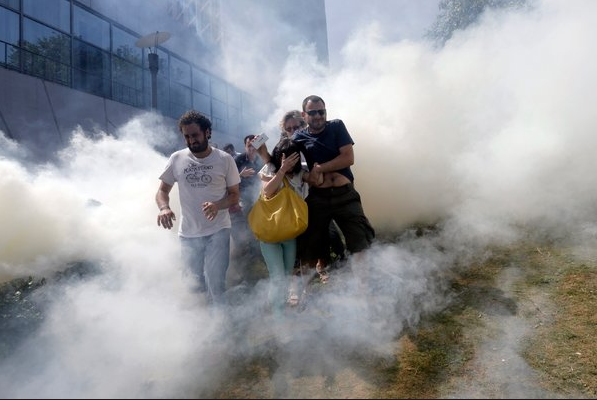 Mehmet_dogrugoz: Protest in Turkey turns violent.Police attack protesters in Istanbul's Taksim Square. #direngeziparki (Photo :EPA) http://t.co/vT2CLQhY6y



Av. Yegâne Güley: Police is continuing 2throw gas bomb as freely as ever but we have a court decision now! #occupyGezi http://t.co/7UsfaqeyJU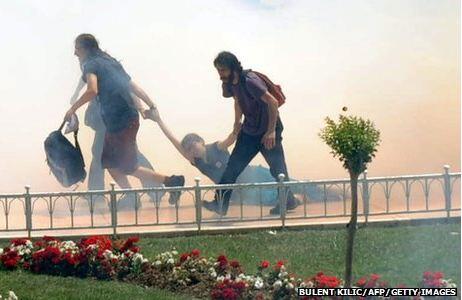 kerimokten: via @BBCBreaking Police accused of excessive force in #Istanbul #Taksim http://t.co/ruXUlnDbuL #occupygezi #direngeziparki



jonathonburch: 1000s of protesters on Istanbuls Istiklal st. Calling on PM to resign. Cloud of tear gas in background #Turkey http://t.co/kHYkahtNJr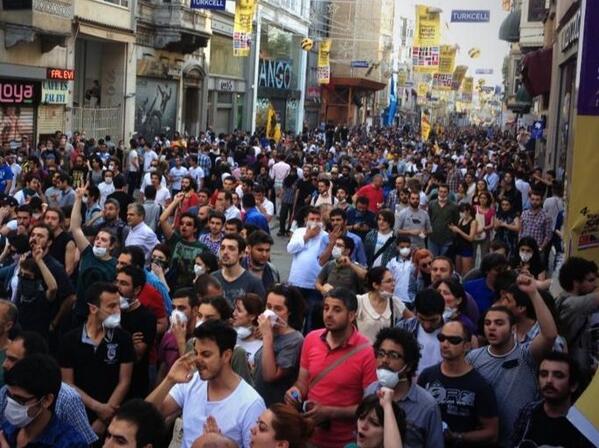 myriamonde: people gathering on istiklal str. http://t.co/r4PFEvkQX2 thousands are coming they say. urge ppl to use tünel side. #occupygezi



girlaboutalot: there is constant shootng of tear gas by police.it is impossible to move/walk to square.we r stuck. #DirenGeziParki http://t.co/ZSYwtD7tby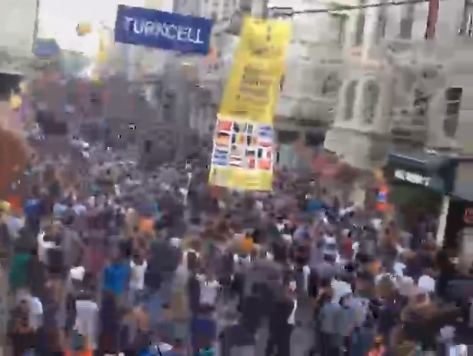 BuzzFeedNews: USTREAM: Broadcasting from above anti-government protests in the streets of Istanbul http://t.co/871c9aPlMO http://t.co/WOZBsH9jKM



Timcast: PHOTO: Tear gas mid-launch after police in #Turkey fire on protesters http://t.co/xDhwM5GDmz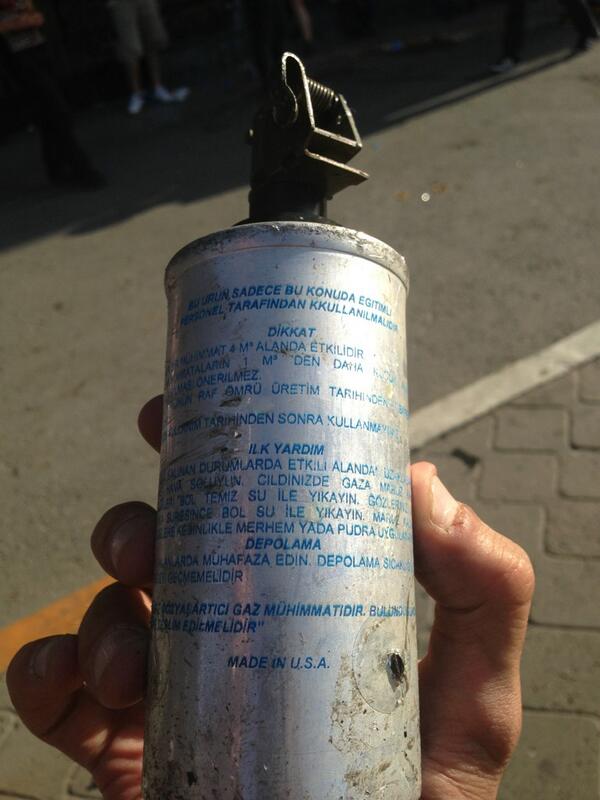 Hevallo: Turkeys tear gas canisters WITH LOVE FROM USA! #OccupyGezi http://t.co/L6TRqu4Oy9 @YourAnonNews #anonymous @AnonOps @AnonymousPress



Braviels: Please help us to announce that police attacks to people in İstanbul. @aplusk @cnnbrk @charliesheen @SnoopDogg http://t.co/R6O2FzKX2Z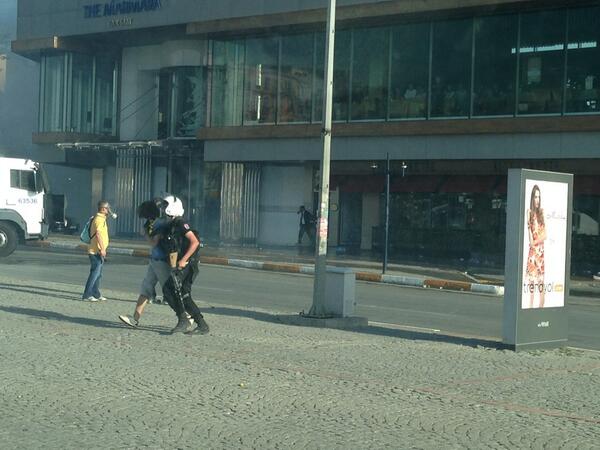 RawyaRageh: Police rounding up protester, colleagues say police checking fones for videos of violence #OccupyGezi #Turkey http://t.co/DXH0r8yebm



OnlyFreeThought: Turkish police are throwing gas bombs at innocent people trying to protect the trees from being cut down #occupygezi http://t.co/21qC1mnWzr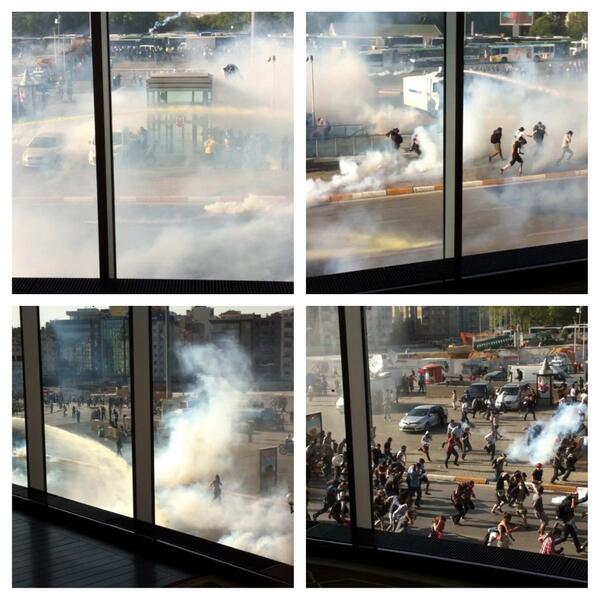 sarahkendzior: Photos of protesters being hosed and tear-gassed in #Taksim, taken by @arzugeybulla from hotel window https://t.co/Le2kmgNCSO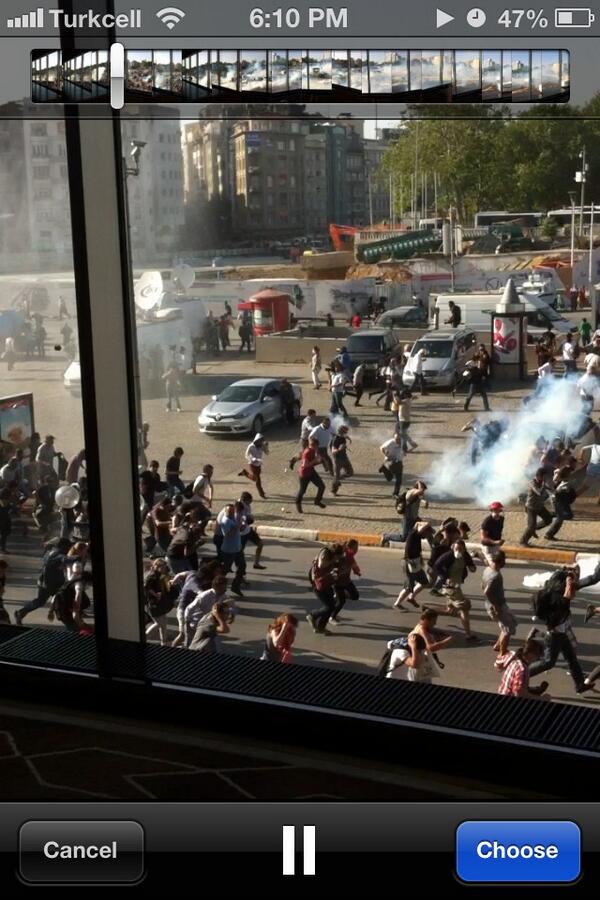 orko_8: RT @aaronstein1 Topbas is lying! RT @ekizilkaya People keep gathering, police keep gassing them at #OccupyGezi http://t.co/W1oaP2pCm6 via…



Anon_Online: RT @40ozTerrorist #Turkish media blackout Brutal police attack to innocent passive people #occupygezi http://t.co/0hw9B8xcBF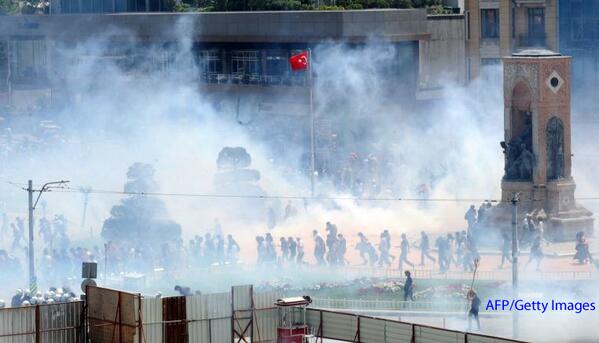 davidscris: RT @BBCBreaking Picture: Dozens injured as tear gas fired at protesters opposing revamp of #Istanbuls #Taksim Square http://t.co/MlLnSGElDd



steinbuchel: RT @BrettLoGiurato Wow RT @SladeHV Incredible AP photo of Turkish protester enveloped in tear gas #gezi #turkey http://t.co/ezW6zHilfT



Tarakiyee: RT @ekizilkaya Official tour of Istanbul now includes free tear gas! http://t.co/13sM0YQ6Ou via @chloey001 #occupygezi



michaelhayes: Rally being organized in Hyde Park in solidarity with protests in Turkey https://t.co/qF3IpnLEXS http://t.co/hw9hNSbItf



MegRobertson: Took this photo of police in Istanbul last week, who were preparing for possible protests on May 19th: http://t.co/fE3pSappz5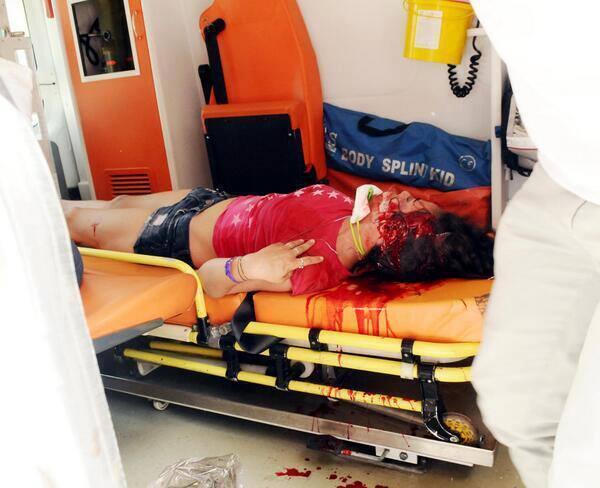 aykan_erdemir: Police brutality in #Istanbul. Numerous reports of headshots with teargas canisters. #direngeziparkı via @ertilavmuge http://t.co/GRTWzcWkZa



gozdeysr4: @clancycnn The police used chemical weapons in Turkey ! #direngeziparkı http://t.co/MpfIAJnf6U



mestugba: RT @aykan_erdemir CHP vice chair MP @MSTanrikulu, injured in #GeziParkı police attack, will undergo heart surgery: http://t.co/VHBqdVT9W5 …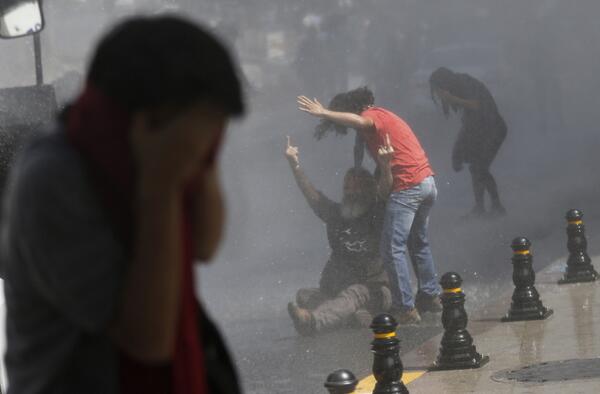 ReutersWorld: In Turkey, at least 100 injured as police clash with protesters at Gezi Park http://t.co/FPyLrsV9Na #occupygezi http://t.co/oNdMCvUAMQ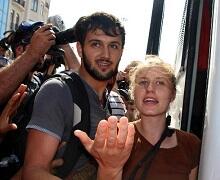 WashingtonPoint: these 2 tourists also detained by police forces acc @gercekgundemcom since they around Gezi Park protests, Istanbul http://t.co/nzzFMhvoTE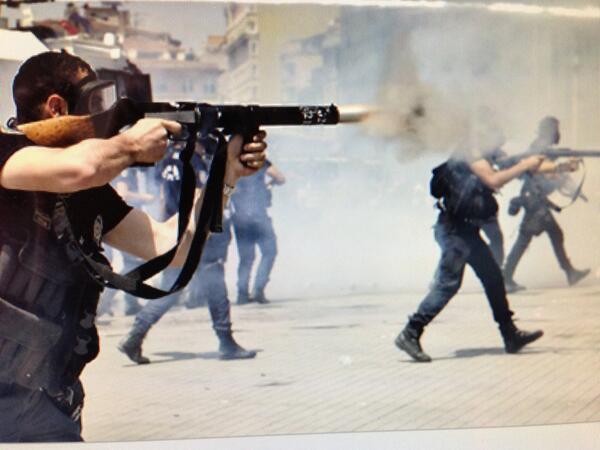 SeedBoxBul: RT @Rajshyd #direngeziparkı this is real….Taksim/Istanbul ….police brutality against innocent civilians :(( http://t.co/WK1P2fTDwk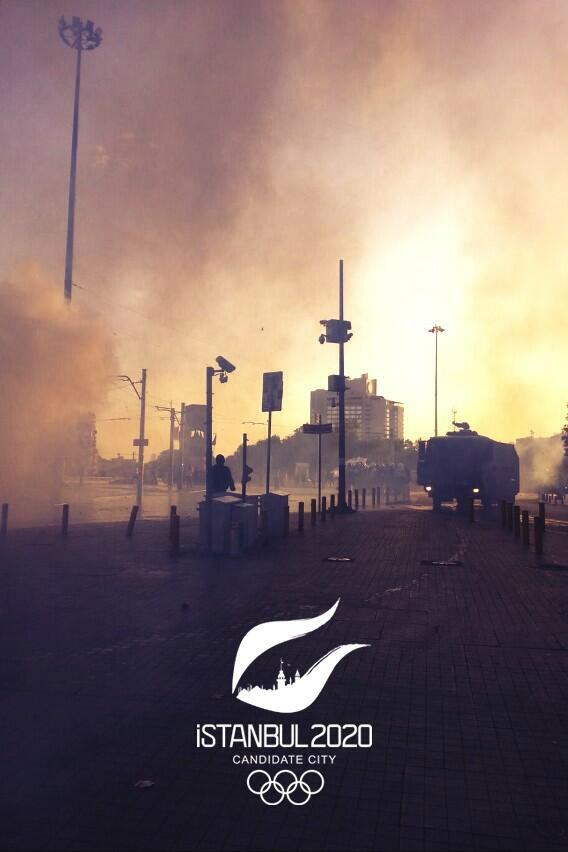 yasin: Istanbul 2020 Olympic bid: A message of tolerance, of harmony, of peace https://t.co/86MnPk2jTX Peace in Istanbul? http://t.co/zUxBgkJUHs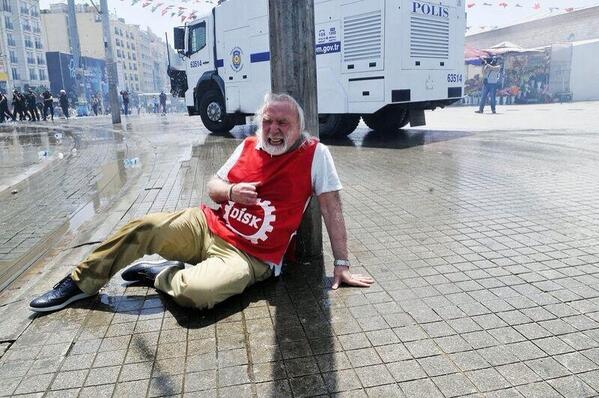 EmekBizim: @YourAnonNews Turkeys world famous painter Mehmet Güleryüz was one of the victims of the police brutality in Taksim http://t.co/GNrk1zdWJM



Chris7NEWS: #WOW NEW PHOTO: Protesters enveloped by teargas in Istanbul, Turkey http://t.co/4WcdFXKZlZ - @selinayeldeymez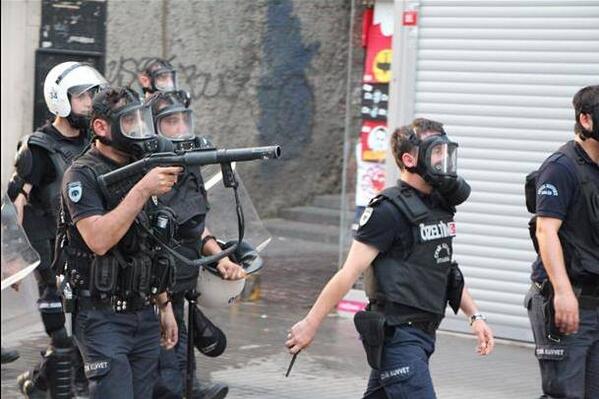 dophin11: Police attacks protesters defending a public park from being cemented into a shopping mall .Τaksim square, Istanbul. http://t.co/krjkXK2Tjc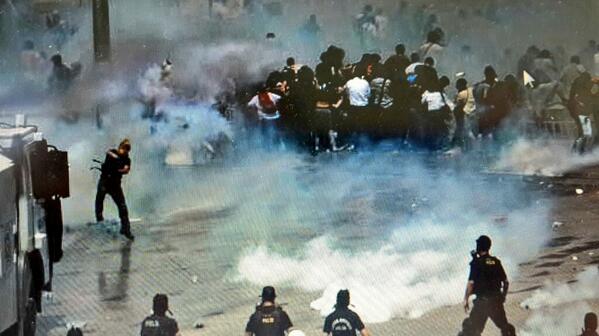 emrahterzan: #direngeziparkı Erdogan vowed to redevelop Taksim Square-Turkish Police forces vowed to kill people for same purpose! http://t.co/XRxQA98ctU



Speak Out 4 Rojava!: THESE ARE BEING AIMED at protesters heads in GEZI PARK! #direngeziparki #occupygezi http://t.co/CtQT3DNEWi @AnonymousPress @Anon_Central



newsunlimitedin: RT @BuzzFeedNews Police reportedly arresting people protesting the razing of Gezi Park in Istanbul (photo: @ASE) http://t.co/SB39uubNaG



NickKristof: Dramatic photo of tear gas used against anti-govt protests in #Turkey via @SahinAC http://t.co/qSgJi9j8vo



burakyalciner: All the security cameras in Taksim has been closed, to hide polices unjust attack against civilians #direngeziparkı http://t.co/oWvhZjmhrb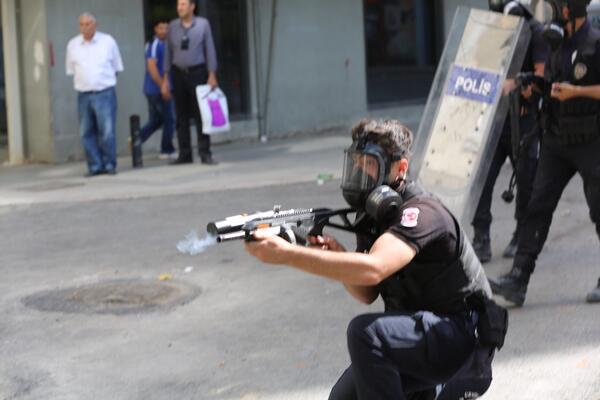 enisdurak35: Police open fire with plastic bullet to protestors #occupygezi #direngeziparki http://t.co/iY8n5gIgEf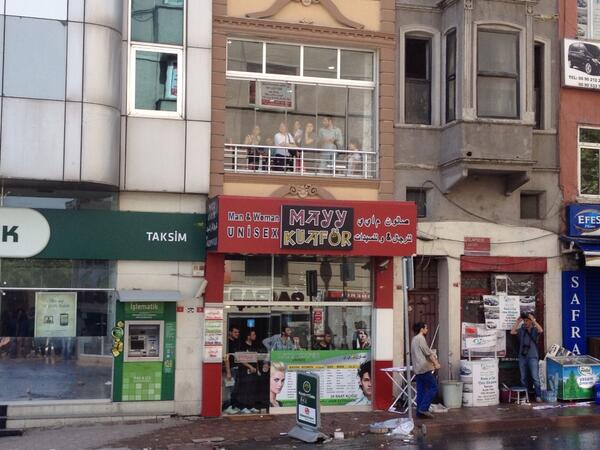 IvanCNN: Nervous Istanbul residents watch and worry as police clash with protesters on streets below. #Turkey http://t.co/hiYrYH56p5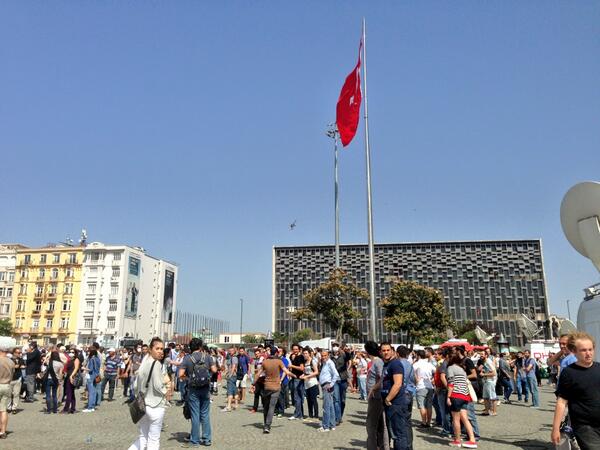 BehlulOzkan: RT @RawyaRageh These protesters are defying police & tear gas, chanting resist fascism #Taksim #Turkey #Istanbul http://t.co/uTI0uIlW8P



chloey001: Erdogans police uses unbalanced power against the people @ #taksim! #occupygezi #istanbul #dayangeziparki #Turkey http://t.co/8sauabDbcY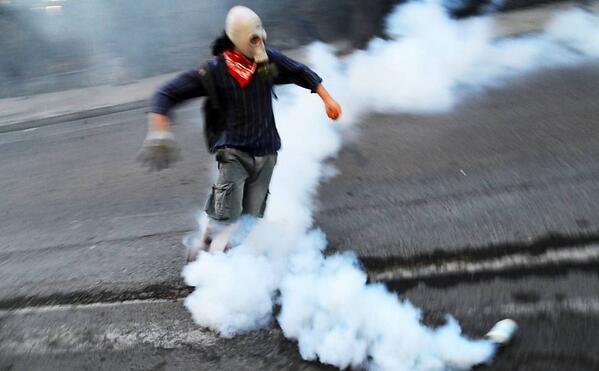 KetyDC: Park protester in Istanbul being hit by a tear gas canister (AFP) http://t.co/5YAaaWMO18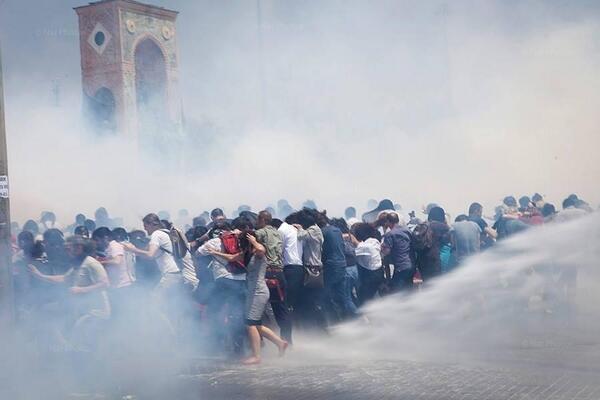 tameryazar: they just say stop cutting down the trees in #Istanbul and here is what Riot Police say ! #Turkey #USA #Amnesty http://t.co/Aj62UCbzDu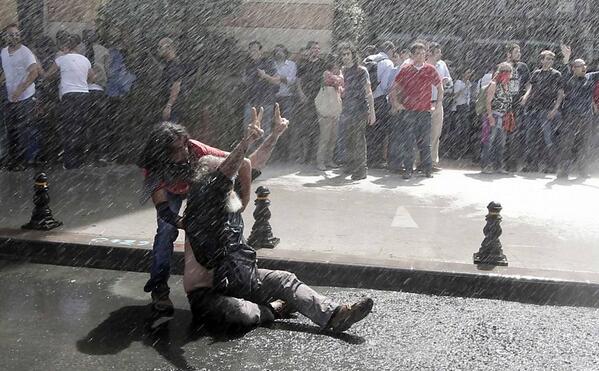 KetyDC: Park protester in Istanbul flashes a V sign against police water cannon (Reuters) http://t.co/pSLLltXvux



miskinder: @rightnowio_feed In Istanbul, the government is destroying trees.The police attacked with tear gas people and animals http://t.co/SoWSBEovf5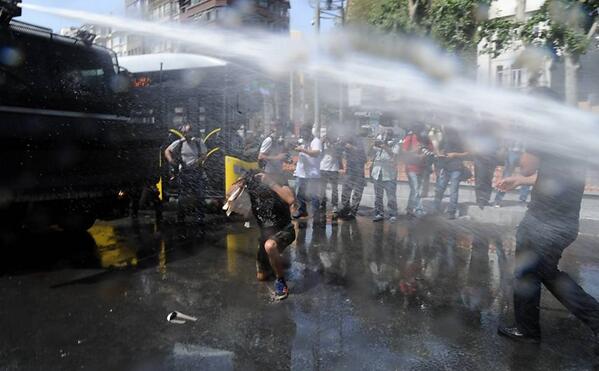 KetyDC: Park protester gets a direct hit of the police water cannon in Istanbul (AFP) http://t.co/DlPOEmoFS6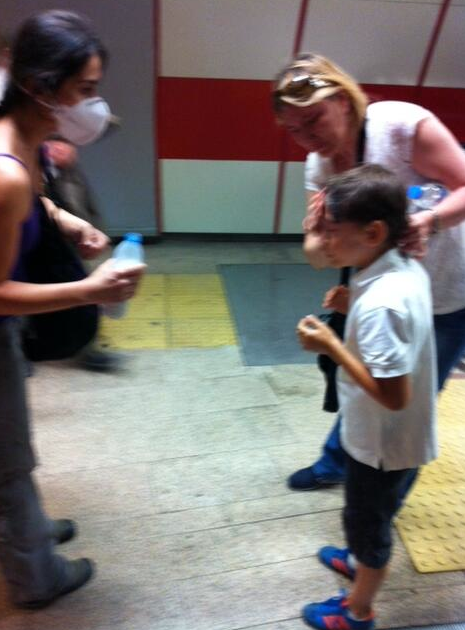 ArachnidDentata: RT @techsoc GRRRR. Children affected by tear gas in Taksim metro station. RT @140journos via @evrimguvenc http://t.co/X36ugvQ7p7 #gezipar…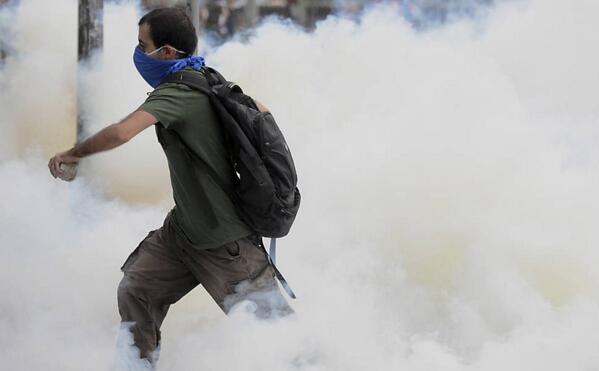 khalidkhan787: RT @KetyDC Tear gas craziness in Istanbul today (AP) http://t.co/XPLv8m0216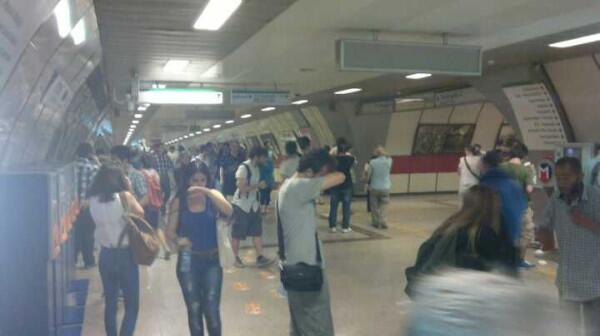 Arx1973: @nytimes @bbcworld @france24 Istanbul police locked hundreds into Taksim subway and gassed them with pepper gas. http://t.co/XisRvEkxI9



selcukland: Police intervene in Taksim sit-in protest with tear gas and pressurized water. http://t.co/XX3LAMnCno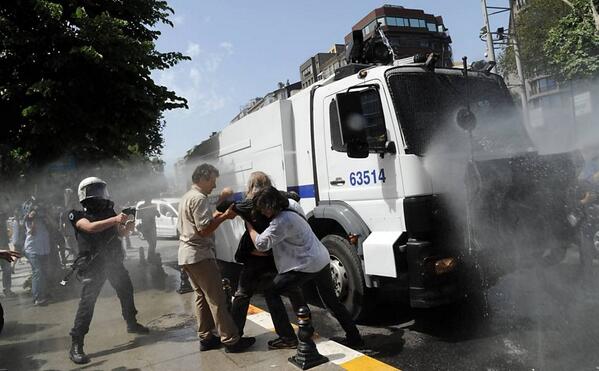 3drogba3: RT @KetyDC More people being pepper sprayed during a protest against a park demolition in Istanbul (AFP) http://t.co/mn6DLuUjmQ



av_asimceker: @comissionerHR this photo was taken in Istanbul, police attacted to people who have tried to protect the trees! http://t.co/akOMyWL8ni



FidaaZaanin: #Istanbul ,#Turkey 31-05-2013 Police attacked Peaceful activists (5) !! http://t.co/6XusDrC1Hg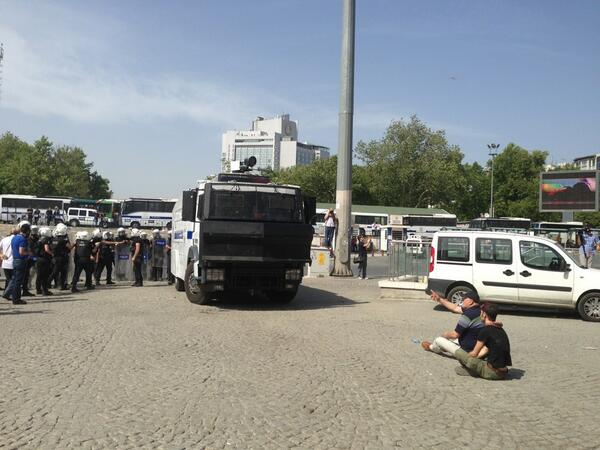 RawyaRageh: These protesters sat in front of riot police truck, police picked them up, then attacked #Taksim #Turkey http://t.co/41LtPpFwyg



cypherpunks: #Istanbul ,#Turkey 31-05-2013 Police attacked Peaceful activists http://t.co/jvtzULnDTU (via @FidaaZaanin)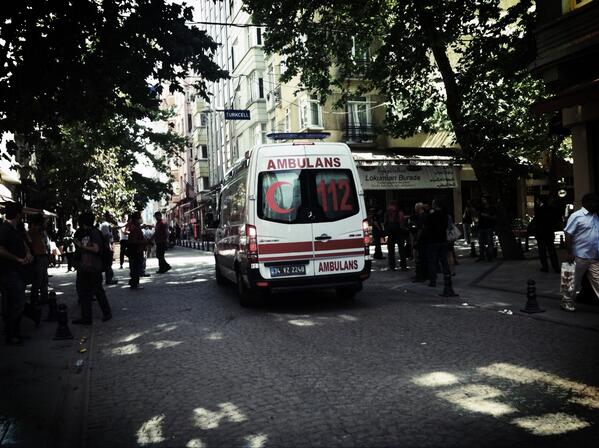 AlinaLehtinen: Ambulance driving to #Taksim. People yell further, further in Turkish. #istanbul #Turkey #OccupyGezi http://t.co/x1xd3iAXf7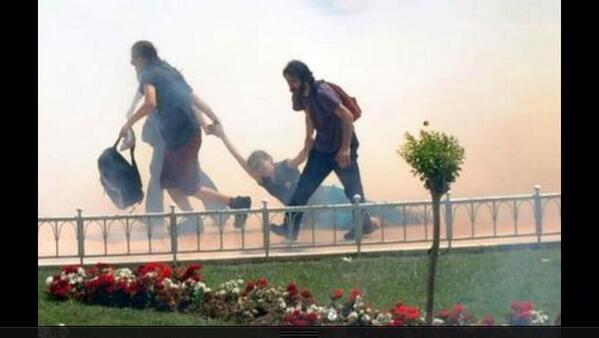 Batuea1903: This is a live picture from Istanbul. Police brutality @cnnbrk @CNNSitRoom @nytimestravel @BBYNews @BBCWorld http://t.co/fRBLF5I3Jl



onur_aksoy: #occupygezi Turkish riot police continues to attack the protestors who resist against the demolition of Gezi Park. http://t.co/JeyFfjPXOd



DovSFriedman: RT @justinvela Shops share water w passerbys suffering from tear gas. Protests continue #istanbul #geziparki http://t.co/pgSeb21eLR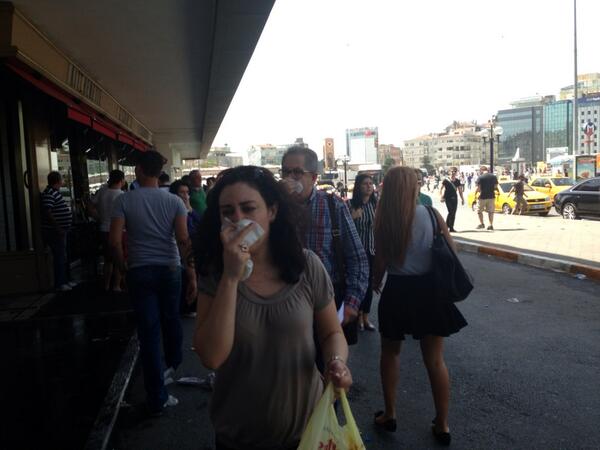 aylajean: Dozens of frightened & confused tourists hit by Turkish police teargas. #Taksim is a no go #gezi http://t.co/LXJPuAhz60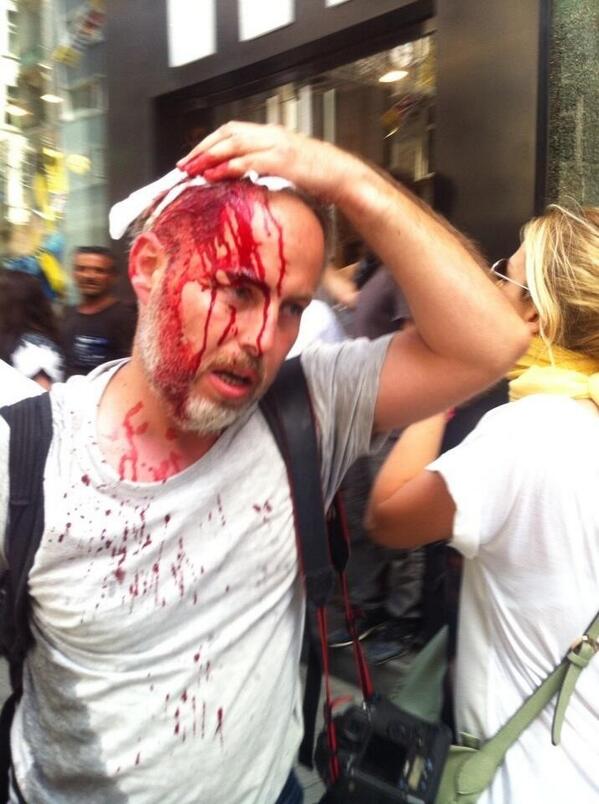 ArteSentinus: Police terror in Taksim!Gas not enough for them, they target the bombs to the heads! #helpforhumanrightsinturkey http://t.co/pzX6Xqri6D



Bruxellois: Police brutality in downtown Istanbul - IN PICTURES http://t.co/uCAyQ9OhPr http://t.co/B0m8Xmgp7j http://t.co/UEzmCqT6Rd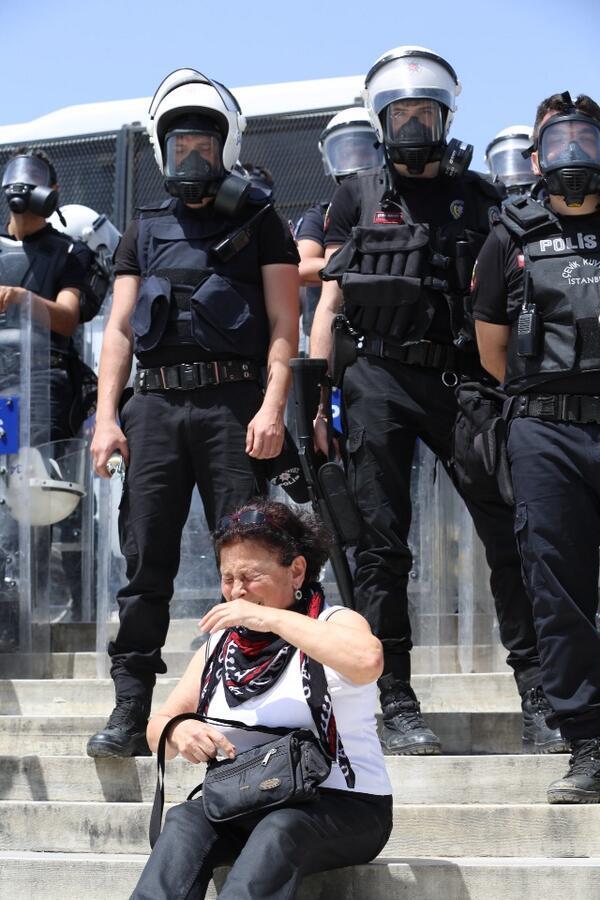 KatarKartali: She is crying and begging please dont fire more gas bomb! https://t.co/Z09281t6EN (by @gokcepiskin) #occupygezi #direngeziparki



enough14: #blockupy airport Still tense situation in front of the airport.Cops are filming activists from all sides 2:10pm http://t.co/Pi5xHUOD7w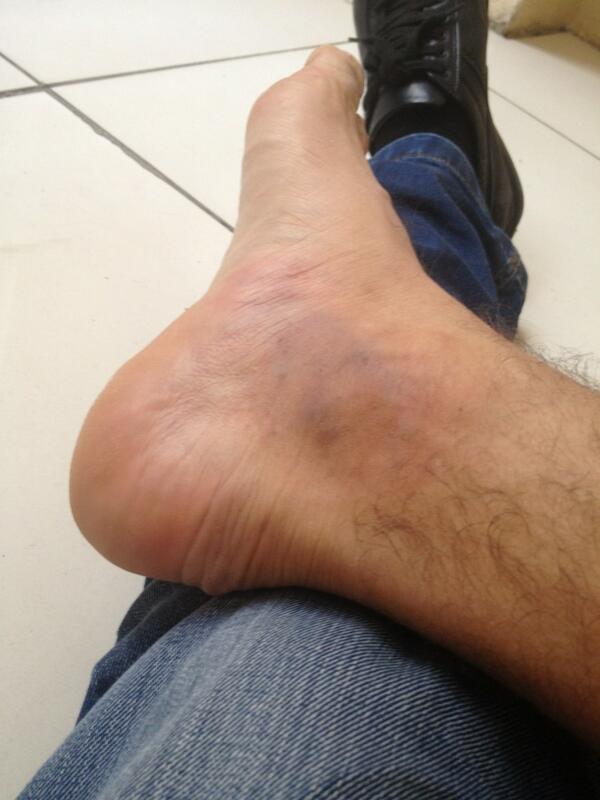 euronews: Our correspondent @Bora_Bayraktar has been injured in heavy police clashes in #Istanbul http://t.co/TNojYpjRwY #occupygezi



mrtcyln: RT @A7881 Turkish Police are attacking civilian public with tear gas right now in İstanbul #occupygezi @cnnbrk @CNN http://t.co/9jWI7aakrn



AralKizilkaya: RT @guney_ozsan Police aims directly people with tear gas bullets. Bullet in a car: http://t.co/mAW7e8ZqOm #occupytaksim #direngeziparki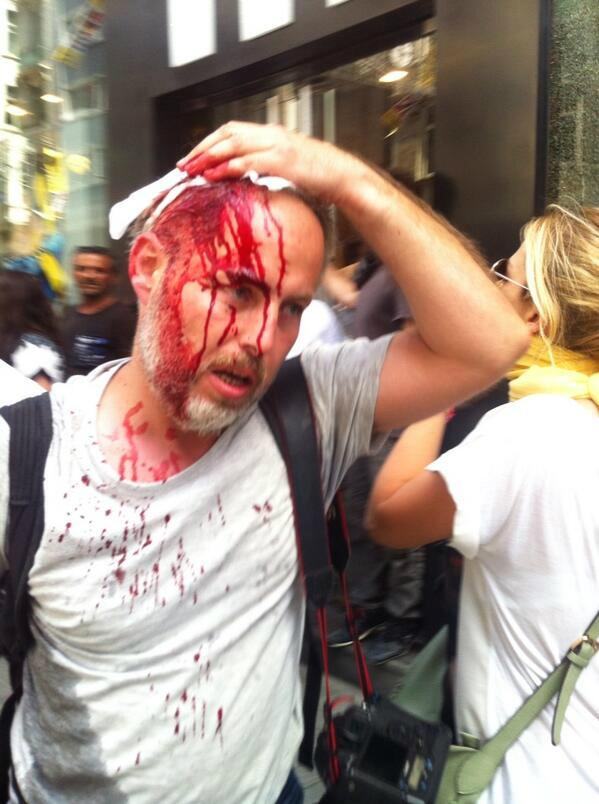 aslidayioglu: #helpforhumanrightsinturkey police terror in Taksim Istanbul http://t.co/FjL2dfbhqp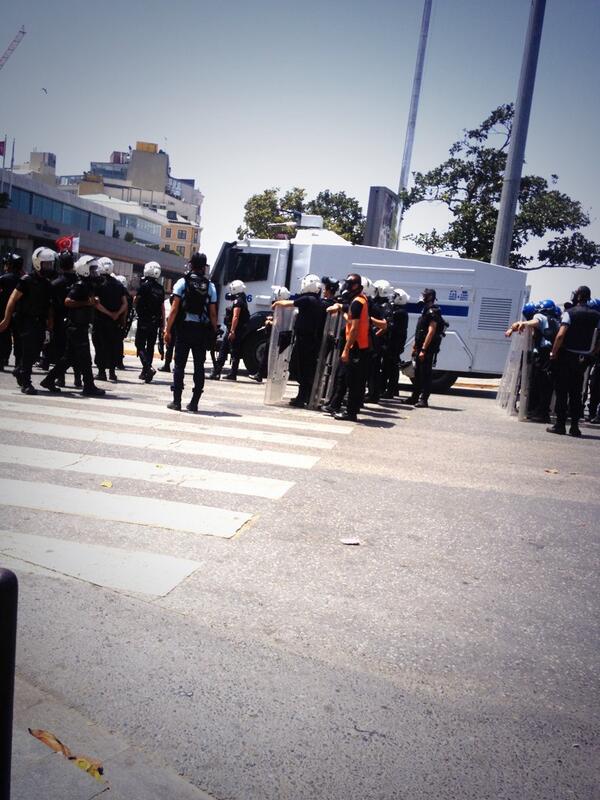 kibaryucel: RT @chloey001 @grrlinthecity #Istanbul police style. Also, tear gas water cannons on a peaceful crowd,shameful. http://t.co/9u1TISUQ31 …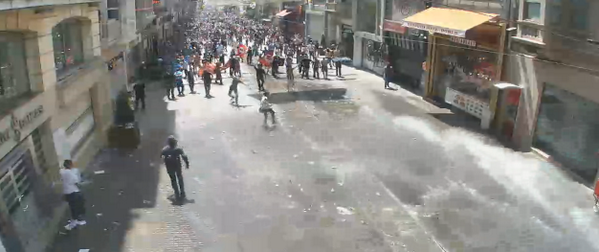 Billstein: RT @Dilan_gn Here is Istanbul! Turkish police torture to protesters! our hastag is #occupygezi #blockupy http://t.co/0TVLlZcMe6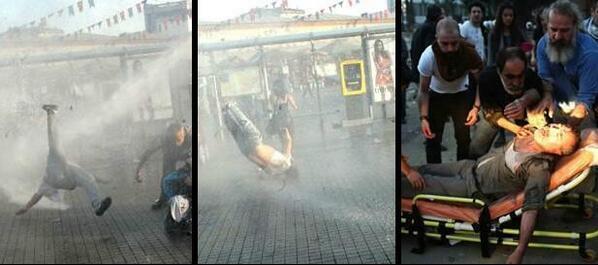 burcugizemsenel: RT @ezgibakiskan #helpforhumanrightsinturkey Turkish police terror against people!!! Why is this violence? #Turkey http://t.co/ICb5Bgnokd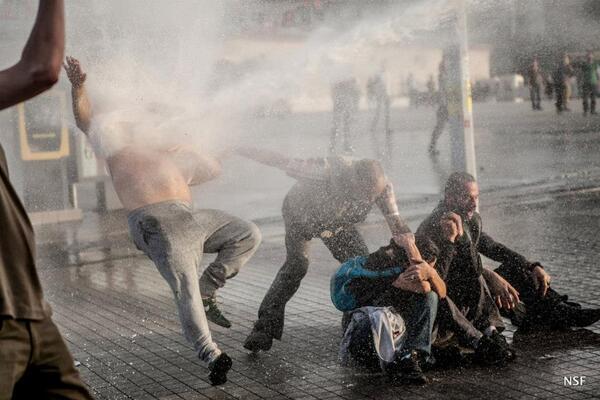 melorie_: @ConanOBrien @TheEllenShow Turkish Police tries to kill peaceful protestors in Istanbul, lots of wounded. #occupygezi http://t.co/Ze6On4kgC4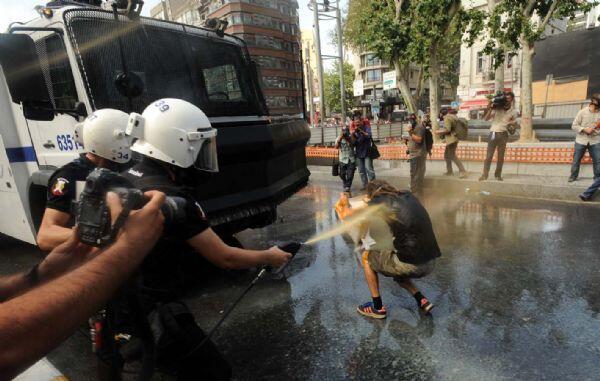 chloey001: @UcakTamircisi http://t.co/pPwABeoyfe turkish police terror #acab against people #DirenGeziParki #occupygezi #istanbul #Turkey #Taksim



jangurkan: Government terrorism against civilians in Turkey #direngeziparkı #occupygezi http://t.co/1fVhVykcZB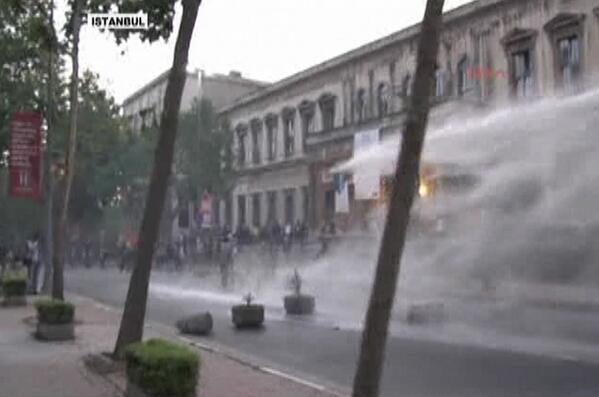 AJELive: Riot police in #Istanbul used tear gas and water cannon to break up hundreds of demonstrator. http://t.co/YIWo1Iewkr http://t.co/L3D397rFm4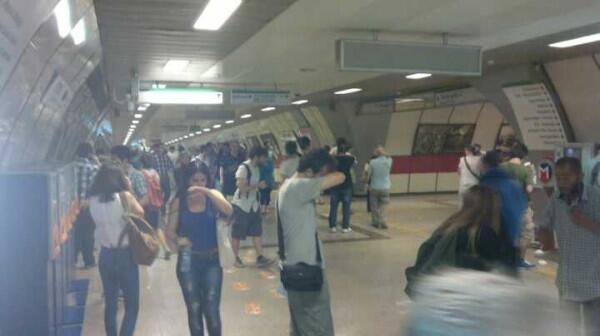 stngn: @zerohedge Police fires gas bomb into subway station in central İstanbul to prevent people from joining protests http://t.co/QSOOeOX5nZ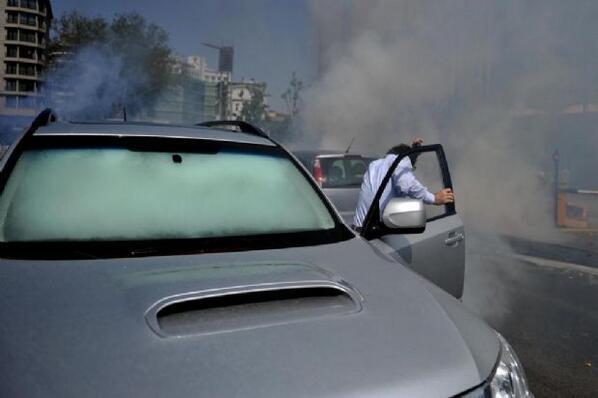 banusaatci: A gas bomb is thrown by Turkish police into a car on the move: http://t.co/tEMeaAvHY9 #occupytaksim #occupygezi #direngeziparkı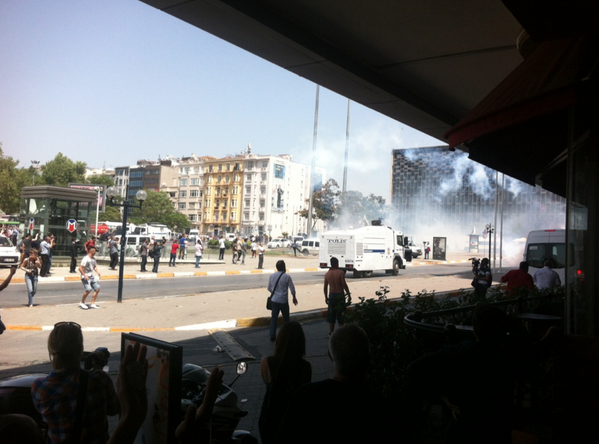 BurcuBaykurt: RT @oemoral Citizens still resisting police violence at #OccupyGezi:Taksim is ours Istanbul is ours via @140journos http://t.co/9Zul3iEWtu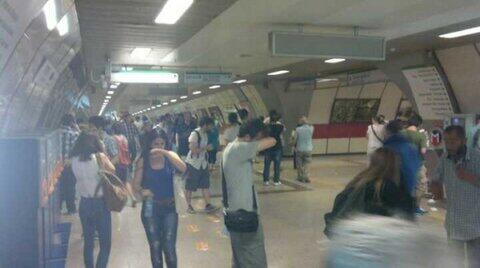 omurgok17: RT @Meralin Subway entrance is closed as many people inside suffers b/ of gas attack http://t.co/9ufIKdv2oF #occupygezi #direngeziparki pi…



chloey001: turkish police terror #acab against people #DirenGeziParki #occupygezi #istanbul #Turkey #Taksim http://t.co/WN5x7OmUvq



nmackan: RT @chloey001 turkish police terror #acab against people #DirenGeziParki #occupygezi #istanbul #Turkey #Taksim http://t.co/52zjAratAr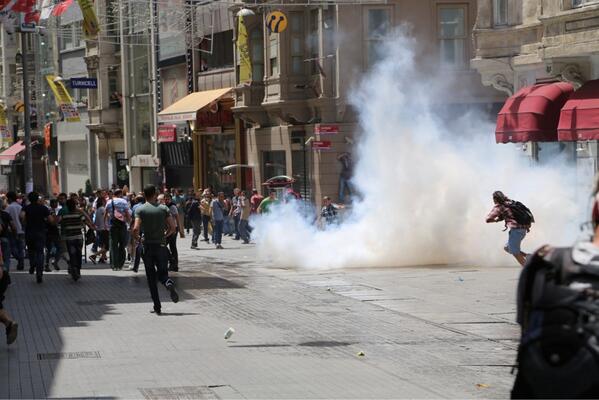 aslitugcey: RT @enisdurak35 Turkish police raid on anti-urbanization protest in the heart of Istanbul #occupygezi http://t.co/PiSvQwxAzq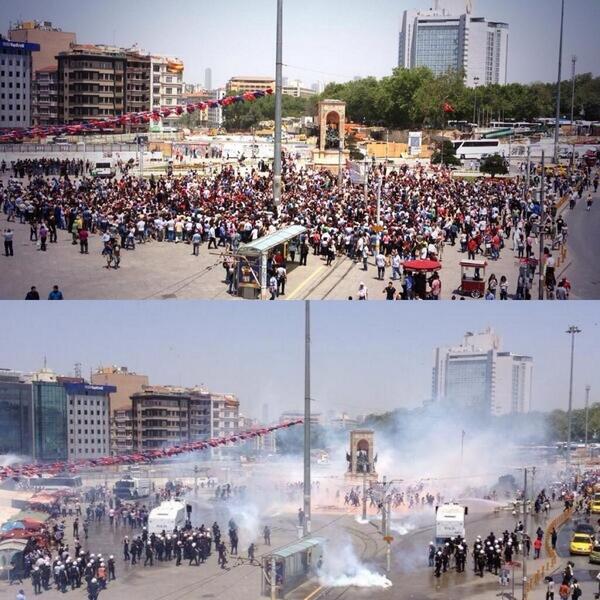 GzdeMzik: RT @seref_i reports raining in from #Istanbul -police tear gassing metro, streets, #Taksim square, Gezi Parkı https://t.co/xK9WfPHBlG by @…



kibaryucel: RT @chloey001 turkish police terror #acab against people #DirenGeziParki #occupygezi #istanbul #Turkey #Taksim http://t.co/6vkkYOkCbj



Selvi_Ozturk: Taksim has turned into a battlefield, every point has riot police in force spraying tear gas at protesters #gezipark http://t.co/OLoJAmcPKa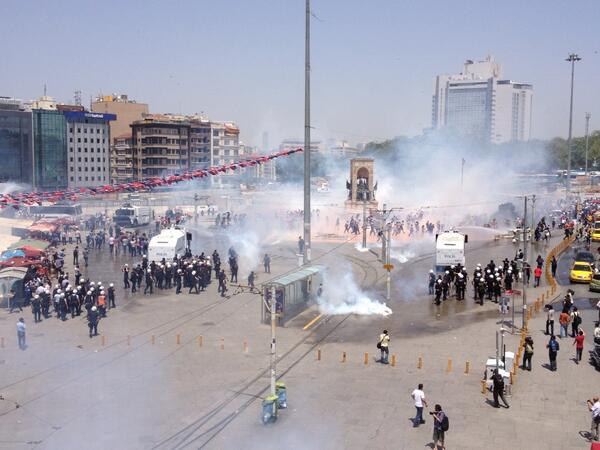 nblaser18: Police violence in #Taksim about as good for #Turkey's image as MidnightExpress was for #Turkey inthe 70s #Geziparki https://t.co/GkPTEWMdr8



Atilla09: Chemical Tayyips police gassing humans at #OccupyGezi protest too! Not just stray dogs. #direngeziparkı http://t.co/N0E8Np3a1u



fazilamat: RT @oemoral RT @justinvela Man carries away small child afflicted by tear gas #istanbul #taksim http://t.co/qAfeub3Dw4



acerburak: Theres so brutal police attacks against the protesters in Turkey / Istanbul @CNN @ZDF @Reuters http://t.co/IjCI4B3Kbt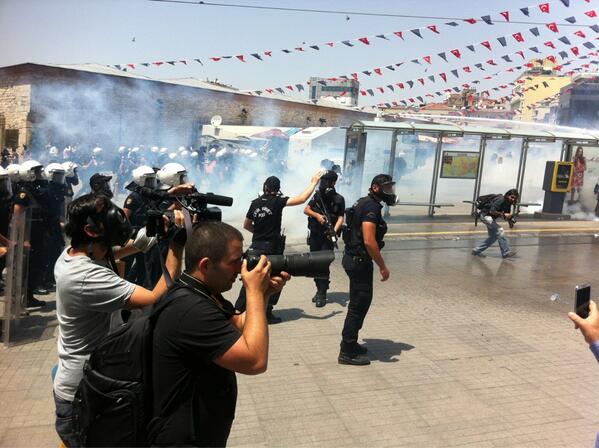 oemoral: RT @yesimcf Its happening again. Tear gas and water cannons vs peaceful sit-in #Taksim #Istanbul via @140journos http://t.co/W52do0YsNL



RealMadridpage8: RT @bennyy Aramean killed in the war of Syria… R.I.P. Aloho mhasele http://t.co/PH16KCsAA8



oemoral: Right now: Police attacks #OccupyTaksim citizens via @13melek http://t.co/HyJvKRoxEL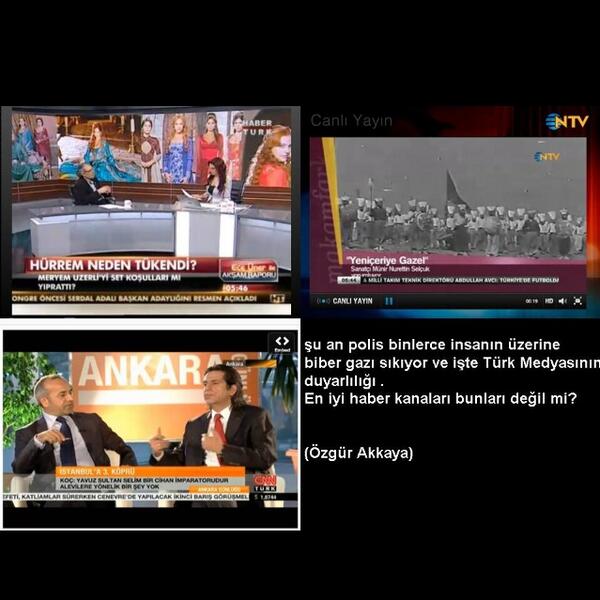 NazanTugbay: RT @sirintugbay Turkish Media currently ignoring police violence against protesters #direngeziparkı http://t.co/nermMM92Ui /via @ayagakalk…



Ozge1971: RT @EmmrOzkan #occupygezi police using chemical warfare on citizens of İstanbul! http://t.co/FWVnpjHyH3 #DirenGeziParkı #FuckThePolice



borabulus: @ac_yaycili Police sprays gas to a protester.Chemical Tayyip written on the paper http://t.co/dkRhfebT5a @euronews @BBCWorld #occupygezi



kerimokten: Great picture from Istanbul, showing police brutality. People try protect Taksim Park against unlawful destruction https://t.co/v6sOzvg6Bd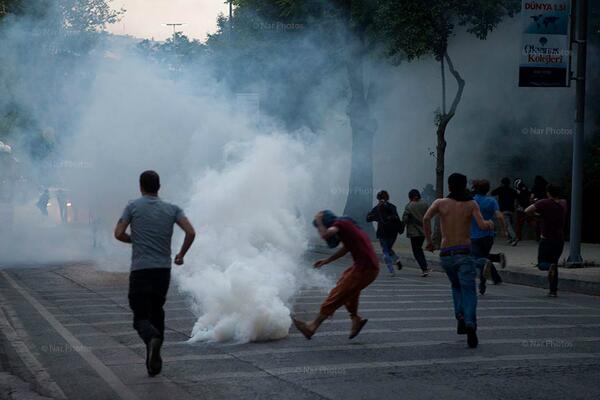 CaitlinforMiles: @BBCWorld Brutal crackdown in Istanbul against peaceful activists protesting destruction of a local park. #occupygezi http://t.co/v2biDmlOGP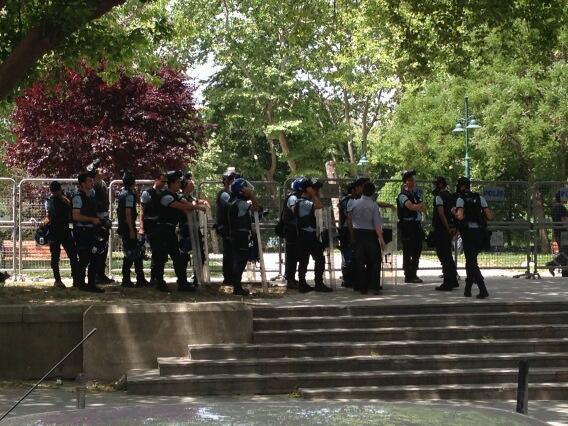 PieroCastellano: RT @aaronstein1 Riot police in full gear guarding #gezipark http://t.co/jC6GfOLaRW



yoncs: RT @Baharakcura Peotestors are attacked by the police using excessive amounts of tear gas brutally #occupygezi http://t.co/4TUJGffxlC



konstanyan: RT @nadinkitapciyan police attack people by gas and pressurized water in taksim #OccupyGezi #OccupyTaksim http://t.co/4BIckTR8dJ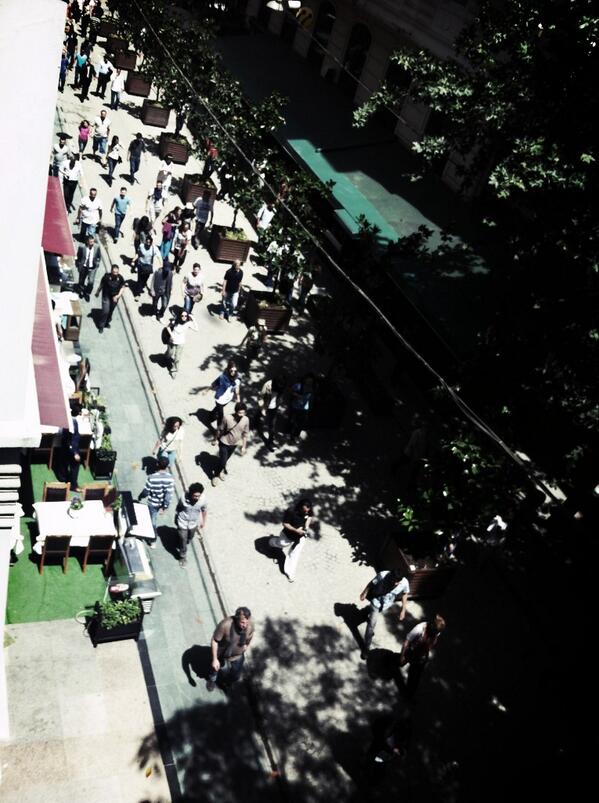 AlinaLehtinen: Line of people going to Gezi park to protest. Working in an office in Taksim is always #exciting #Istanbul #Turkey http://t.co/8nMwnzrHd4



SehribanKaya: RT @ortabudala Starbucks on the square doesnt let injured protesters in V @seyhanarman #direngeziparkı http://t.co/RTPRIGEeRE @illuminat…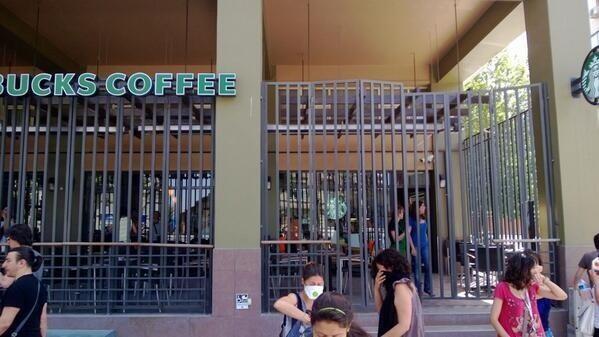 eLoLife: .@StarbucksTR closed the shutters & refuse to help unarmed injured protestors #direngeziparkı @starbucks #taksim http://t.co/BxktPxxIzM



Shikamaarru: #OccupyGezi #DirenGeziParkı Thousands of people resisting against government-police violence! @cnnbrk @CNN @BBCWorld http://t.co/J79q8eujqT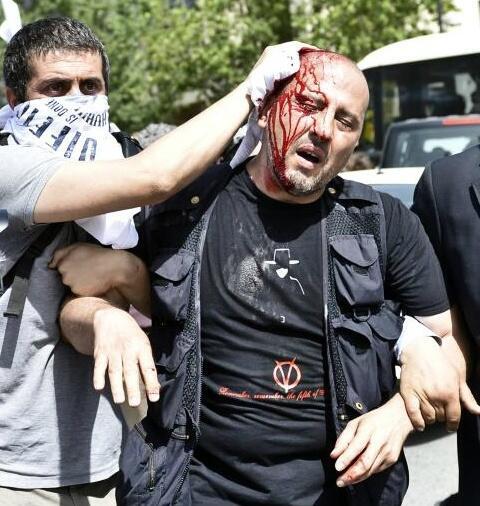 znydn: @BBCWorld @RSF_RWB a Turkish author/journalist Ahmet Sik is injured in #OccupyGezi protests http://t.co/18CcwN5Nrp



istanbul_photo: #occupygezi RT @canergelmis This is what peaceful protests turn to due to Turkish police forces http://t.co/p5ZlNP2622 #DirenGeziParki



oemoral: Journo Ahmet Şık after cop attacked peaceful protestors in #OccupyGezi via @dilrike http://t.co/CY5SYypv2Y



yesimcf: Police attacked #GeziPark protesters 2nd time this morning after press statement. People injured pic via @saryaDerya http://t.co/ntKzEopEbx



berkreis: RT @myriamonde protestor unconscious after being hit by gas multiple times (inside the building!) http://t.co/nVqwBnkYhB #occupygezi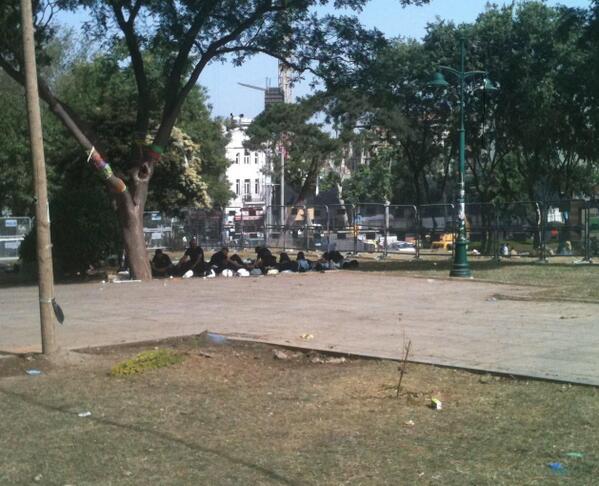 barryyourgrau: Behind police lines in closed Gezi Park. Cops resting under trees. Protestors driven out. #gezipark #Taksim http://t.co/h88MKuRgLc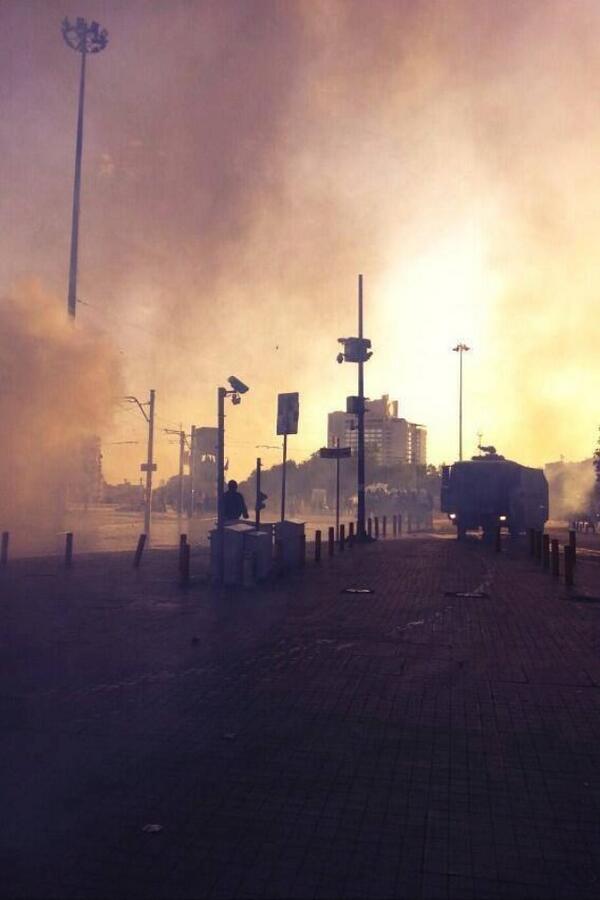 inagaddadavidah: @zeynep_erdim dim: 5th day of #occupygezi, #Turkish police use extensive tear gas against protestors http://t.co/5c5TdvS1JE @olympics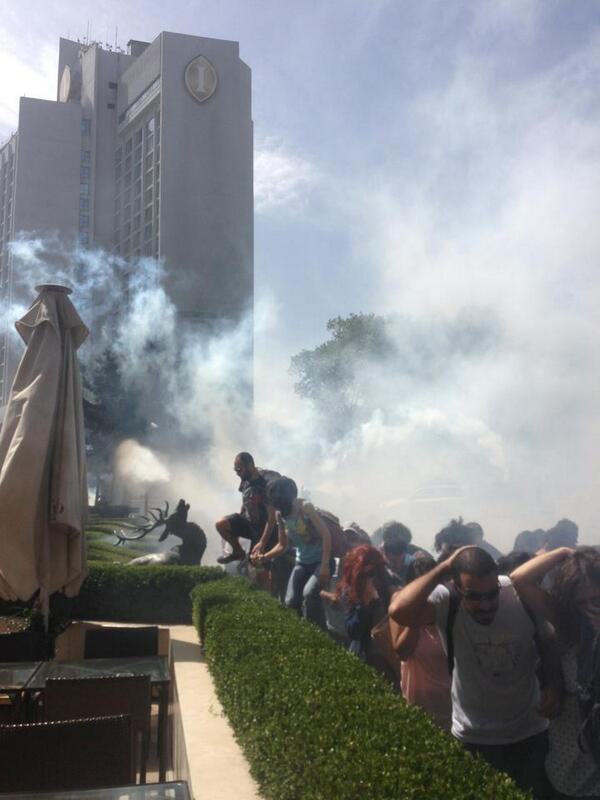 Dilmunite: Quantities of tear gas in Taksim. #Istanbul http://t.co/xbTGgShUsw



girlaboutalot: environmental protestors r being gassed by police while trying to save #geziparki in #istanbul @cnnbrk @BBCBreaking http://t.co/4s9UDABeLj



mir_tuna: #occupygezi Turkish police @ work again. Now their target is a group of protesters making a simple press statement!! http://t.co/rmqvjVSeyL



serdarbilis: Kapalı! Closed! Peoples park is shut down with The help of tear gas. Police rest in peace! #direngeziparki http://t.co/ccHaKZVwDe



girlaboutalot: tear gas used again to the thousands of people who r trying to protect the trees in #geziparki @cnnbrk @BBCBreaking http://t.co/ZMVpUsJgIH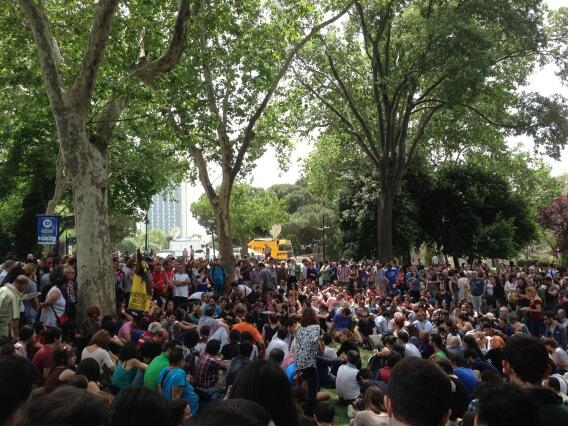 AkinaKato: @Greenpeace http://t.co/cwn9PrqnXt environmental protesters want to protect trees in Istanbul/Turkey. Say NO to another shoppingmall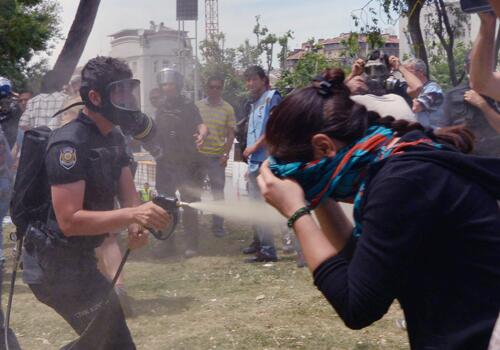 alisteaparty: Witness the police violence in Istanbul against unarmed, peaceful protesters! http://t.co/EjbMiaJC9M #direngeziparki #occupygezi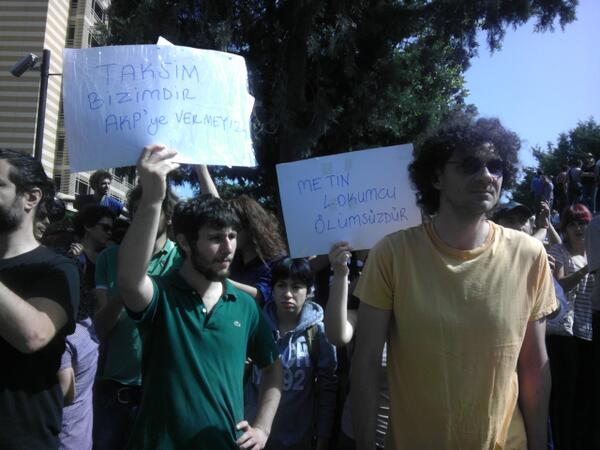 myriamonde: press release,ppl carry signs to commemorate Metin Lokumcu, who was killed by the police 2 yrs ago today. http://t.co/31irY7WjxC #occupygezi



igalaciman: The peaceful lady in red maced by the police immortalized state brutality in Turkey #direngeziparki http://t.co/WvLLV4KvQS



Meralin: People gathered outside the Park for press statement. Police at the shade of trees. #DirenGeziParki http://t.co/JsgaUiTjMc v @temavakfi1992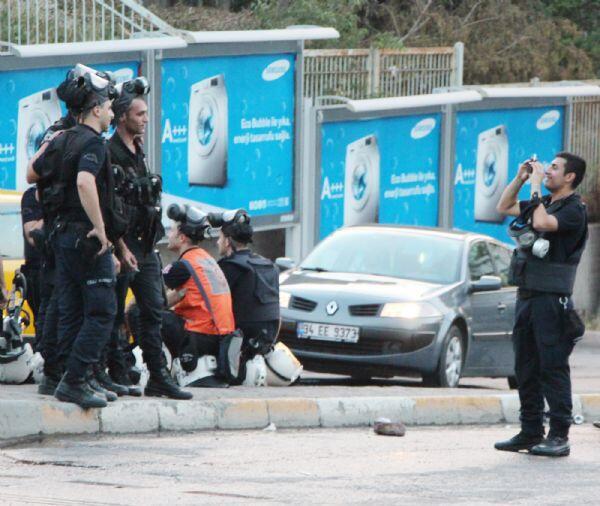 hknkrkc: RT @Meralin Police happily take pictures after smacking down the activists at #occupygezi http://t.co/1ZHjVIJeE9 #Turkey pic v @ekizilkaya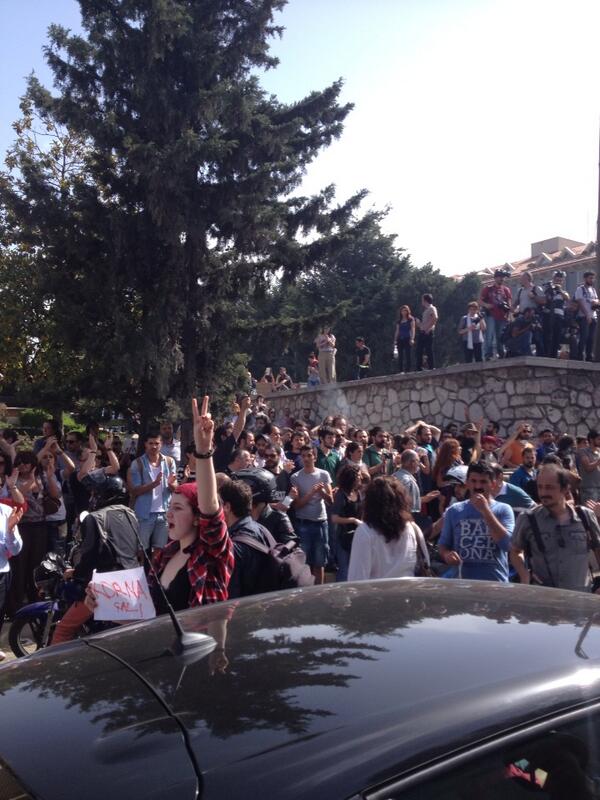 ekizilkaya: + But #occupygezi activists are still defiant. With every illegal use of police force, the crowd got just bigger: https://t.co/lp01OUUWyw



tulinpural: RT @myriamonde riot police resting under the very trees we were attacked for trying to save. http://t.co/nypKMvvzav #occupygezi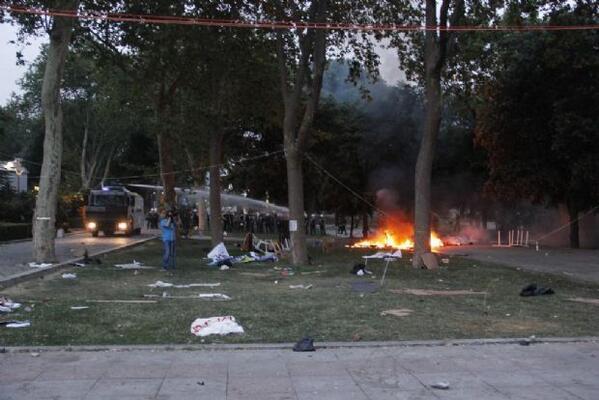 VOT99: Turkish Police attacked Turkeys Istanbul Taksim Travel Park activists http://t.co/MdUMQIvayF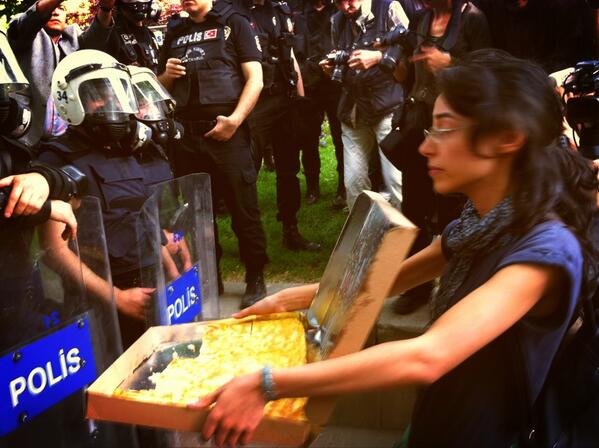 Dilmunite: RT @Istanbultelaviv protester offers tense police a slice of pizza. #gezi #taksim http://t.co/dYLAMfzGqP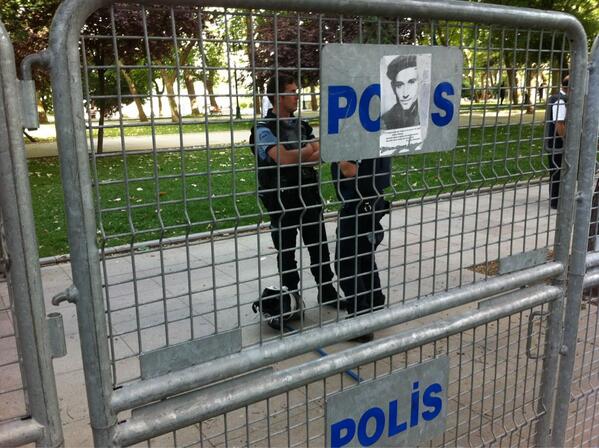 Dilmunite: business as usual, herr president. RT @Istanbultelaviv blockading #gezi park #taksim police blockade park #istanbul http://t.co/r6xBLBEe3M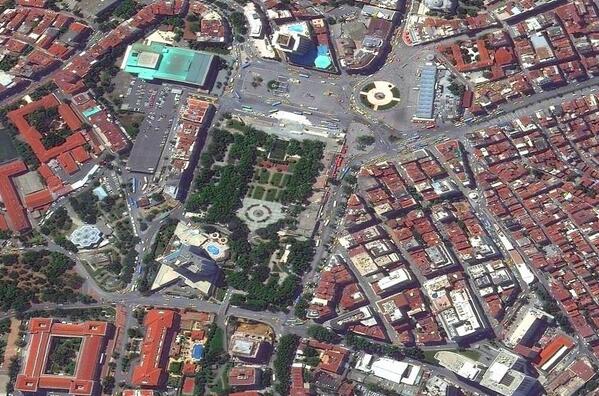 Ozbilgin: RT @Istanbultelaviv #Taksim protest? The park within cement jungle- AKP wants to turn into shopping mall #Istanbul http://t.co/RZQtTkhw4u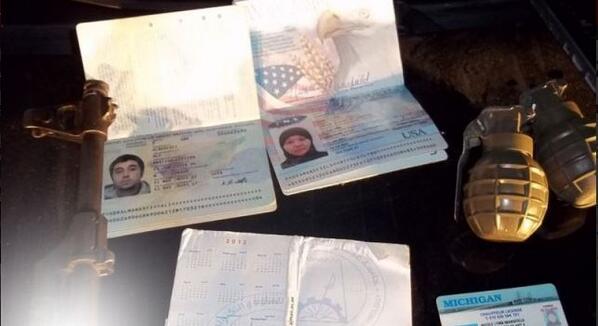 AlArabiya_Eng: #Syria soldiers kill three westerners, including #American woman and #British man http://t.co/qGSl4qcY7f http://t.co/jdIoA9GS0d



mir_tuna: #occupygezi And yet another display of how professionally (!) our beloved police handles huge threats to the state: http://t.co/JNANTuarsE



ceydak: RT @AlizaMarcus ah, tourist season in Istanbul, the flowers, the monuments, the clashes with police. (Gezi protest) http://t.co/7ErQp4gVzW…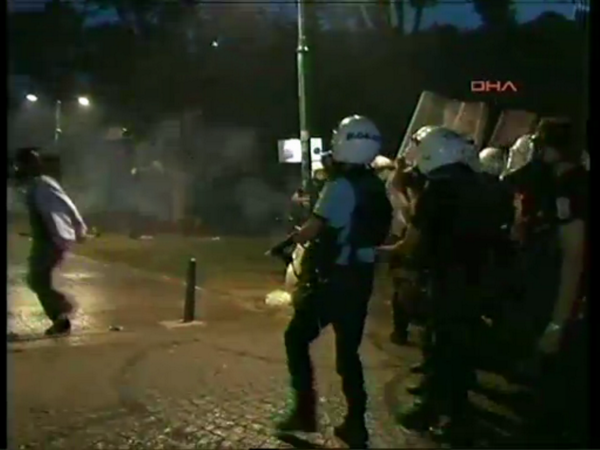 Gonca_Erdogan: RT @NewsRevo Right Now at #OccupyGezi Early morning police raid with heavy tear gas use. LIVE http://t.co/p7wxn27gsn http://t.co/whwzmcuKZB



myriamonde: the park is empty save for the police. http://t.co/xPMxjFRa6W #occupygezi



TolgANL: RT @cigdemfull State Police attacking peaceful & unarmed protesters 05 a.m. in Istanbul, Turkey. http://t.co/rRTmk7OVyB #DirenGeziParkı #…



Av. Yegâne Güley: Barricades isbeing made by protectors of #Geziparki 4 imminent attack by #Erdogans police! #Turkey http://t.co/HA9NzetBNQ



Av. Yegâne Güley: DIY mask to protect from pepper sprays are getting out for an expected attack! #occupyGezi http://t.co/m4U6kNLh7w



buell003: @buell003 @occupy_brlive 10K #Istanbul protest #Turkey Gov plans to kill a #Park & build mall http://t.co/72TS6Rmg1M #ows @CaseyJAldridge



OsmanBalaban: To confront the use of excessive force by the police, protestors use excessive mental power :)) #occupygezi http://t.co/yFYnPiAZCa



Asli_Agaoglu: Against the gas and excessive force used by the police, this is how protestors strike back in #Istanbul http://t.co/N5HLsRwFfO



turansert: Police against protesters - amazing contradiction in these two photos #DirenGeziParki http://t.co/NueZywOsv9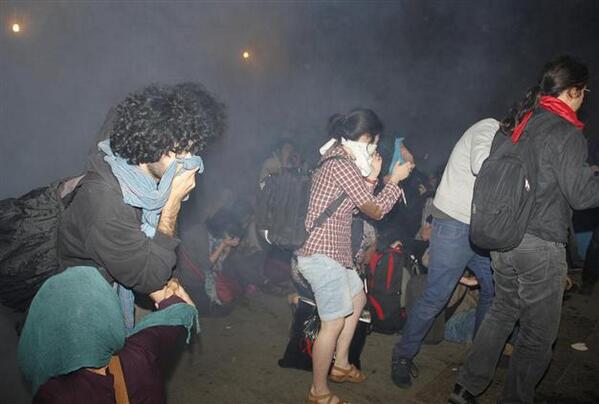 stradadeisogni: Police use tear gas early in morning, Taksim park protesters again halt demolition - http://t.co/EGsfZWTmTF @HDNER http://t.co/zzsabHo4E5



ErtenH: The AKP government are today waging an inhumane and unethical war against Turkish people! #occupygezi #taksim http://t.co/Lw5CNO8NEo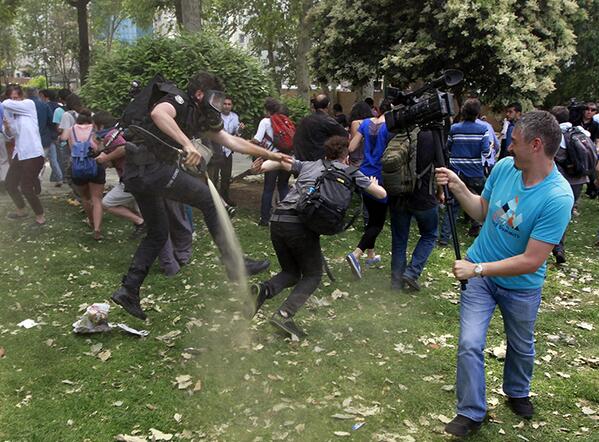 brianblomme: A riot by police in Istanbul to beat up peaceful protest against park destruction: http://t.co/VwhaqyYM96 http://t.co/DusLAsB2Nw



cerencevahir: RT @Meralin Activists use disproportionate force against Turkish police! http://t.co/jaGVy18so4 #occupygezi #Istanbul #Turkey #Environment



meyarhat: Istanbul citizens resisting against Police Violence, protecting the city trees. #occupygezi @BBCWorld @guardiannews http://t.co/k744lroCz0



Gülçin Dönmez: Activists are reading books for the police #occupygezi http://t.co/aDiFxa0r1C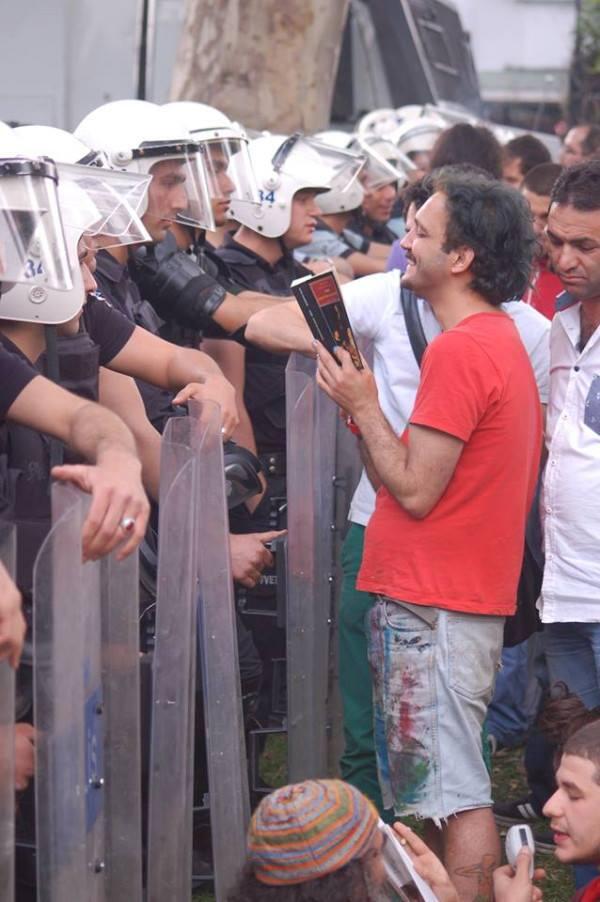 Meralin: #Turkish police faces a culture shock during Taksim Gezi Park events: Activists read books for them. http://t.co/QGFt7elqTB #occupygezi



Στράτος Μωραΐτης : Police clearing #Taksim #Gezi park by thrashing newly planted trees by activists into garbage trucks Pic @murderday http://t.co/shnQzzTpcO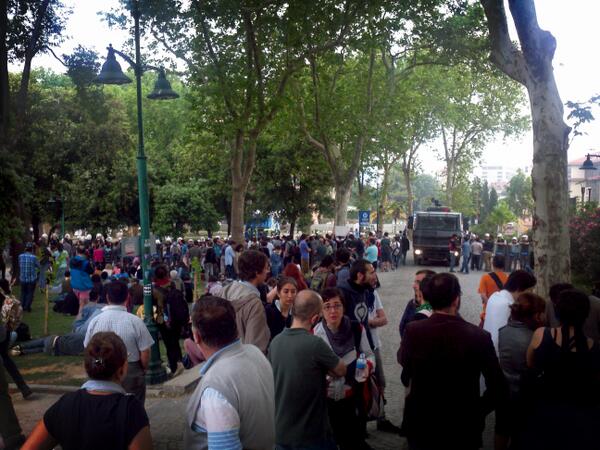 offeliaa: @memetalialaboraWe are standing at the park. Police is facing us, not letting us to the demolition area. #occupygezi http://t.co/gh5BMAqAUE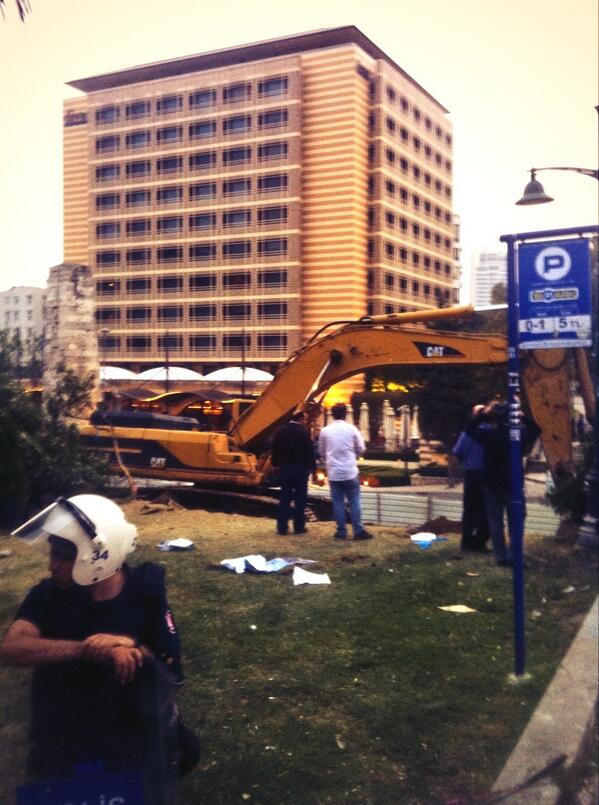 ayalint: RT @DiddlyJ TR govt destroys park w/ cranes near dawn, tear bombs activists via @muhsinakgun http://t.co/12JgZcH3fJ #occupygezi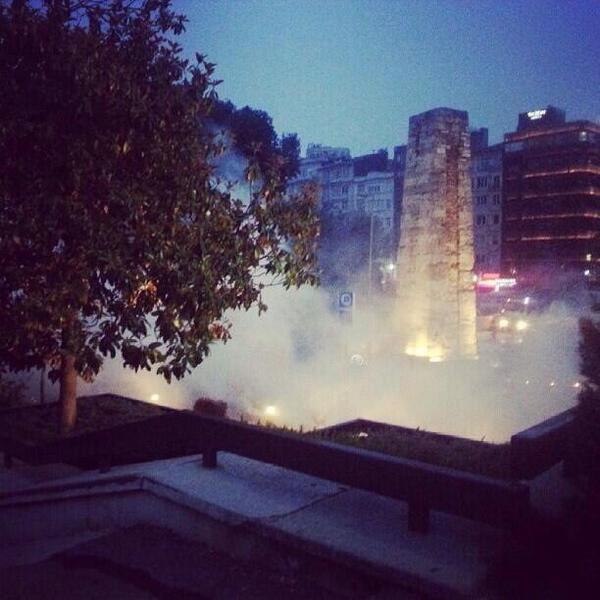 BurcuBaykurt: Its almost 6 am in Istanbul, the police burn down protesters tents ‏at #occupygezi http://t.co/nX3B2gOepZ via @kiyametprojesi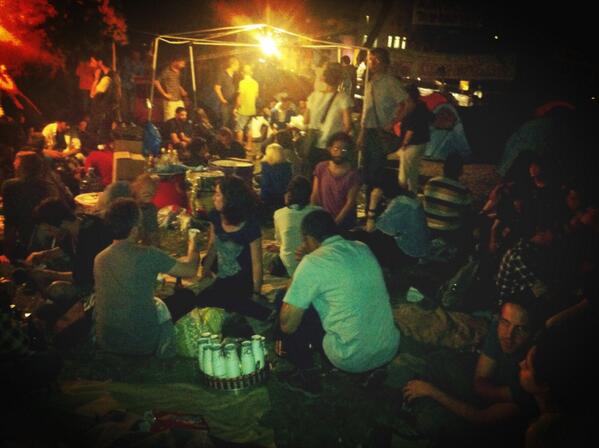 Istanbultelaviv: back home from #taksim protest. wish them a safe nights sleep free of police intervention!! #istanbul #geziparki http://t.co/M78jNOPcYm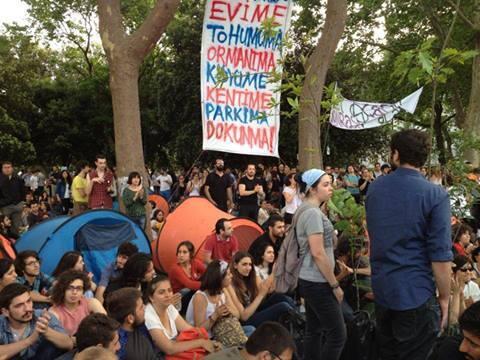 NewsRevo: #Istanbul #Turkey protest to save historic park and its trees from destruction @KatG4 http://t.co/YIyNWC7pP6 http://t.co/fawy6lVOlB



akin_rd: women protesting against to cutting trees and police violence with pepper gas…high democratic Turkey and Erdogan!!! http://t.co/70ZQEuN7K5



selobcan: This is what police does in Turkey to. innocent citizens who protest the tree butchers. Pepper spray them!.. http://t.co/8S9lrcXZuP



Anon_Central: Riot police in #Turkey break out pepper spray for protesting tree huggers. #Taksim #Geziparki http://t.co/8SuSBNi6hp



SladeHV: Action shot: Riot police uses tear gas on tree-removal protesters in Turkey (AP) http://t.co/vZrV9uRlXU